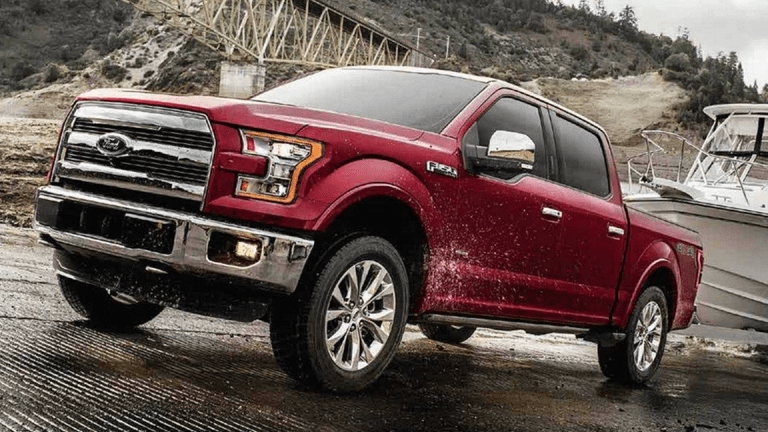 Ford to Electrify Its Popular F-150 Pickup Truck
"Built Ford Tough" will soon include plugging in as the popular pickup truck goes electric.
"Built Ford Tough" will soon include plugging in as the popular pickup truck goes electric.
Ford Motor Co. 's (F) - Get Report  venerable horsepower-heavy F-150 pickup truck very soon will be available for purchase without an engine.
After more than 40 years on the market, the company's highly popular "Built Ford Tough" pick-up will be going electric, according to Jim Farley, Ford's president of global markets.
"We're going to be electrifying the F-Series - battery electric and hybrid," Farley said during a presentation at the Deutsche Bank Global Automotive Conference in the MGM Grand in Detroit on Friday.
The announcement surprised some industry veterans, who view the F-150 as among the quintessential horse-power-haulers on the market. John McElroy, a longtime auto industry observer and host of "Autoline This Week," noted to the Detroit Free Press that Ford's announcement represents an apparent change in the legacy carmaker's strategies.
"When he says 'battery electric,' what I'm taking that to mean is a battery electric vehicle," McElroy told the newspaper. "They've said they would have a hybrid plug-in version of the F-150. But this is different than what they've talked about in the past."
Farley later noted that the company's decision to move the F-Series franchise to electric and hybrid power options only is a way for the automaker to "future-proof" its most successful and lucrative vehicles.
Tesla Inc.   (TSLA) - Get Report plans to make an electric pickup truck and some start-up companies, such as Michigan-based Rivian Automotive, have announced plans to make them as well.
Ford's F-series trucks, which include the F-150, have been the bestselling vehicle in America for four decades. The trucks, which now range from heavy-duty stuff-movers to high-end luxury machines, account for about a third of Ford's total sales.
The shares rose 2.6% to $8.58 at the close of trading on Friday.