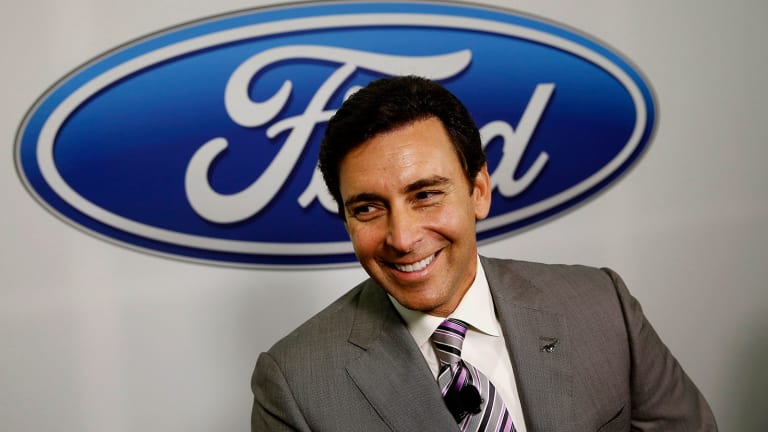 Ford Thinks Apple or Google Could Help Car Makers, But Isn't Sure How
Ford CEO Mark Fields said whatever happens, it's a positive for the car industry.
Ford CEO Mark Fields said whatever happens, it's a positive for the car industry.
NEW YORK (TheStreet) -- Ford (F) - Get Report isn't quite sure what Apple (AAPL) - Get Report , Google (GOOGL) - Get Report (GOOG) - Get Report or Uber are going to do to develop an electric car, but the Dearborn, Mich.-based auto maker contends it welcomes the possibility.
When asked about Apple or the other tech companies getting involved in some kind of electric vehicle, Ford CEO Mark Fields said whatever happens, it's a positive for the industry.
"We haven't heard what Apple is doing -- they haven't announced anything," Fields said on the company's second-quarter earnings call. "Who knows what Apple or Google are doing. It's positive for the industry in terms of generating competition or innovation. In some cases, competition and in some cases, partners. A lot of people are interested in the automotive space and we're very cognizant of that."
Right now, it's hard to gauge just how eager the car industry really is about a tech invasion of their turf. After all, Ford and the other big makers still derive most of their sales from internal combustion engines. So any entry by Apple, Google or other player into the car market would doubtlessly affect their business.
The car companies theoretically could take advantage of any new technological breakthroughs, although none has disclosed any sort of collaboration or licensing agreement with the tech companies so far. And the tech giants are saying little about any plans.
Ford currently offers several alternative fuel vehicles, including the 2015 Ford Focus Electric, in addition to their hybrid offerings, the 2015 C-Max Energi and the 2016 Fusion Hybrid.
Both Apple and Google offer infotainment systems for cars, CarPlay and Android Auto, respectively, but it appears their ambitions go much further than controlling the dashboard.
Google has publicly discussed its driverless car initiatives, even going so far as to show
, but Apple is another story.
Though Apple has talked about CarPlay, its plan to take over a vehicles' dashboard making the system more user friendly and enjoyable, the company has been tight-lipped about its plans, if any, to enter the vehicle market.
Apple has been hiring auto industry veterans, including those with battery and operations experience. The most recent hire was Doug Betts from Fiat Chrysler (FCAU) - Get Report , where Betts was responsible for global quality control. He updated his LinkedIn page to say Operations at Apple following the move, but has since taken down his LinkedIn page. The news of the hire was first reported by The Wall Street Journal.
Despite having not commented publicly about its plans to enter the vehicle market, Apple is said to work on entering the electric vehicle market under Project Titan, a secret project to examine if the company should enter the vehicle space. The company has hired hundreds of engineers, including some of those from Tesla. Tesla CEO Elon Musk has publicly stated that Tesla has hired Apple employees as well, as the war for engineering talent in Silicon Valley.
A move into the automotive market could help diversify the company's revenues. Currently, the Cupertino, Calif.-based Apple generates roughly two-thirds of its revenue from the iPhone.
According to 2014 data from AutoNews, the U.S. luxury market accounted for approximately 1.9 million vehicle sales in 2014. By contrast, sales of plug-in hybrid vehicles and battery electric vehicles were only around 6% of that number, with around 120,000 sold domestically in 2014, according to data compiled by Sam Abuelsamid, senior research analyst at Navigant Research. According to Edmunds, the 2015 projection for just the electric vehicle market is around 67,600 units (0.35% of the total U.S. car market), aided by the 2016 Chevy Volt.
The positive comments from Ford echo those from other auto makers, including Tesla Motors (TSLA) - Get Report , which recently said that having Apple get into the electric vehicle space would be a positive.
"As it relates to Apple potentially doing an electric vehicle, we've always said that our objective is to accelerate the transition to electric and renewable and sustainable energy," said Tesla's communications chief, Ricardo Reyes, in a March interview at Tesla's Palo Alto, Calif. headquarters."We need people that can do it with us to do this, and if OEM's [traditional auto manufacturers] aren't going to do it fast enough, then whoever steps up to the plate, it's a good thing for us."