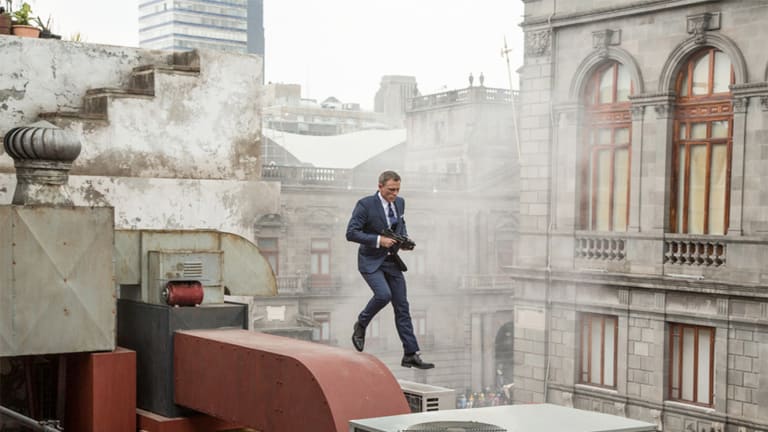 For Sony Pictures, It's Bond or Bust
With a thin 2015 film slate, Sony Pictures will need the latest James Bond film, 'Spectre,' to resuscitate its box office performance.
LOS ANGELES (TheStreet) -- Sony Pictures, one of Hollywood's five major studios, is having a woeful year.
Having tallied less than $250 million at the box-office in 2015, Sony Pictures Entertainment, a unit of the Japanese electronics and video game maker Sony (SNE) - Get Sony Corp. Report, will need a James Bond-style rescue if the studio is to salvage a year dominated by its rivals at Comcast's (CMCSA) - Get Comcast Corporation Class A Report Universal -- Jurassic World, Furious 7, Pitch Perfect 2 and Disney (DIS) - Get Walt Disney Company Report -- Inside Out, Avengers: Age of Ultron, Cinderella. The pressure is squarely on Agent 007.
Sony's film and TV unit of the has grossed just $219.9 million at the domestic box office this year, according to BoxOfficeMojo.com. That's less in cumulative ticket sales than each of the year's top four movies and a market share of 4.5%, the steepest decline among studios, Wells Fargo found.
What's more, Sony Pictures' remaining schedule is filled with a series of question marks until the next installment of the Daniel Craig-led James Bond franchise, Spectre, debuts on Nov. 6.
"This is certainly one of their lighter years," Gitesh Pandya, the editor of Boxofficeguru.com, said in a phone interview.
Sony's thin film slate comes at a time of upheaval at the studio following notable big-budget flops like 2013's White House Down and After Earth, and after Sony rebuffed pressure to spin off a portion of the studio from Third Point's Daniel Loeb. And  Sony Pictures was crippled by a cyber attack that resulted in the publication of embarrassing emails that led to the reassignment of veteran co-chair Amy Pascal amid considerable internal chaos.
"All bets are on Bond for 2015," Pandya added about Spectre, which at one point had a budget pushing $350 million, according to emails released from the hack. "I've got to think that this one is going to be a home run for them."
Sony Pictures would surely be thrilled if Spectre performed near the level of 2012's Skyfall, which produced a whopping $1.1 billion in global ticket sales, including $304.4 million domestically.
The studio has grossed a mere $49.9 million in the prime summer movie-going season in which six films have racked up more than $50 million in a single weekend. Unless a box office revelation happens, it is almost a sure thing the studio will not crack $1 billion in domestic ticket sales for the first time in nine years.

Sony Pictures currently has only two tent-pole franchises: Bond and Marvel's Spider-Man, which together helped it to the box office crown in 2012 with $1.8 billion. But it is the remainder of Sony's calendar that is no easy thing.
Sony Pictures will lean on Adam Sandler ensemble comedy Pixels, out on July 24, and the Meryl Streep comedy-drama Ricki and the Flash, set for release on Aug. 7. The studio's surest bet is September's animated children's film Hotel Transylvania 2, whose first iteration grossed $148.3 million domestically and $210 million abroad.
"There is no secret, hidden door that you can open, with a cache of wonderful IP (intellectual property) that everybody doesn't know about," the studio's new chairman of its motion picture group, Tom Rothman, told Variety at May's CinemaCon. "We're all in the race. You've just got to compete harder and fiercer and better."
Presently, Pixels is estimated to gross a cumulative $190 million in North America, according to Boxoffice.com. That would be a welcome sign for both Sony and Sandler, whose high-cost partnership has been a target for critics.
Next year's slate, though absent Bond and Spider-Man, may have a few budding franchises for the studio. It will release Angry Birds, a big-screen take on the popular video game, in May as well as an all-female cast reboot of Ghostbusters in July and thriller Inferno, an adaptation of a Dan Brown novel, in October.
"The buzz so far is pretty good," Pandya said of Ghostbusters. "They're doing something new with it. It's likely to work as long as they make an entertaining film."
Rothman's new-look Sony Pictures promises to be a leaner, margin-driven operation as well. The former 21st Century Fox (FOXA) - Get Fox Corporation Class A Report executive with a hard-charging and cost-cutting reputation has reportedly pulled the plug on future films such as Little House on the Prairie and four other titles. Rothman, who helped shepherd blockbusters Titanic and Avatar while at Fox, is also reported to have taken a scalpel to the Ghostbusters' budget.
It is something in need at the studio whose operating income of around $488 million was flat for the most recent fiscal year.
Plus, this could be Sony Pictures' last go-round with Bond. Spectre is the final film in the studio's distribution and co-financing deal with Metro-Goldwyn-Mayer, which owns the rights to the 007 franchise.
But to keep up with Disney, Universal and other big studios, Rothman has indicated Sony Pictures may try to find a way other than superheroes and big-budget franchises.
"I'm not really sure that the studio that will be the market leader a decade from now will be the one with the most sequels as opposed to the most innovative one or the one that finds what a new event is," Rothman told the trade publication.
This article is commentary by an independent contributor. At the time of publication, the author held no positions in the stocks mentioned.