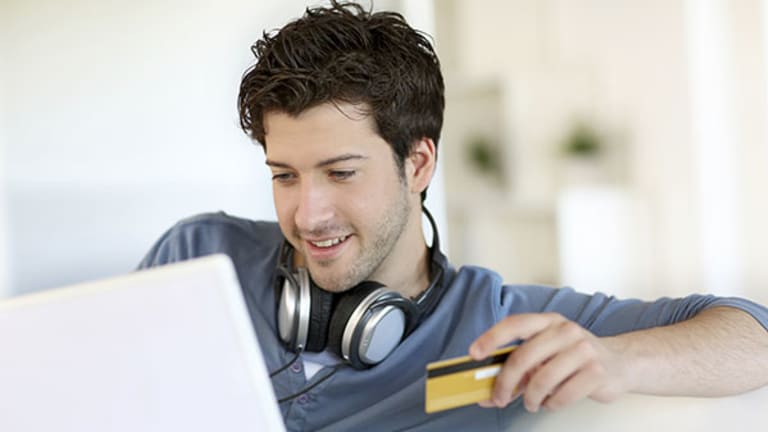 For Online Retailers, Fast Shipping Is Becoming as Important as Price
The growing popularity of free shipping clubs like Amazon Prime is raising the bar for e-tailers, adding pressure on them to deliver their wares quickly.
NEW YORK (TheStreet) -- Consumers have always looked for the lowest prices when shopping online. But these days, speedy delivery is becoming just as important to them. 
Fewer than 20% of consumers say they always buy the cheapest item, according to Shmuli Goldberg of Feedvisor, a re-pricing company for Amazon sellers. Everyone else is looking for better customer service, overall experience, and perks like free and faster shipping.
That's why shipping programs like Amazon (AMZN) - Get Free Report Prime, Overstock's (OSTK) - Get Free Report Club O, Sears' (SHLD) Shop Your Way MAX, and Barnes & Noble's (BKS) - Get Free Report membership club are becoming more popular. Even though they charge membership fees, these clubs are attracting more consumers because they offer free shipping and quick delivery. The problem, for retailers at least, is that timely delivery isn't always possible.
A big factor is that online retailers must rely on shippers like UPS (UPS) - Get Free Report and FedEx (FDX) - Get Free Report for the actual deliveries, which puts that vital mission outside their control. And it's the retailers who bear the brunt of complaints if items are late.
"You have to deliver on your promise," said Clarus Marketing Group CEO Tom Caporaso. "Regardless of all the benefits that might be in the program, you say its going to be there in two days, it's got to be there in two days. You start to disappoint your consumers, they're ultimately not going to retain."
A recent survey from Reuters and Ipsos, for example, showed that Amazon Prime didn't always deliver on time. In fact, 10 percent of the nearly 1,700 consumers surveyed who chose the two-day shipping option on Amazon orders between Nov. 1 and Dec. 31 said their orders did not arrive within two days. Amazon denies that these statistics are accurate, claiming they don't match up with their figures.
Another survey suggested that a significant percentage of consumers with free shipping club memberships are thinking about dropping them due to late deliveries. The survey from Bizrate Insights -- a platform run by Connexity, which works with certain retailers like Sears and Barnes & Noble (though not Amazon) -- claims that 9.7% of shipping club members are considering not renewing for that reason. Amazon says the survey is "not credible." But timely delivery remains a big issue for online retailers. 
"I think 2015 is going to be a challenge for all retailers," said Hayley Silver, vice president of Bizrate Insights. "Balancing the requirement for on-time delivery and relatively speedy delivery versus consumers' desire not to pay a lot for delivery -- on the one hand, if you want to draw in consumers and sales, free shipping is extremely successful. But on the other hand, you have to deal with the rising costs and the challenge of on-time delivery. I do believe retailers will figure it out. They have to. But it will be a challenge."
The importance of free shipping programs for retailers like Amazon is clearly growing. 
According to ChannelAdvisor, Prime now has about 40 million paid subscribers, who account for 15% of Amazon's 270 million active buyers. Amazon does not release precise numbers for the program, but has continued to say that Prime is growing, most recently sharing that paid Prime membership grew 53% year-over-year in the fourth quarter of 2014. Whatever the total number is, it is clear that these members are more valuable to Amazon than nonmembers.
As Scot Wingo, CEO of ChannelAdvisor, noted in a blog post, Prime users spend two to four times as much as nonprime users, and therefore represent 30% to 60% of the "Amazon buyer's wallet."
While Amazon now offers its Prime members much more than two-day shipping, it still must keep that fundamental promise if it wants to maintain a positive relationship with them. Amazon may have the balance sheet and logistical heft to combat this challenge, with its 107 fulfillment centers and other investments. But it's not as easy for companies like Overstock, which only has three fulfillment centers.
According to Overstock CEO Patrick Byrne, those three fulfillment centers are strategically placed so that the company can reach 98% of the American population in two days, and the company is constantly thinking about how to improve that reach.
"Amazon has achieved the two-day shipping by using a heck of a lot of capital," Byrne said. "In our case, we are replacing capital with information, and so I think we're by properly positioning our warehouses. I think we can get to two-day shipping without spending billions of dollars. Our shipping times are coming down and down, but we're doing that with analysis and data."
Like Amazon, Overstock is bulking up its membership service with more than just delivery, having announced that it will launch a digital content platform to sell and rent digital media, and offer a video subscription service. Enhancing its membership program helps grow numbers, which is critical, especially since Club O members account for 20% of Overstock's business.
But even as the membership club offerings expand well beyond free delivery, meeting those basic customer expectations never loses its importance.
--Written by Rebecca Borison in New York
 >Contact by Email.