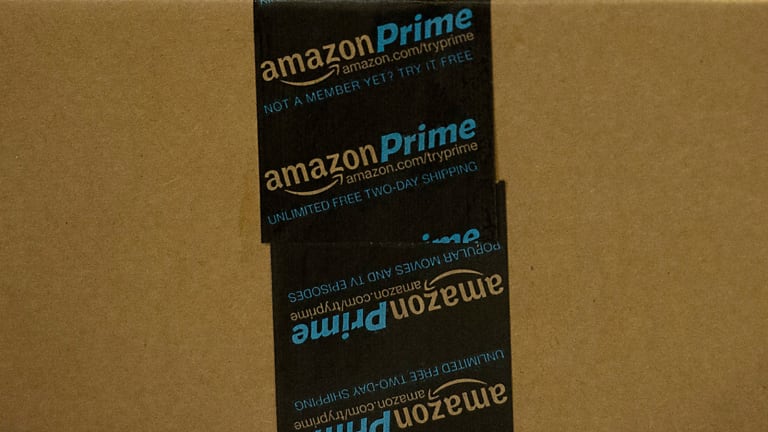 For Amazon, Everything Points Back to Prime
Nearly every product release or update from Amazon can be tied back to Prime.
NEW YORK (TheStreet) -- Amazon (AMZN) - Get Amazon.com, Inc. Report has surely proved that it considers itself much more than an e-commerce company, but nearly every single move from the company can be tied back to one single thing -- Amazon Prime.
Amazon's most recent move is producing its own grocery products such as milk and household cleaners, according to The Wall Street Journal. One of the possible implications of such a move would be that Amazon would have more control over the production and fulfillment of products, a key priority for Prime.
Though there have been reports that Amazon is altering its rules that require a third-party seller to house products with Amazon in order to be eligible for Prime, by owning the product itself, Amazon will be able to more easily ensure a timely delivery for Prime members.
Amazon unveiled Prime in 2005 as a fast-shipping service but it has since evolved into a full-fledged membership program, including music streaming, original TV shows, and online storage. The thing with Prime, which costs $99-a-year, is that it reels in valuable consumers and turns them into loyal Amazon shoppers. Once they're hooked on free shipping, they're likely to spend more on the site and veer away from other retailers offering similar products.
ITG analyst Steve Weinstein estimated that Prime members spend $1,000 more a year on average compared to non-Prime members, and Millward Brown estimates Prime members have almost five times the conversion rate of non-Prime members.
"If you look at the level of engagement for a Prime member versus a non-Prime member, it's somebody who spends more often, more money, across more categories than a non-Prime member," Morningstar analyst RJ Hottovy said. Plus, "once you're locked in to Prime, very rarely do they leave it. [Prime has] very high retention rates, even higher than Costco (COST) - Get Costco Wholesale Corporation Report. It keeps them from going to competitors, keeps them within the Amazon ecosystem."
For comparison, Costco renewal rates are 91% in the U.S. and Canada and 88% worldwide, implying some strong numbers for Prime if Hottovy is correct.
Realizing the potential in Prime, Amazon is making every effort to add as much value to the program as possible. The Consumer Intelligence Research Partners estimates that Amazon has reached 41 million U.S. Prime members (a number Amazon has never confirmed), and Amazon is doing its best to make sure that number continues to rise.
So it adds original TV shows like Transparent, offers free unlimited photo storage, and it tests things like drones to speed up delivery even more. Then it launches Echo, a virtual assistant, and enables Prime members to order via the device. Then it rolls out Dash to let Prime members order their most frequently purchased goods with a simple tap on the tiny, branded device.
Then it makes sure to take on as many different categories as it can so that Prime members will have no reason to leave -- hotels, crafts, local services, to name a few. And it even partners with other companies like Audi to experiment with delivering products straight to consumers' cars.
For every new product and service, there is a clear tie back to Prime. Make it more valuable, make more consumers sign up, and make them stay indefinitely.
Because there are so many moving parts, it's hard to tell exactly how much they are spending on building up Prime. And Amazon isn't exactly forthcoming with the numbers, though they have shared that in 2014 the company "paid billions of dollars for Prime shipping and invested $1.3 billion in Prime Instant Video."
However much they're spending though, according to Hottovy, Amazon is making back that money if you take into consideration the added revenue from members plus the $99 membership fee.
For most of 2014, investors were not so thrilled to see Amazon spending so much money, sending shares down 22% last year, but it seems that they've turned around to see the promise of growing margins. Shares are up 38.7% in 2015 largely due to a strong fourth quarter in 2014 and bolstered by solid growth in the first quarter of 2015.
"Prime is the foundation to the margin expansion story that you have to believe in at current valuations," Hottovy said.