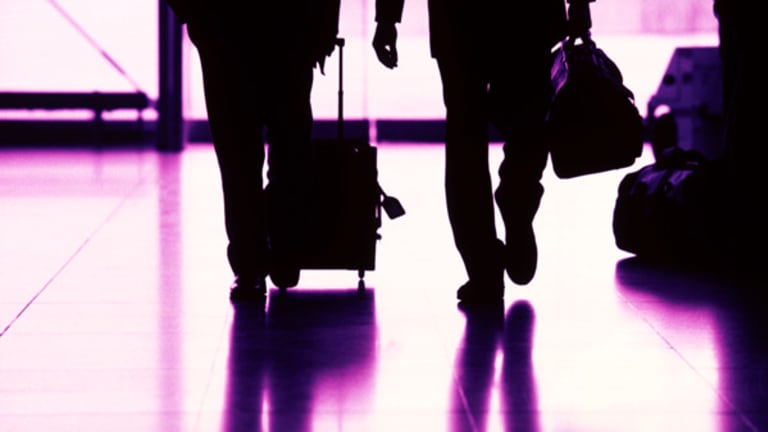 Fly Smarter With Sky-High Wi-Fi
Some tips to make it easier to surf while high in the air.
NEW YORK (
) -- With
JetBlue
(JBLU) - Get JetBlue Airways Corporation Report
and
Boeing
(BA) - Get Boeing Company Report
recently committing to offering Wi-Fi service on more aircraft next year, it's time to make those long flights work for you.
But as anyone who has used Wi-Fi up in the sky knows, the experience can be slow, choppy and frustrating. Airplane Wi-Fi is not the same broadband people are used to at home.
When
tested out in-flight Wi-Fi two years ago, the winner was
Delta Air Lines
(DAL) - Get Delta Air Lines, Inc. Report
, topping out at a mere 0.93 megabits per second, or mbps, the speed of data transfer.
Today, speeds are all over the map. Reviewers at
report a swift 9.8 mbps, while others are still slugging away at well
.
, which built an air-to-ground system to beam Internet to planes flying overhead, says its member airlines can offer up to 3.1 mbps, with its next-generation ATG-4 technology at 9.8 Mbps.
, which provides Wi-Fi to
Southwest Airlines
(LUV) - Get Southwest Airlines Co. Report
and
Norwegian Air Shuttle
,
.
In reality, the experience is usually much slower because those fast-sounding speeds are typically shared by everyone onboard. Streaming movies and music will be mediocre at best. When
TheVerge leaked a JetBlue memo
last week about the airline's upcoming Wi-Fi service using
ViaSat
(VSAT) - Get ViaSat, Inc. Report
, the memo trashed the competition calling them "s-l-o-w" and taking nearly one minute to load one page.
But in-flight Wi-Fi is not useless. It's handy for checking email and other productivity tasks. People want it and it's getting better. According to a
recent Fly.com survey
of 500 U.S. travelers, 80% wanted the option to go online during the flight.
But until in-flight Wi-Fi is as reliable as home broadband, here are tips on how to be smarter about in-flight Wi-Fi:
Go mobile on your laptop
: Opt for the mobile version of a Web site, which minimizes data-intense graphics. Often you can just add an "m." in front of the web address. If you're just browsing, use the
Google Mobilizer
, which automatically sends you to the mobile page with the option of nixing graphics. You can opt for the fastest browser, like
, which compresses Web pages by up to 90%.
Turn off updates/synching
: No need to waste precious bandwidth with cloud backups,
Twitter
notifications and
Facebook
(FB) - Get Facebook, Inc. Class A Report
status updates. File-synching apps such as Google Drive and Dropbox also run in the background. Turn off all of that, including RSS feeds and automatic email checks, and download important documents ahead of time so the bandwidth you do use is dedicated to getting tasks done. Gogo, which powers Wi-Fi for several airlines, suggests right-clicking on the task bar to view active applications and easily disable them. "Since bandwidth is a shared commodity, basic etiquette goes a long way," says a Gogo representative. Also, don't keep too many browser tabs up. Some may be automatically refreshing themselves.
Forget about graphics
: Do you really need to view the stock art accompanying a news article you want to read? Turn off images in the browser so you're not wasting time waiting for photos to load (here are some
instructions).
Compress
: If you've got to send large files while in flight, compress them by zipping them, usually done by right-clicking the icon and selecting the "zip" option.
Use email
: Adding photos to Flickr or posting on Blogger could be troublesome in the air. You've first got to access the site, log in and then post and cross your fingers for a steady connection. An alternative is to use email, as suggested by Amit Agarwal in his
"Digital Inspiration" blog
. He lists 10 email addresses that are useful when you have no Internet connection that will let you do things like posting videos to your YouTube account or writing a blog post offline and emailing it to Blogger. But don't forget to limit file attachments when checking email by using the settings in the email program. A funny multi-megabyte video won't be so funny when it takes the whole flight to download
Save some money
: If you travel often, consider a monthly pass. Delta, which charges $12 for 24 hours, also offers a monthly ($34.95) and annual pass ($399.95). If you don't have a favorite airline, Gogo sells a monthly pass for $39.99 good on all Gogo-equipped flights. Gogo, which provides service for 1,500 aircraft of major airlines, counts Delta,
United Continental's
(UAL) - Get United Airlines Holdings, Inc. Report
United Airlines and
Frontier Airlines
( FRNT) as clients.
Pick the right plane
: Lastly, make sure the plane you're flying is equipped with Wi-Fi.
helps you target exact flights that offer Wi-Fi and power outlets, not to mention TV service and best on-time arrivals.
Also, here are links to airlines that currently offer Wi-Fi on some or all of their flights:
AirTran ( AAI): Available on every flight.
Alaska Airlines : Available on almost every flight.
AMR's American Airlines: Available on all 767-200 aircraft and select MD80 and 737 aircraft.
Delta: Available on "3,000 domestic daily flights."
Frontier Airlines: Available only on Embraer 190 aircraft.
JetBlue: Will install its first aircraft by first quarter 2013.
Southwest Airlines: Check Southwest's WiFi Finder for specific flights.
United Airlines: Service on three-cabin Boeing 757 aircraft between New York (JFK) and both Los Angeles (LAX) and San Francisco (SFO).
US Airways : Service on all Airbus A321 aircraft, and expanding to Embraer 190, 170 and 175 aircraft.
Virgin Air: Available on every flight.
This article was written by an independent contributor, separate from TheStreet's regular news coverage.
Tamara Chuang is an outside contributor to TheStreet. Her opinions are her own.