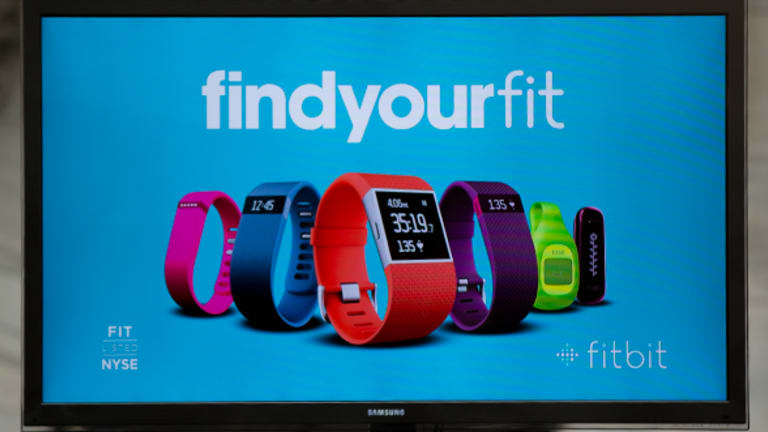 Fitbit Is Actually More Popular Than Apple Watch Right Now
Fitbit outsold the Apple Watch in May, selling 850,000 devices, compared to 777,000 for the Apple Watch.
Fitbit outsold the Apple Watch in May, selling 850,000 devices, compared to 777,000 for the Apple Watch.
NEW YORK (TheStreet) -- Is Fitbit (FIT) - Get Report currently more successful then the Apple (AAPL) - Get Report Watch?
It appears that way, at least according to research from Slice Intelligence.
Taking data from 2.5 million emailed receipts, Slice noted that Fitbit outsold the Apple Watch in May, selling 850,000 devices, compared to 777,000 for the Apple Watch. Of course it should be noted that there are multiple Fitbit devices -- seven in total -- compared to just one Apple Watch (albeit in three versions).
The price points are different are well, with Fitbit's zip Wireless Activity Tracker starting at $54.95 on Amazon, compared to a starting price for $349 for the Apple Watch Sport.
According to Slice, Fitbit owns 68% of the fitness tracker market, thanks in part to the Fitness Charge HR, which lets users monitor their sleeping habits as well as their heart rates. (See TheStreet's review of the Fitbit Charge here.)
Despite mountains of hype surrounding the Apple Watch, it has not killed off Fitbit, at least in the minds of consumers. The research firm found that just 4.8% of those buying a Fitbit also purchased an Apple Watch. The research firm found that the majority of the sales are coming from Fitbit.com, as opposed to a more general retail search site, like Amazon.
TheStreet's Jim Cramer is positive on Fitbit's ecosystem. "I think it's a really good ecosystem," Cramer said. "I think that people are misinterpreting what its really about -- it's about wellness, chiefly for women, and i think that's a much bigger market and the stock can go higher."
Shares of Fitbit were soaring in Tuesday trading, gaining 10% to trade at $36.60 after RBC Capital Markets initiated coverage on the name with an "outperform" and a $45 price target.
"The connected health/fitness market is in the early growth stages, Fitbit is rapidly gaining share and we see increasing unit/ASP growth with a platform approach," analyst Mark Sue wrote in a research note. "A deeper international push, combined with corporate wellness adoption will help Fitbit grow revenues an estimated 83% this year and conservatively 29% next year, helping the stock grow into its premium valuation."
Investors appear to be taking to Fitbit, given it's one of the few consumer technology companies that's profitable.
In 2014, the company ended the year with $745.4 million in revenue, generating net income of $131.8 million with adjusted EBITDA of $191 million. That's a significant improvement over 2013, when it earned $79 million on $271.1 million in revenue.
RBC's survey backs up the Slice Intelligence data, noting that, "Our proprietary survey indicates a growing interest in Fitbit products (Surge, Charge, Charge HR) vs. Apple Watch as well as other activity/fitness trackers such as Jawbone, Garmin and others."
These are of course two different markets, fitness trackers and smart watches (Fitbit offers its own smartwatch, the Fitbit Surge, which stars at $249.99), so it's slightly unfair to compare one segment to another, but it appears that Fitbit is not just a fad, despite others entering the market, including companies such as Garmin (GRMN) - Get Report, Jawbone, Xiaomi and others.
The company's software strategy and ability to integrate third-party apps (much like the Apple Watch does) appear to be the main differentiator for Fitbit.