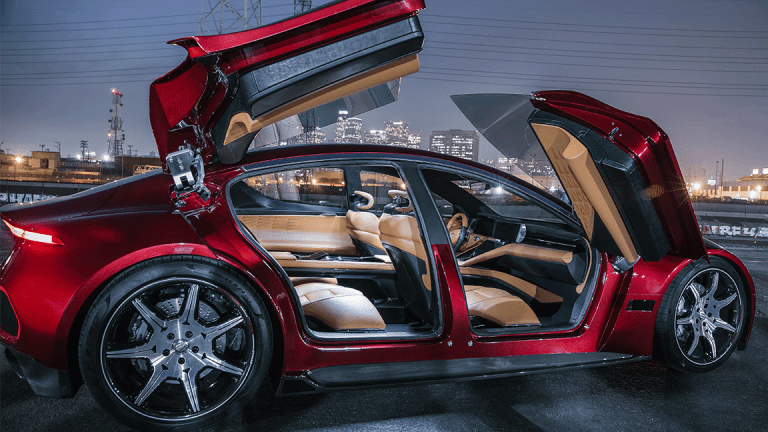 Fisker Debuts $129,000 Tesla Killer at CES 2018
Fisker is showing off its flashy, fully autonomous EMotion at CES this week, complete with butterfly doors, vegan leather seats and wireless phone chargers.
Fisker is showing off its flashy, fully autonomous EMotion at CES this week, complete with butterfly doors, vegan leather seats and wireless phone chargers.
Fisker has finally launched its comeback car that could prove to be a Tesla (TSLA) - Get Report killer. 
At CES 2018 on Tuesday, Fisker debuted the ultra luxury, all-electric EMotion sedan that's equipped with an advanced autonomous driving system and a fast-charging battery that promises a range of over 400 miles on a single charge. The $129,000 EMotion is CEO Henrik Fisker's first car since his last luxury, plug-in hybrid vehicle, the Fisker Karma, went bust in 2011. The legendary Danish-born car designer has long-standing ties to the automotive space, however, having designed iconic cars like the BMW Z8 and the Aston Martin V8 Vantage, among others. 
Fisker's eye for design and extravagance is on display with the EMotion. The sedan has butterfly doors that can be opened using your smartphone and a nearly invisible LIDAR system that equips the EMotion's self-driving capabilities. Inside, the EMotion is fitted with vegan leather interiors, a wireless charging station and an optional TV mounted on the passenger side seat. 
"With the EMotion, we're introducing edgy, dramatic and emotionally-charged design/proportions -- complemented with technological innovation that moves us into the future," Henrik Fisker said in a statement. "That design balance is what made the Fisker brand emotionally connect with our consumers." 
While the EMotion will be on display at CES this week, Fisker said the car won't actually ship until the second half of 2018. Another version of the EMotion, which is equipped with an LG Chem lithium-ion battery cell, will become available at the end of 2019. 
Fisker's in-house flexible solid-state battery is also on display at CES this week. In an interview with TheStreet last August, Fisker said the battery would be superior to existing electric vehicle technology, charging the car in just 9 minutes. He also mentioned that the company is working on an affordable version of the EMotion, priced around $34,000, that's due out in 2020. It's unclear whether that plan is still in the works, but the cheaper EMotion would likely go head-to-head with Tesla's affordable sedan, the $35,000 Model 3. 
Fisker also denied that the company is looking to be a Tesla rival. 
"I don't think anyone is out to kill anybody," Fisker said in August. "Tesla doesn't really have a competitor. It doesn't look like one is going to emerge. I think it's time to move to a next level of technology and I believe that we have come up with some real breakthroughs." 
Despite this, Fisker ultimately attracts many comparisons to Tesla. Like Fisker, Tesla has been able to set itself from other automakers' electric vehicles via its advanced battery packs that are made in-house. Also like Tesla's Model S, the EMotion is 16 feet long and 5 feet high. Tesla's model X also has "falcon doors" similar to the EMotion's butterfly doors. 
Still, Fisker maintains that the EMotion will be a groundbreaking addition to the electric vehicle market. 
"We are truly entering a new era in the way the world thinks about vehicles, the way electric vehicles are charged and the way personal consumer electronics are powered -- with Fisker Inc. now clearly at the forefront of that," Fisker said in a statement.
More of What's Trending on TheStreet: