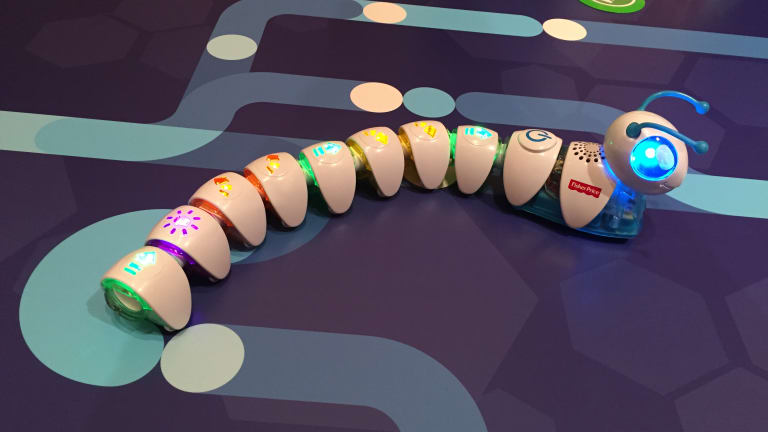 Fisher-Price Wants To Get Your Kids Coding Early With the Code-A-Pillar
The new toy teaches basic principles of coding to children as young as three.
You can now get your kids started coding at the ripe age of three thanks to a new toy from Mattel's (MAT) - Get Report Fisher-Price unveiled at this year's CES.
The toy, called code-a-pillar, is a caterpillar that is made up of movable segments. Each segment has a different direction on it --forward, right, left, or pause -- and the caterpillar moves based on how the segments are arranged.
The idea is that the code-a-pillar teaches early principles of coding through sequencing, problem solving, and goal-oriented programming. The child can set a specific target for a location he or she wants the code-a-pillar to reach.
The code-a-pillar comes with 8 segments as well as a companion app with sequencing challenges for children. The toy is geared towards kids ages three to eight and will be available in the fall for $49.99.
Kids today grow up in a digital world surrounded by screens and apps, but toys like the code-a-pillar are taking those digital principles and applying them in a more creative way to encourage learning and creativity at a young age.
"As children spend more and more time interacting with digital devices, they don't have very many opportunities to create and experiment," MIT Media Lab's Mitchel Resnick recently told NPR.
"Oftentimes it's playing, clicking, consuming, as opposed to designing and expressing," Resnick said. "I would tell parents to look for either the apps or the toys where the child is in control. If it feels that the toy or tablet is in control, then I'd be much more cautious about it."