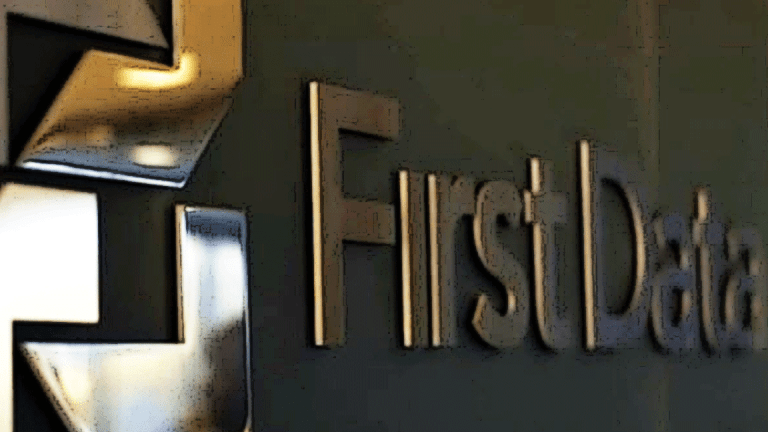 Fiserv and First Data Megadeal Could Drive More Fintech M&A
The $22-billion merger between Fiserv and First Data is the first megadeal of the year, and it could also pressure other fintech companies to consider consolidating.
The mega-deal between Fiserv (FISV) - Get Fiserv Inc. Report and First Data (FDC) - Get First Data Corporation Class A Report has many investors wondering what's next.
The deal, announced on Wednesday, will merge the two financial technology players into one combined payments giant worth $22 billion. Both firms are sizable legacy players and have mostly complementary, rather than competitive, services: Fiserv sells technology to banks, credit unions and other financial institutions, while First Data focuses on payments processing.
In a statement, Fiserv CEO Jeffery Yabuki said that as a combined entity, "we expect to redefine the manner in which people and institutions move money and information." The two companies are anticipating $900 million in run-rate cost savings and at least $500 million in "revenue synergies" over a five-year period. On Wednesday, Fiserv's stock was down 3%, and First Data shares were up 21%.
Fiserv is classified as a "core processor," supplying technology that serves as the backbone of the most common banking transactions. According to a 2018 report from FedFis, Fiserv is the largest player in that corner of the fintech world with a 37% market share and competing with a handful of others, including Fidelity National Information Services Inc.  (FIS) - Get Fidelity National Information Services Inc. Report .
Andrew Atherton, a director at Union Square Advisors who specializes in fintech, said that the Fiserv deal hearkens back to FIS's $9 billion acquisition of SunGard in 2015: "What that allowed [FIS] to do was to expand beyond core processing, which is a sticky market but slow growing. This feels like a bit of a response to that," he said, adding that the Fiserv merger should likewise deliver "tighter integration with the customers Fiserv cares about, primarily the big banks."
The Fiserv deal also adds more heft to First Data's Clover product, a point-of-sale terminal that competes with Square (SQ) - Get Block Inc. Class A Report . And looking ahead, the mega-deal may also pressure other fintech players to shop around. Atherton noted that M&A within the finance sector can be a slow process, but that many banks are interested in broadening out their slate of services -- a trend that could catalyze further investment activity across the fintech space.
"Where there's really been growth has been on the front end, in those applications you can build on top of the core systems: mortgage tech, software that allows loan processors to process loans more efficiently, all of those SaaS applications that can sit on top of those core applications," he added.
In a note last week predating the Fiserv merger, MoffettNathanson's Lisa Ellis made note of some other fintech players that could also be ripe for merger activity this year: "We also expect M&A activity, including acquisitions of small country-specific players, and potentially some further mergers among the global majors: First Data, Worldpay, Chase Paymentech, Global Payments, Adyen, Stripe, PayPal-Braintree, and Wirecard," she wrote.