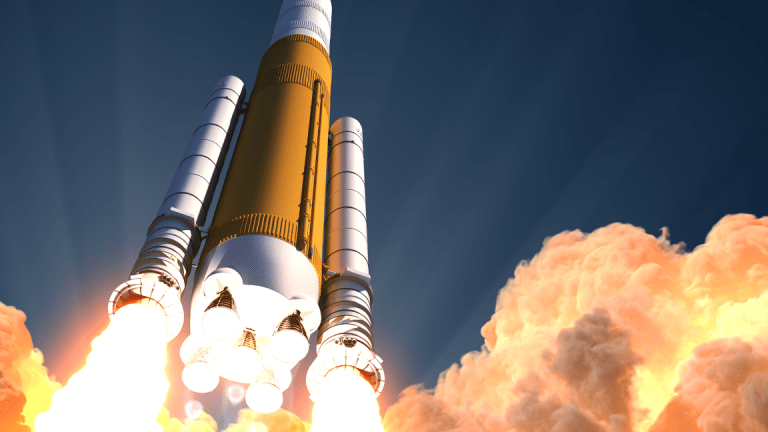 Publish date:
Who's First to Mars: Musk, Bezos or Boeing?
Who will be the first to Mars? Musk's SpaceX, Bezos' Blue Origin or a public company like Boeing?
Who will be the first to Mars? Musk's SpaceX, Bezos' Blue Origin or a public company like Boeing?
The space race became a quiet one when it was filled with government contractors and public companies running the show.
Names like Lockheed Martin (LMT) - Get Report , Boeing (BA) - Get Report and a number of other industrial and/or defense companies were the drivers behind putting satellites into space and delivery goods to the International Space Station.
But with the emergence of several privately funded companies, the space race is starting to get a lot more interesting. Most notable are SpaceX, founded and run by Tesla Inc.  (TSLA) - Get Report CEO Elon Musk, and Blue Origin, founded by Amazon.com, Inc. (AMZN) - Get Report  founder and CEO Jeff Bezos.
Bezos sells about $1 billion worth of Amazon stock per year to fund his Blue Origin venture, while SpaceX recently raised about $500 million at a $25 billion valuation. The nitty gritty details of the recent raise aren't known, but SpaceX does have early investors like Alphabet Inc.  (GOOG) - Get Report (GOOGL) - Get Report , an Action Alerts PLUS Charitable Trust holding,and Fidelity (FIS) - Get Report in on the mix. It's likely they're involved as well, given how well SpaceX has been doing.
In fact, both SpaceX and Blue Origin aren't just building novelty space-rocket toys for their billionaire founders to play with.
Each are landing contractors to send satellites into orbit, make deliveries to the ISS and launching military spacecraft into space. SpaceX has live-streamed its rocket boosters returning to earth, allowing them to land standing up back on the launch pad or on drone ships out at sea. 
To see it live was honestly a goosebump-inducing moment. It shows just how far both Bezos and Musk have come with their space companies.
So Who Wins in a Race to Mars?
Richard Branson's space company, Virgin Galactic, joins SpaceX and Blue Origin in looking to launch a space orbit business for tourists. If successful, that would help generate cash flow to fund further missions, possibly one to Mars. 
I don't mean any offense to Virgin, but I think the private company vs. public company space race boils down to Musk and Bezos vs. all. At least when it comes to Mars, that's where I'd place my chips.
Yes, Musk has developed the common practice of over-promising and under-delivering. And admittedly, Boeing generates billions in free-cash flow and has the financial muscle to plow resources into these efforts. But remember, it's also strapped by investor expectations, who won't want to see too much money go into such a project without seeing how it can generate a return. 
In that sense, let's remember that Jeff Bezos is the richest man on earth and can essentially do as he pleases with Blue Origin, while Musk dreams big and has no plans of dying here on earth. Plus, the progress that these two companies have made over the last decade and the contracts that they've been able to secure with NASA, the military and others should embarrass the established players in the field.
Boeing CEO Dennis Muilenburg recently sat down with TheStreet, telling Executive Editor Brian Sozzi that Boeing would be first to Mars. I'm sure he believes that and if the odds were posted in Vegas, maybe Boeing would even be the favorite.
But just like countless sporting events have taught us, the favorite doesn't always win.
Expert Advice for a Risky Market. We asked top experts from Bank of America, Fisher Investments, Invesco and Wells Fargo what smart investors should do right now. Click here and register for free to watch what these market watchers recommend.
This article is commentary by an independent contributor. At the time of publication, the author had no positions in the stocks mentioned.