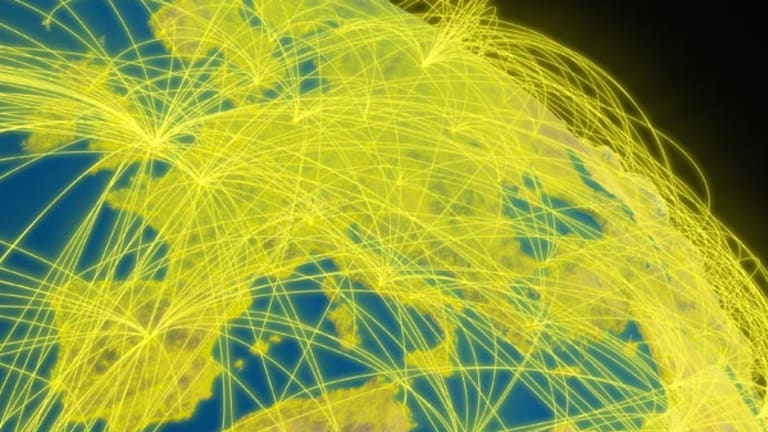 Facebook's Sandberg Highlights Women in Tech
There are only 21 female CEOs at the Fortune 500 companies. And just four of those are tech companies. According to Women 2.0, only 8% of investment professionals at the leading venture capital firms are women. Yet these mighty few women are making head ways in tech.
There are only 21 female CEOs at the Fortune 500 companies. And just four of those are tech companies. According to Women 2.0, only 8% of investment professionals at the leading venture capital firms are women. Yet these mighty few women are making head ways in tech.
NEW YORK
-- Leadership positions at some of the largest companies have largely been dominated by men. There are only 21 female CEOs at
Fortune 500
companies, with just four of them being tech companies. According to
, only 8% of investment professionals at the leading venture capital firms are women. Females also represent only 9% of Silicon Valley Board members.
Yet these few women are making major headways in tech.
Yahoo!'s
(YHOO)
shares have jumped sharply since Marissa Mayer was named CEO.
Coming off the back of strong
Facebook's
(FB) - Get Report
COO Sheryl Sandberg is inspiring others with her best-selling book, "Lean In." "In the future, there will be no female leaders. There will just be leaders," she writes.
Women are increasingly becoming the top earner in their households. Females are now breadwinners in 40% of American family homes. That's four times the ratio we saw in 1960.
These are the most powerful women in tech. Here's how they achieved the status they have today.
Sandberg was brought into Facebook to help reign in CEO Mark Zuckerberg, and give the company more panache with investors and business partners alike.
Sandberg inspired women to lead and succeed with her book "Lean In," which topped best-seller lists earlier this year. She provided her own theories about why there are so few women leaders in the workforce, despite achieving equality in education decades ago. In addition to some obvious workplace inequalities, Sandberg claims some women are less ambitious.
The Harvard-educated Facebook exec is incredibly ambitious herself. She joined Facebook in 2008. Since then, Facebook has grown to a worldwide company, sporting 1.15 billion users as of the end of the second quarter. Sandberg has been instrumental in building out the company's advertising platform, leveraging her prior experience. She's helped transition the company into the social networking giant it currently is.
Prior to joining Facebook, the D.C. native was the Vice President of Global Online Sales and Operations at Google. She also has ties to Washington, having previously served as chief of staff for the United States Secretary of the Treasury.
When Mayer took the helm at Yahoo! last year, she made
Not only was a 37-year old woman taking charge of a Fortune 500 company, she was also pregnant. Putting the "women can have it all" theory to the test, Mayer took only two weeks of maternity leave and worked through it. She recently extended Yahoo!'s maternity and paternity leave, however.
The new parent, who has a nursery at her office, faced criticism when banishing Yahoo!'s work-from-home policy. But Mayer was tasked with rebuilding Yahoo!'s brand. She was trying to send a message to employees and investors that she means business. The message seems to be working, as investors and employees alike have responded positively towards her, with morale higher than under predecessor Scott Thompson, and shares up sharply since she took over.
Prior to coming to Yahoo!, Mayer made a name for herself as one of
Google's
(GOOG) - Get Report
earliest employees. The company's first female engineer, she worked her way up and eventually served as Vice President of Location & Local Services at Google. The Wisconsin native graduated from Stanford University with a B.S. in symbolic systems and a M.S. in computer science.
Whitman may have lost California's gubernatorial election, but she's still one of the most powerful women in technology. Currently the CEO of
HP
(HPQ) - Get Report
, Whitman has the company on a five-year turnaround plan. Although sales have been declining, costs have been reduced. Investors have begun to respond to the plan, as HP shares have jumped more than 80% year-to-date.
Prior to joining HP first as a member of the board then as CEO in 2011, Whitman spent a decade as CEO of Internet giant
eBay
(EBAY) - Get Report
. Whitman joined the company in 1998, leading it just after it came to the public markets. By the time she left eBay in 2008, Whitman had grown the company from $4.7 million in annual sales to $7.7 billion in revenue. Following that, she spent $160 million to try to become governor of California, only to lose the Jerry Brown.
Before joining the Palo Alto, Calif.-based HP, Whitman served as a strategic advisor for well-known venture capital firm
Kleiner Perkins
.
In addition to her role at HP, Whitman is on the board of
Procter & Gamble
(PG) - Get Report
and
Zipcar
. Whitman is one of California's richest women, with $1.9 billion in net worth. The Long Island native graduated from Princeton University and Harvard Business School. She is married to Griffith Harsh IV, a neurosurgeon at Stanford University.
Ursula Burns is not only a powerful woman, she's the first African-American woman to run a Fortune 500 company. Burns started at
Xerox
(XRX) - Get Report
in 1980 as a summer intern. From there, she rose all the way to the top spot, including being an executive assistant, ultimately becoming CEO in 2009.
Despite her current success, Burns came from humble beginnings. She was raised by a single mother in a New York City housing project. The daughter of Panamanian immigrants went on to graduate with a mechanical engineering degree from NYU. She received her masters in mechanical engineering from Columbia University. Burns married Lloyd Bean, who also worked at Xerox.
Along with her current work at Xerox, Burns serves on the boards of
American Express
(AXP) - Get Report
and
Exxon Mobil
(XOM) - Get Report
. Burns provides leadership advice to non-profit and community organizations such as MIT and the U.S. Olympic Committee.
She's also a founding board director at Change the Equation, an organization devoted to improving science and technology education. Like Sandberg, Burns also has ties to Washington. President Obama appointed Burns to vice chair of the President's Export Council.
Ginni Rometty is currently the chairman and CEO of
IBM
(IBM) - Get Report
, the first female CEO in IBM's history. Rometty has put in her time at the software and services giant, having spent over 30 years working up the corporate ladder.
Prior to taking the top spot, Rometty was IBM's Senior Vice President and Group Executive for Sales, Marketing, and Strategy. In previous roles, she was successful at integrating the acquisition of
PricewaterhouseCoopers
consulting. Rometty has been heavily involved with expanding IBM throughout the world, establishing IBM's Growth Markets organization. In addition to her work at IBM, she currently serves on the Council on Foreign Relations, the Board of Trustees at Northwestern University, and the Board at Memorial Sloan-Kettering Cancer Center.
Rometty earned her bachelors degree from Northwestern University, graduating with high honors in computer science and electrical engineering. Showing early signs of leadership potential, Rometty was also the president of her Kappa Kappa Gamma sorority chapter.
--Written by Katie Roof in New York--