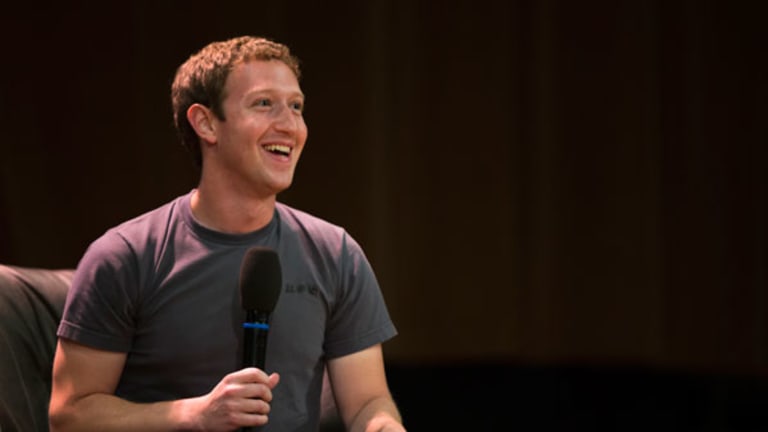 Facebook's Mark Zuckerberg Honors Giving Pledge With Share Sale
Mark Zuckerberg is making a near $1 billion charitable donation, as he embarks on a lifetime giving pledge.
NEW YORK (TheStreet) -- Mark Zuckerberg is beginning to fulfill a pledge to give away most of his life's wealth as the Facebook (FB) - Get Meta Platforms Inc. Class A Report co-founder and CEO conducts one of his biggest stock sales since taking the social networking giant public in a blockbuster May 2012 IPO.
Facebook said on Wednesday it will sell 70 million shares, split between an over 27 million share sale by the company and a near 43 million share sale by selling stockholders. Of Facebook's selling stockholders, Zuckerberg will be selling 41,350,000 of his shares in the Menlo Park, Calif-based company's shares. Venture capital firm Andreessen Horowitz, the other selling stockholder, will be selling 1.65 million shares in the offering.
While Facebook will be using proceeds it gets from the share sale for working capital and other general corporate purposes, Zuckerberg said in a Thursday statement the sale will help satisfy tax obligations he will incur as a result of exercising an option to buy 60 million of Facebook's Class B shares. 
Zuckerberg intends to use 18 million of those Class B shares as a charitable gift to the Silicon Valley Community Foundation, the nonprofit foundation that handles his giving, in December. Those Class B shares will be converted to Class A common stock, according to a filing Facebook made with the Securities and Exchange Commission on Thursday.
At Facebook's current stock price of about $55 a share, the donation would be worth roughly $990 million.
The billionaire Harvard dropout recently committed to a so-called "giving pledge" co-created by Warren Buffett of Berkshire Hathaway and Bill and Melinda Gates, which stipulates that participants, normally among the world's wealthiest individuals and families, commit to dedicating a majority of their wealth to philanthropy. The Giving Pledge was formally announced in August 2010.
Initial participants included George Lucas of Lucasfims, David Rockefeller, Ted Turner, Pete Peterson, Michael R. Bloomberg, Barron Hilton and Sanford Weill, to name a few.
Zuckerberg is representative of a new breed of technology billionaires who may increasingly become attached to charitable efforts. Currently, Zuckerberg's profile on The Giving Pledge states "Full profile coming soon."
Other tech sector luminaries who have committed to the pledge include Larry Ellison of Oracle (ORCL) - Get Oracle Corporation Report, Vinod Khosla and Elon Musk of Tesla Motors (TSLA) - Get Tesla Inc Report.
Facebook's 70 million secondary share offering comes just ahead of the company's inclusion to the S&P 500 Index on Friday. Zuckerberg will retain roughly 60% voting power over Facebook's shares after the offering.
Shares in Facebook were trading just over 1% lower in late Thursday afternoon trading. Year-to-date Facebook shares have gained over 100%, putting the company at a stock market valuation in excess of $130 billion.
Mark Zuckerberg is estimated by Forbes to have a net worth of $19 billion as of September 2013, making him the 25th richest person in the United States.
-- Written by Antoine Gara in New York