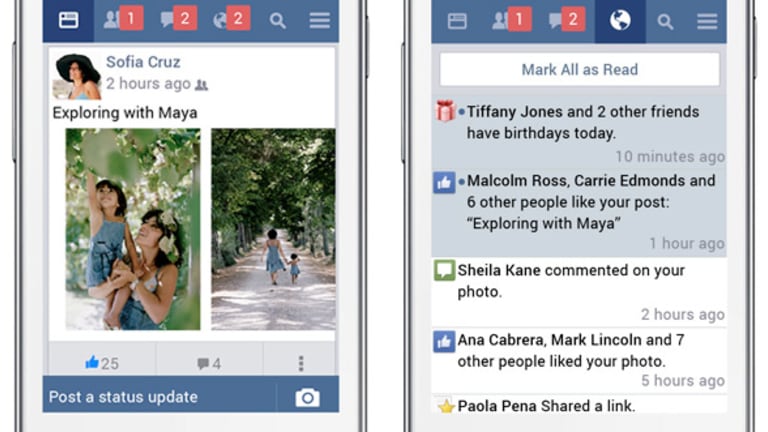 Facebook Wants to Have Its Own Photo Sharing App Too
Moments, Facebook's new cloud-based photo sharing app, arrives as similar apps like Yahoo!'s Flickr make changes.
NEW YORK (TheStreet) -- Facebook (FB) debuted a new cloud-based photo sharing app Monday, adding an option for users to share photos privately.
Called "Moments," the app lets users share photos taken with their smartphone's camera with friends without having to make them public on Facebook. Even if they aren't shared publicly, the app will still use Facebook's facial recognition feature to identify people in the photo.
In a statement, Facebook said the app is designed for sharing photos from large events, eliminating the need to take the same photo with multiple devices. 
"When you go to a wedding, for example, there are many people taking great photos throughout the day," Product Manager Will Ruben wrote in the statement. "You all want a quick way to share your photos with the friends who are in them, and get photos that you're in back."
The app became available in the U.S. Monday for Apple (AAPL) iOS and Google (GOOG) (GOOGL) Android phones. It's a product of Facebook's Creative Labs, which has produced other apps for the social media giant, such as Facebook Groups.
Offering privacy similar to Facebook Groups, Moments allows users to share photos with specific friends they have added on the traditional Facebook platform.  
Earlier this month, Facebook released Facebook Lite, a version of its app that requires less storage space to install and run. The company said it plans to promote the app in parts of the world with limited network capacity, including Asia, Africa and Latin America.
The Moments app comes as other photo-sharing platforms have made upgrades to their mobile apps. Last month, Yahoo!'s (YHOO) Flickr made changes to its mobile app to allow users to edit photos from the camera roll before uploading them to the cloud.
Google made similar changes to its cloud-based photo storage option, giving users unlimited storage, even for high-resolution photos.
Shares of Facebook were trading at $80.72 Monday afternoon, down 1% for the day.
This article is commentary by an independent contributor. At the time of publication, the author held no position in the stocks mentioned.