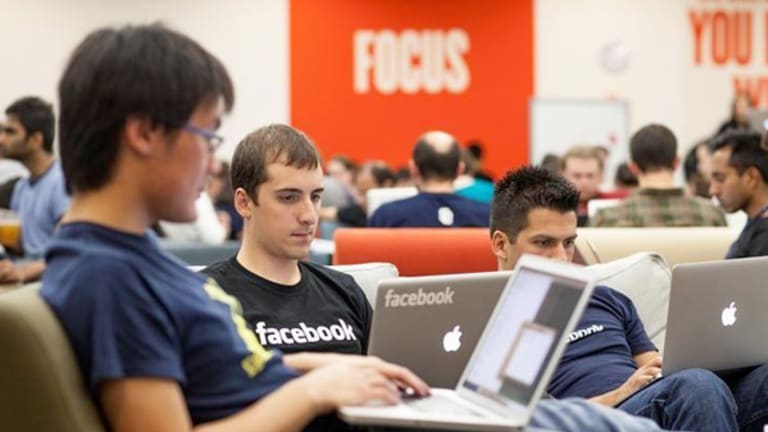 Publish date:
Facebook Just Turned 12 -- Here Are Some of the Best Reasons to Work There
Facebook, which turns 12 today, is known for how well it treats its employees. Here are some of the top perks that come with working there.
Facebook, which turns 12 today, is known for how well it treats its employees. Here are some of the top perks that come with working there.
Since being founded twelve years ago today, Facebook (FB) - Get Report has changed the way we communicate, interact, think and get information.
The company is sucking up advertising dollars left and right, becoming one of the top juggernaut corporations around the globe. For the fourth quarter, adjusted earnings came in at 79 cents a share on $5.84 billion in revenue, up 52% year over year.
As of the end of 2015, 1.59 billion people used the service every month, including 1.44 billion on mobile devices, an increase of 21% year over year, suggesting that user growth isn't slowing any time soon. Perhaps more importantly, Facebook now has 934 million mobile daily active users, an increase of 40 million from last quarter and 25% more than the previous year.
On a day the company is calling "Friends Day" and making personalized videos for millions of its users, let's take a look at some of the best perks for working there, according to current and former Facebook employees.
1. New-Parent Benefits
One of the biggest issues for new parents is taking time off to be with their newborn children.
Justin Moore, a Facebook engineering manager, said in a Quora discussion that company employees get $4,000 in baby expenses when a child is born and $3,000 a year in babysitting expenses, as well as four months of paid time off at any period during a child's first year after being born. "Having these four months, especially as a father, is huge," Moore wrote.
2. Plenty of Vacation
Americans starting at most jobs get two weeks of vacation a year, and often have to work for several months before they are vacation-eligible. And many employees find that trying to take off more than one week at time is worse than a root canal.
At Facebook, you get "21 days paid vacation [and] unlimited sick days," according to a current Facebook employee posting on Glassdoor.com.
3. Free Food
Facebook gives its employees far more than just free coffee and bags of trail mix. The expression, "There's no such thing as a free lunch" doesn't apply at Facebook.
The company provides free meals all day long, with everything from burgers and fries to vegan options. "The food is some of the best in the Valley, and they are quite good about showing allergens and ingredients in food," said a former Facebook production engineer on Glassdoor.
4. Generous Health Care/Insurance
Several Facebook employees listed the on-site health and dental care as one of the best benefits of working at Facebook.
Additionally, many employees say they get 100% of their health insurance paid for by the company, and co-payments for doctor's visits are low. "I was recently very ill and the healthcare benefits were incredible," said a current Facebook employee on Glassdoor. "I got red carpet treatment from doctors and nurses and every stage. I've never experienced anything like it."
5. Access to the CEO
Facebook's Zuckerberg likes to hear from his employees directly, and the company has regular meetings with the CEO and his non-executive staff.
"The weekly Q&A with Zuckerberg and other execs is pretty awesome," said Andrew Thivyanathan, a software developer with the company, in a Quora posting. "There are lots of people who would pay money for that experience."
6. Ad Benefits
This may be a perk that doesn't get as much attention as others, but Facebook helps its employees spend money on Facebook ads.
"Each employees gets $250 a month to spend on Facebook ads for themselves or for their family/friends," said Mark Wang, a Facebook software engineer in a Quora discussion about Facebook benefits.
7. The Little Things
Bankers and barbers on the Facebook campus. Free dry cleaning. An annual subsidy of $700 for gym memberships. Trainers that work at the gym at Facebook. A bike shop with free bike repairs and service. Regular ice cream socials. "Work from home Wednesdays" where meetings are discouraged. Employee shuttle service to and from Facebook's Menlo Park, Calif. headquarters to San Francisco and other places.
Nearly every Facebook employee or former employee raves about all the little things that add up to make their work experience at Facebook positive. "Company perks are second to none," said a former Facebook employee on Glassdoor. "The free food, the wellness reimbursement, the list goes on and on."
8. The Work Environment
Many Facebook employees said one of top perks of working at the company is an intangible one: The people.
An anonymous Facebook employee posting on Quora cited what she called a positive workplace with low tolerance for prejudices against genders, races, sexuality and other matters. "Most Silicon Valley companies encourage diversity, but at [Facebook], it is in the identity of the company," she wrote.