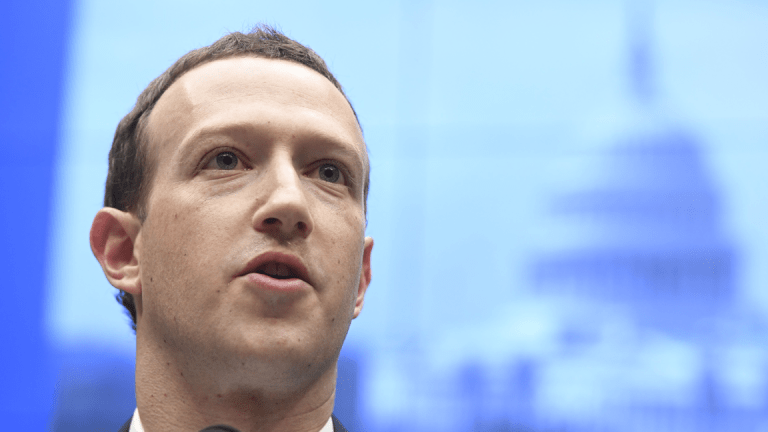 Facebook's Zuckerberg: Regulate These 4 Areas of Internet
Call for regulation follows years of controversy at the social networking site.
After getting probed and fined by European regulators, grilled and roasted by U.S. and other nation's lawmakers, hacked by data thieves and exposed in media reports for dealing users' data with other companies, Facebook (FB) - Get Meta Platforms Inc. Class A Report is now suggesting ways to improve the Internet -- through regulation.
At least that's what the company's chief executive, Mark Zuckerberg, is calling for on Saturday in a column posted on the social networking site's public relations page. 
"I believe we need a more active role for governments and regulators," writes Zuckerberg. "By updating the rules for the internet, we can preserve what's best about it -- the freedom for people to express themselves and for entrepreneurs to build new things -- while also protecting society from broader harms."
Zuckerberg called on four areas of the net to become regulated, "harmful content, election integrity, privacy and data portability."
Terrorist propaganda, hate speech and similar postings should be regulated, said Zuckerberg -- just weeks after the site was unwittingly used by the shooter in the New Zealand terror attack to live stream his massacre. The site had also fell into controversy over postings related to Russian attempts to influence in the 2016 U.S. presidential election and as a longtime forum for opinion related to Infowars host Alex Jones and others.
"We continually review our policies with experts, but at our scale we'll always make mistakes and decisions that people disagree with," he said. "Lawmakers often tell me we have too much power over speech, and frankly I agree. I've come to believe that we shouldn't make so many important decisions about speech on our own."
Zuckerberg said Facebook is creating an independent body so people can appeal Facebook's decisions and is working with government officials of various nations to ensure the "effectiveness of content review systems."
He also called for legislation to protect elections and said the company has stepped up efforts to make good on its own.
To ensure privacy and to protect data, he also called for a "globally harmonized framework."
"People around the world have called for comprehensive privacy regulation in line with the European Union's General Data Protection Regulation, and I agree. I believe it would be good for the internet if more countries adopted regulation such as GDPR as a common framework."