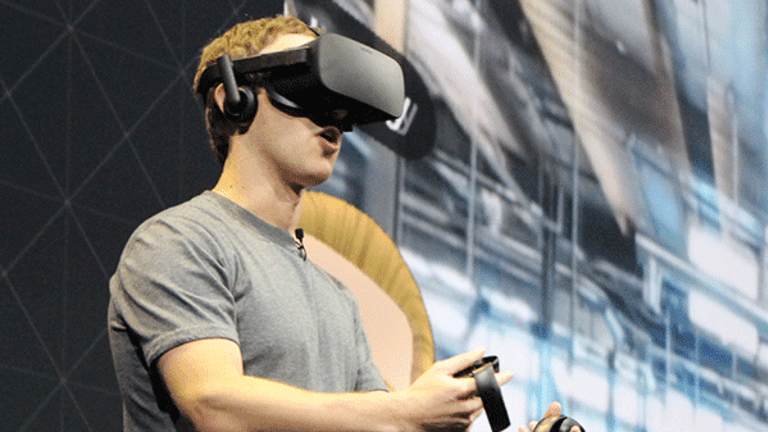 Facebook's Oculus Ordered to Pay $500 Million in Lawsuit -- Tech Roundup
Facebook's Oculus was sued for $2 billion. This week a jury ruled that it should pay $500 million to ZeniMax Media.
In mid-January, we covered the trial between Facebook's (FB) - Get Facebook, Inc. Class A Report Oculus Rift and ZeniMax Media, a company that says was ripped off when Facebook acquired Oculus for some $2 billion.
That figure actually ballooned closer to $3 billion when accounting for employee retention and extra compensation. But in any regard, ZeniMax alleged that Facebook was fully aware that some of Oculus' technology was stolen from ZeniMax when John Carmack left the company to become the CTO for Oculus.
According to Forbes, ZeniMax alleges that "Oculus VR stole some of its key technology and promoted a fake origin story to hide the truth."
Well, ZeniMax has now been awarded $500 million after a jury said Oculus used stolen computer code.
In the end, the breakdown resulted as such: $200 million for violating a non-disclosure agreement, $50 million for copyright infringement, $50 million for improper use of ZeniMax's trademarks, $150 million in damages from Brendan Iribe and $50 million in damages from Palmer Luckey, both Oculus co-founders.
While this may seem like a win for ZeniMax, the company was actually seeking $2 billion in damages and compensation. However, the fact that the company completely stopped working on VR in early 2013 -- without accusing Oculus of any wrongdoing until after the takeover from Facebook was announced in 2014 -- likely made it a harder for the jury to have complete conviction.
$500 million is still plenty of dough though, both for Facebook to part with and for ZeniMax to receive.
Shares of Facebook closed at $130.84 Thursday, down 1.8%.
Facebook is a holding in Jim Cramer's Action Alerts PLUS Charitable Trust Portfolio. Want to be alerted before Cramer buys or sells FB? Learn more now.

Following Facebook's fourth-quarter earnings beat and ensuing conference call, it's no secret that the social media juggernaut is putting a bigger emphasis on media.
In fact, by just monitoring the platform -- an increase in video, video ads and Facebook Live -- showed that management clearly had bigger ambitions than pictures and chat features.
How will the company do it though -- that is, how will it incorporate media? Will it sign distribution deals, make an acquisition or produce its own content? The company is still exploring just how it will get it done.
However, one thing appears crystal clear: Facebook isn't going at it alone. Netflix (NFLX) - Get Netflix, Inc. (NFLX) Report CEO Reed Hastings sits on Facebook's board, just as he has since 2011.
For now, there doesn't seem to be any conflict, perhaps because Facebook is still in its early days of media and isn't sure which direction it will head in. That said though, one would think Facebook's media strategy will eventually clash with Netflix, considering the scale of each operation.
Will it lead to an acquisition? It's still far too early and speculative to say. Netflix is a pricey stock -- with a valuation pushing $60 billion. While a tie-up may not be probable, it's also not impossible.
Shares of Netflix closed at $139.17 Thursday, down 1.2%.
Uber may have quickly expanded across the U.S. -- with the exception of the latest boycott hiccup it's experienced regarding President Trump's immigration order -- but its operations in Asia have not gone as smoothly.
Last year as a result of a price war, Uber made a deal with Didi-Chuxing that saw the ride-hailing company ultimately exit China with $1 billion and a near-20% stake from the latter. Now, Uber is suspending its operations in Taiwan.
While Uber knew its actions would impact "hundreds of thousands of drivers and riders," country officials were apparently not making life easy. They considered Uber's business to be illegal in the country, arguing that it only has "permission to operate as a tech company, not to provide transportation services," according to CNN.
While Uber has serviced 15 million rides in the country over the last four years, the country has slapped both Uber and its drivers with a number of fines.
According to reports, Uber racked up nearly $2.5 million worth of fines from September 2014 until early January, but beginning on Jan. 6, heavier fines quickly tallied up an additional $7.4 million worth of fines in just a few weeks.
Can you see why Uber has now suspended its operations in the country? It's unclear if the two sides will see eye-to-eye any time soon.
This article is commentary by an independent contributor. At the time of publication, the author held TK positions in the stocks mentioned.