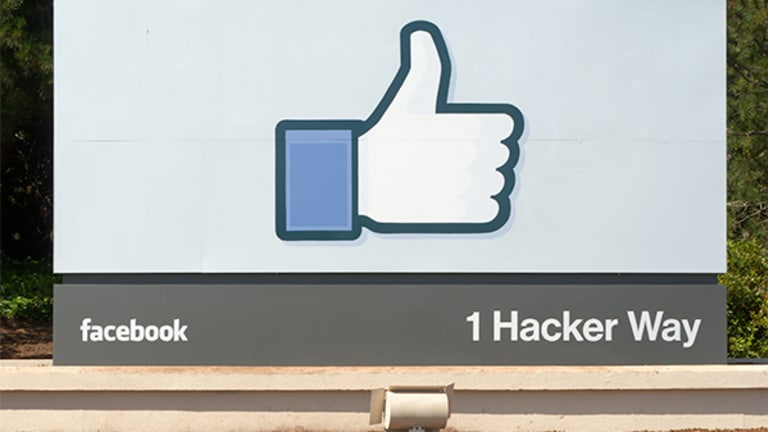 Facebook's Sales Growth Is Stunning, and Several Big Opportunities Still Remain
The social media juggernaut's revenue growth accelerated to 59% annually, in spite of virtually no revenue from Messenger or WhatsApp.
Updated from Wednesday with stock price information
For a company of its size -- both in terms of revenue and users -- the growth rates being delivered by Facebook (FB) - Get Report remain nothing short of staggering. And while the company is suggesting one of the levers that has fueled much of its recent growth won't be as powerful going forward, there are others that still haven't been pressed.
For the third straight quarter, the social media giant soundly beat analyst estimates, and was rewarded with an after-hours pop on Wednesday, with shares trading above $129, leaving them at new highs and up 23% year to date. Quite the contrast with what has happened to Twitter since the microblogging platform's Tuesday second-quarter report.
Shares of Facebook were adding to the gains in premarket trading on Thursday, rising about 4%.
Facebook is a holding in Jim Cramer's Action Alerts PLUS Charitable Trust Portfolio. Want to be alerted before Cramer buys or sells FB? Learn more now.
Facebook's revenue rose 59% annually in the second quarter to $6.44 billion, an acceleration from the first quarter's 52%. Ad sales rose a stunning 63% to $6.24 billion, after having risen 57% in the first quarter and fourth quarter -- Facebook says mobile news feed ads are still driving most of this growth, with Instagram and Facebook's mobile ad network playing contributing roles -- while payments and other fees revenue, which is closely linked to PC Facebook gaming activity, fell 8% to $197 million.
Not surprisingly, Facebook cautions ad growth will slow in the third and fourth quarter, as it deals with tougher annual comparisons and smaller increases in ad load. Markets largely brushed this off, given Facebook's historical caution and the fact analysts forecast 46% 2016 sales growth going into earnings.
Second-quarter top-line growth allowed Facebook's adjusted EPS to nearly double to 97 cents, in spite of a 47% increase in adjusted costs and expenses to $2.7 billion. It also allowed free cash flow to rise 66% to $2.2 billion, in spite of the expense growth and an 81% increase in capital expenditures to $995 million (15% of revenue). The adjusted figures exclude a healthy $805 million in stock compensation expenses, the lion's share of which went to R&D workers.
User growth remains pretty impressive, considering the massive base it's coming off of. Not counting Instagram and WhatsApp users who aren't using Facebook proper, monthly active users (MAUs) rose 4% sequentially and 15% annually to 1.71 billion; daily active users (DAUs) rose 4% quarter over quarter and 17% year over year to 1.13 billion. Moreover, Facebook says the amount of time spent by the average DAU on Facebook proper, Messenger and Instagram -- above 50 minutes as of April -- is still growing at a double-digit annual rate.
Also, if you needed further evidence Facebook is now a mobile-centric business, 84% of second-quarter ad revenue came from mobile, up from 82% in the first quarter and 76% a year ago. And 56% of MAUs (967 million) were mobile-only.
A 49% annual increase in ad impressions had much to do with Facebook's ad sales growth. The impression growth, in turn, was driven by a mixture of DAU growth, greater time spent per DAU and ad load growth. A 9% increase in price per ad also helped, as Facebook's investments in newer ad formats such as Dynamic Product Ads, Carousel Ads and sponsored video posts, along with better targeting and measurement tools for advertisers, continued yielding higher prices.
If there's an area of concern -- several analysts questioned the company about this on the earnings call -- it's that Facebook suggested ad load won't increase much for its core service after mid-2017. That means Facebook's news feed ad growth will depend on further increases in DAU and engagement figures that are already quite high, along with continued increases in ad prices and click rates.
On the bright side, there's still a healthy amount of room for Facebook to increase Instagram's ad load and expand the reach of its mobile ad network. And Messenger and WhatsApp, each of which now claim over a billion MAUs, remain largely unmonetized.
Search ads are another untapped possibility -- Mark Zuckerberg says Facebook, which has revamped its search engine to help users find information and content instead of just user accounts, is now handling over 2 billion daily searches, up from 1.5 billion a year ago. Then there's the Oculus virtual-reality hardware/software unit, which remains a sideshow for the time being but could be something much bigger in a few years.
The ad load remarks, along with Facebook's strong 2016 performance, might temper the market's reaction to Facebook's blowout quarter on Thursday. But the company still has some big ad growth opportunities in front of it, and the company has proven time and time again it's superb at monetizing an asset once it gets serious about doing so.