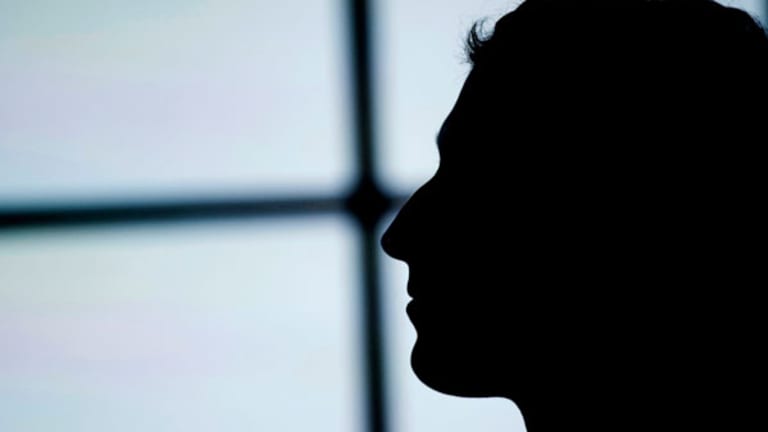 Publish date:
Facebook Quarterly Earnings Report: Top 3 Things to Watch For
The social network heads into its first-quarter report with a strong advertising business that is expected to produce solid sales.
The social network heads into its first-quarter report with a strong advertising business that is expected to produce solid sales.
SAN DIEGO, Calif. (TheStreet) -- Despite the new dogma of being a "family of apps," Facebook's (FB) - Get Facebook, Inc. Class A Report big, blue app will be the one that matters most come Wednesday when the company reports first-quarter results.
Analysts polled by Thomson Reuters are anticipating earnings of 40 cents per share on $3.56 billion in revenue when the company reports first-quarter results after the markets close. 
Facebook rose 2.87% to close at $82.31 on Monday. Since it reported its fourth quarter results on Jan. 28, its shares have risen approximately 9%.
The first quarter report trails Facebook's F8 developer conference where CEO Mark Zuckerberg set forth a catchy new ideology. Facebook is now a family of apps, he said, meaning that Facebook is no longer just Facebook. Instead, Facebook is the sum of its parts: the "big, blue app," WhatsApp, Instagram, Messenger, and the cadre of experimental apps the company has released over the past several months.
Most of those parts don't yet generate meaningful revenue, but they do represent the future of Facebook, which makes the slogan a crafty way to distract company observers from paying too close attention to signs of its aging. Yet apart from a not-so-hip reputation with teens and millennials, Facebook has few flaws. It's core advertising business is stronger than ever, and many analysts are expecting the company to post better-than-expected results in the first quarter. Or, as TheStreet's Jim Cramer put it, "What's not to like" about Facebook?
If there are potential wrinkles, it would be ballooning expenses or fluctuations in foreign currency, which could impact results by 9% percent, according to Wedbush Securities. 
And beyond advertising sales and additional insights into its most-popular apps, here are the top three areas investors should pay particular attention to on Wednesday: 
1. Video is in the picture.
To Facebook, video is the new photo. Case in point: video will eventually replace photos as the primary content type on Facebook, Zuckerberg has said. To Wall Street, video is the new mobile -- as in, analysts and investors are excitedly looking to video ads as the social network's answer to continued revenue growth. However you choose to view the matter, video will be the topic of discussion on Wednesday.
"Facebook video is at scale," JMP Securities analyst Ronald Josey said in a research note. Or, in other words, video has matured past the ramp-up stage and has moved into the stage where it can start producing real results. To start, Josey expects the social network's concentrated efforts to push more videos (which play automatically) into members' News Feed to pay off in more time spent on the site. Money should follow.
"While mobile has been the main driver of growth in the last two years, video should start moving the needle more meaningfully throughout 2015 and 2016," Cantor Fitzgerald analyst Youssef Squali wrote in a note. Many analysts, including Suntrust Robinson Humphrey analyst Robert Peck and Deutsche Bank analyst Ross Sandler, believe Facebook's video initiatives can add up to $1 billion in additional revenue annually.
Video advertisers are getting more comfortable with Facebook and now "know how to buy video on Facebook," Wedbush analyst Shyam Patil said in a note. Advertisers' are increasing their video budgets at the expense of spending elsewhere, though it's unclear whether Facebook is stealing video dollars from Google's (GOOG) - Get Alphabet Inc. Class C Report (GOOGL) - Get Alphabet Inc. Class A Report YouTube, he said. "Facebook's CTRs [click-through rates] are 4-8%, which compares favorably with other channels, driving strong ROI and budget share gains from these other channels."
Still, investors may not get the kind of detailed insight they want. During the fourth-quarter earnings conference call, analysts prodded executives for specifics on how video ads are impacting the bottom line, but the company avoided discussing the financials. We should, however, expect management to continue to talk up video, even if only to share a few impressive stats. Last quarter, Facebook grew video views to three billion per day. 
2. Are ad prices flying higher?
Facebook's already healthy advertising business is expected to rake in $3.32 billion in revenue in the first quarter as an increasing number of advertisers spend even more money to run ads on the social network. Analysts will be paying particular attention to ad prices, which are expected to have increased materially in the quarter.
"We believe large brands are allocating more of their budget to Facebook and driving pricing growth given Facebook's mobile scale and targeting improvements," Josey said. Facebook marketing partner Nanigans reported that CPMs, or the cost per one thousand ad impressions, grew 273% over last year, Josey noted.
Oppenheimer analyst Jason Helfstein has a similar take. Facebook was able to improve targeting capabilities, or its ability to reach specific audiences, in the quarter, which should offset any usual seasonality, he said. Advertising is a seasonal business, with spending in the first quarter typically less than spending in the fourth quarter.
Facebook announced in late February that it now has two million advertisers, doubling-up in just a year. This growth is expected to be reflected in results. "Audience targeting is better identifying 'intended impressions,' driving meaningfully higher click-through rates. Meanwhile, higher share of mobile internet and increase in advertisers suggest more impressions at higher rates," Helfstein wrote in the firm's recent Facebook note.
Oppenheimer estimates $3.3 billion in advertising revenue for the quarter, which is slightly less than the consensus estimate but is still 46% greater than revenue in the same quarter last year.
3. Mobile hasn't maxed out.
Facebook made a sky-high 69% of its advertising revenue from mobile last quarter, but analysts are still eyeing even greater growth in mobile sales. For the first quarter, Wall Street is looking for $2.4 billion in revenue from Facebook's mobile ads, which would account for more than 72% of total ad dollars and represent 79% growth over last year. 
Part of analysts' confidence in Facebook's mobile abilities is linked to recent ComScore data showing that U.S. consumers are allocating more of their Facebook time to the company's mobile apps. Of Facebook's U.S. users who are 18 years old and older, 66% accessed the social network from a smartphone in January through February, up from 63% during the fourth quarter of 2014. In addition, the company's smartphone app accounted for 63% of users' total digital time on Facebook in the first two months of 2015, compared with 60% in the fourth quarter.
JMP Securities estimates the social network will grow its global monthly mobile audience to 1.24 billion people compared to a total monthly audience of 1.44 billion people.