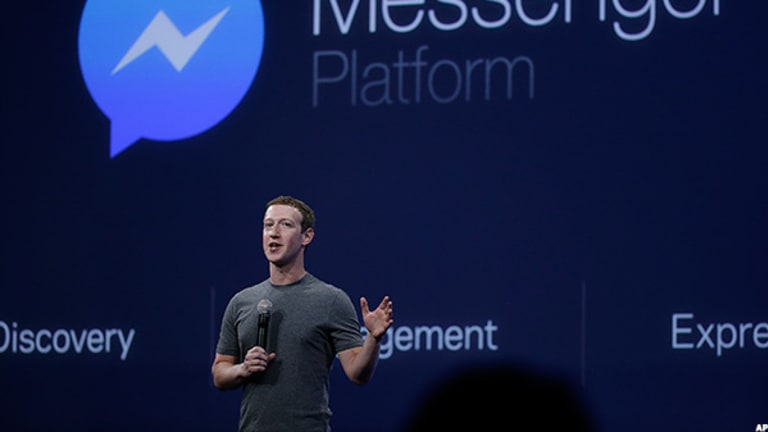 Facebook Messenger Races to 1.2 Billion Active Users--Tech Roundup
It only took eight months for Facebook Messenger to tack on 200 million more monthly active users, driving its total to 1.2 billion.
The social media space has made for an interesting industry within tech. On the one hand, you have newly public Snap (SNAP) - Get Snap, Inc. Class A Report , which has all the kids on board for being the preferred social media platform. Conversely though, its valuation is insanely high. 
Then there's Twitter (TWTR) - Get Twitter, Inc. Report and Facebook (FB) - Get Meta Platforms Inc. Class A Report . Twitter has seen its stock decline almost 80% since the start of 2014, as revenues and user growth have now ground to a halt. In that same time, Facebook has seen it stock rally more than 150% as revenue and user growth continues to stun investors. 
That's why it should come as little surprise that Facebook's Messenger platform has boosted its active user growth 20% since last July to 1.2 billion users. The company's 200 million additional monthly active users--which took just eight months to gain--is equivalent to more than 60% of Twitter's MAU base. 
Admittedly, while Twitter's platform is different than a messaging platform, the apples-to-oranges comparison still proves the point that Facebook continues to dominate the networking world. 
While the platform did grow from 800 million users to 1 billion in just six months, investors are unlikely to frown on Messenger reaching the 1.2 billion user milestone in slightly more time. The company noted that it's gaining traction with teens after copying some of Snap's more popular features, while businesses are looking for bots to boost their interaction with customers. 
However, it's not all roses and sunshine for Messenger. The app has drawn criticism from some users, as they feel Facebook has pushed the app on them without choice. Some have voiced that this intrusive and not preferred. But for many, it offers a communication tool between friends, family and associates that they may not otherwise have a way to communicate with. 
Shares of Facebook closed at $139.58 Wednesday, down 0.2%.
Just recently, we took a look at how Domino's Pizza (DPZ) - Get Domino's Pizza, Inc. Report is using six-wheeled robots for delivery in Germany. That's why news of Yelp's (YELP) - Get Yelp Inc Report Eat24 partnership with Marble for a similar service shouldn't be too much of a surprise. 
Here's how it works. Users go to the Yelp Eat24 app or website and place their orders as usual. If they approve delivery via robot, they are sent a pin number, which is then used to unlock the robot and retrieve their order. Right now, the service is being tested in select San Francisco neighborhoods. 
Marble also announced that it has received $4 million in seed funding, led by Eclipse. Other investors include Maven Ventures, Amplify Partners and Lemnos Labs. The goal with funding is to boost the company's robotic fleet, while also expanding throughout San Francisco and beyond. 
From Matt Delaney, CEO and co-founder of Marble:
"We're creating a more efficient, reliable, and affordable way for people to receive what they need and want from their cities while reducing urban congestion and carbon footprint. Our system bolsters local commerce and unlocks the full potential of the on-demand economy allowing it to be something that everyone can benefit from."
Shares of Yelp closed at $32.15 Wednesday, down 3.7%. 
Will PCs ever die? With the rise of smartphones and tablets, the use for actual PCs seems to be declining among consumers. However, it's rare for a company to survive without its own fleet of PCs, whether it's an old-school industrial company or a budding tech startup. 
It's unlikely the PC market is dead, but it's best days could be behind it. A recent survey suggests as much. According to Gartner, worldwide PC shipments declined 2.4% in the first quarter vs. the same period last year. 
Total shipments for the quarter tallied 62.2 million units, the first time since 2007 that number has fallen below 63 million. According to the reports--again, no surprise here--business PC orders weren't all that bad. But the weakness in consumer PC shipments hurt overall results.
Lenovo, the top individual shipper in the quarter with 12.4 million units, saw 1.2% growth. HP (HPQ) - Get HP Inc. Report and Dell, the No. 2 and No. 3 shippers, saw 6.5% and 3.4% growth, respectively. For those wondering, Apple (AAPL) - Get Apple Inc. Report also saw positive growth, with shipments climbing 4.5%. Apple ranked No. 5 in the quarter. 
So where is the decline? Asus, No. 4 on the list, saw shipments fall 14%, while "Others"--which would actually take the top spot on the list if it didn't account for a number of other players--shipped 15.4 million units, a 12% decline from the same period last year. 
While the industry is unlikely to disappear any time soon, it reiterates the slow-growth mantra that Wall Street has come to expect from the PC market. 
Shares of Apple closed at $141.79 Wednesday, up 0.1%.
, which Cramer manages as a charitable trust, is long AAPL and FB.