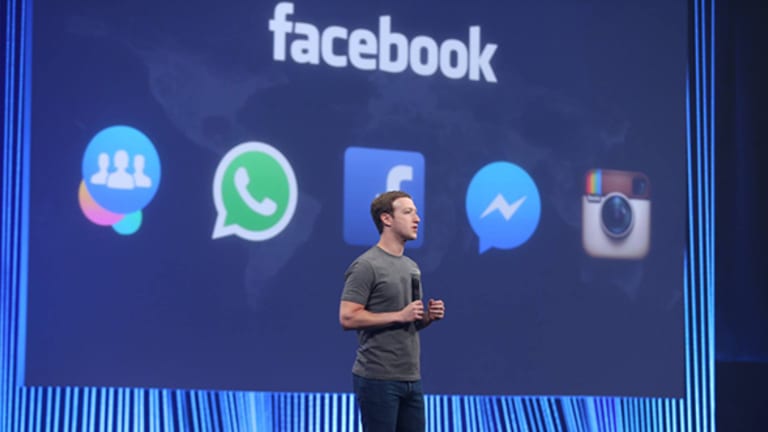 Facebook Messenger Gets a Huge Boost at F8: What Wall Street's Saying
As Facebook continues to become more than just a social network, its properties, including Facebook Messenger, Oculus and others, are getting more and more attention.
Updated from 8:59 a.m. to include comments from SunTrust.
NEW YORK (TheStreet) –– As Facebook (FB) continues to become more than just a social network, its properties, including Facebook Messenger, Oculus and others, are getting more attention.
Menlo Park, Calif.-based Facebook made several big announcements on Wednesday, the first day of its F8 developer conference, most notably opening up its popular Messenger platform to developers to build on top of it, allowing Messenger to become its own platform. Facebook unveiled new products known as Messenger Platform and Businesses on Messenger, which let app makers as well as online retailers work with the messaging application to boost their own audiences or communicate with customers.
As part of Messenger Platform, Facebook will have 40 partners at launch, including Disney's (DIS) ESPN and Giphy, a search engine for GIF files. Apps from Facebook's partners will be featured inside Messenger, allowing users to do things such as add images and show videos. Messenger now has more than 600 million users per month. CEO Mark Zuckerberg said, "It's a really exciting, big new area and opportunity" for the company.
Businesses on Messenger will allow online retailers to communicate with their shoppers. The feature will be available for preview during the next few weeks. During the checkout process, the shopper can select a "get real-time updates on your phone" option, which initiates a conversation thread with the business in Messenger.
Facebook also unveiled video plans in an effort to take on Google's (GOOG) (GOOGL) YouTube, showing off Facebook Platform, an embedded video player, which will allow every Facebook user who posts videos on Facebook to be able to embed them elsewhere.
Analysts were largely positive on the announcements, as Facebook stretches its muscles all over the Internet. Here's what two of them said:
JMP Securities analyst Ronald Josey (Market Outperform, $97 PT)
"We reiterate our Market Outperform rating on our top pick, Facebook, and our $97 price target after attending Facebook's developer conference, F8, yesterday in San Francisco. Overall, we believe Facebook is utilizing its scale across multiple verticals and brands--WhatsApp, Instagram, Messenger, and core Facebook--to expand engagement and capabilities. We believe the launch of the Messenger Platform and the opening of its API to third-party developers can lead to new product experiences around social, payments, and shopping. On video and publishing, we believe Facebook is in the early days of working with and hosting publisher content and we expect video to be increasingly integrated both on and off Facebook's products and services. Additional takeaways include updates on LiveRail, share gains across its brands, and updates on Parse, where Parse is increasingly becoming a core part of the developer's ecosystem."
Jefferies analyst Brian Pitz (Buy, $105 PT)
"F8 featured a number of announcements with a specific focus on Messenger and video. Users will soon be able to view Facebook videos (and presumably, ads) on 3rd party sites. As video usage on FB soars (~3B daily video views, up from 1B in Sept), TV ad budgets are just beginning to shift online. By '17, online video ads could be a $17B per year oppt'y in the US alone. FB looks increasingly well positioned to capture a meaningful piece of that pie."
SunTrust analyst Robert Peck (Buy, $90 PT)
"Internet 1.0 was popularized by portals like Yahoo! and AOL. The traditional portal was where everyone started their day. On PC, Facebook eventually morphed into a portal-like service. On mobile however, it is different - Messaging is becoming the next generation of portals. Consumers start their day checking messages, they are also consuming more and more general news, pictures, and videos. Moving across the verticals, one of the next logical steps is eCommerce and payments, which Messenger Platform would enable. Further, Facebook would not only help create deeper relationships for brands, but have access to direct sales information, "closing the loop" in advertising allowing Facebook to demonstrate direct ROI from various types of ads. Lastly, enabling app discovery through Messenger could also present further monetization opportunities. We estimate that the eCommerce and Payment opportunity alone could present a >$2B opportunity."