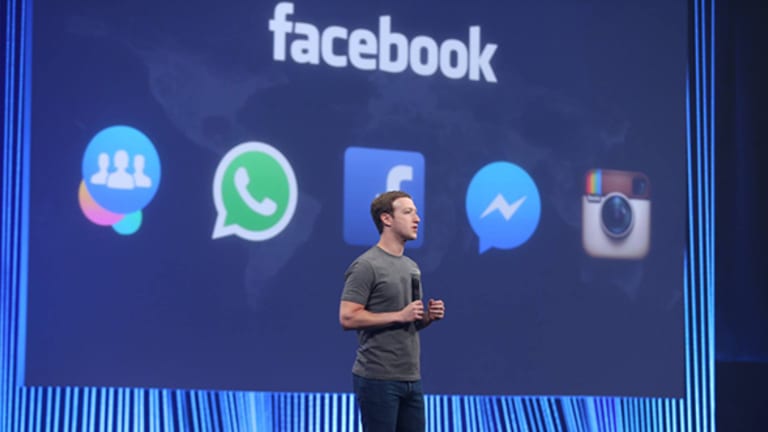 Facebook Makes the Biggest Change Ever to Messenger App
By adding apps and shopping features to Messenger, the social network has signaled that it's ready to turn its hit messaging app into a business.
SAN DIEGO, CALIF. (TheStreet) -- Facebook (FB) - Get Free Report CEO Mark Zuckerberg's grand plan for his hit messaging app, Facebook Messenger, became clear as the social media giant unleashed new initiatives that will change how people communicate and shop.
At the company's F8 developer conference in San Francisco, Facebook announced new products called Messenger Platform and Businesses on Messenger. Both will let application makers and online retailers hook into the messaging application to grow their own audiences or communicate with customers.
The additions mark an important new direction for Messenger, which now has a monthly audience of more than 600 million people, and signal that the app has graduated from a hobby chat app and will be treated instead as the company's next big business. 
Facebook shares were trading down 2.5% at $83.15 on Wednesday afternoon following the announcements.
Messenger Platform, in the simplest of terms, is a way for Facebook to piggyback on the creative messaging extras dreamed up by its developer community with the ultimate aim of stimulating even more user growth and messaging activity. The company is launching the platform with 40 partners including ESPN and Giphy whose apps will be featured inside Messenger so users can do things like add GIFs, share custom-built emojis, or showoff a video with special effects inside their Messenger threads.
Messenger users can access available apps through a new tab in conversation threads. Each featured app has an install button listed alongside it that sends the user directly to Apple's (AAPL) - Get Free Report App Store or the Google (GOOG) - Get Free Report (GOOGL) - Get Free Report Play store for download. After installation, the user can then send content, say an animated image of an ESPN basketball clip, from the app to a friend or group chat using a new send to Messenger button. App content shared in the messaging thread includes a "reply" or "install" link so friends have one-click access to get in on the app action. 
Facebook is starting small and focused with Messenger Platform, Zuckerberg said, but "it's a really exciting, big new area and opportunity" for the company.
The "big new area" remark is evidence that the fun features are anything but a game for Facebook, and are instead the start of the company's efforts to make Messenger into a real business. Though the platform lacks a monetization engine to start, it's easy to envision a future where Facebook features apps sponsored by developers for its 600 million Messenger users.
Alternatively, Businesses on Messenger is a product that pushes the social network further down the commerce path by connecting online retailers and their customers. The service is launching as a preview in a few weeks with retailers Everlane and Zulily. It kicks in once a Messenger user makes a web or mobile purchase.
During the checkout process, the shopper can tick a "get real-time updates on your phone" option, which initiates a conversation thread with the business in Messenger. The customer will then receive order notifications, including a receipt and shipping status updates, inside the Messenger thread with the business. The person can also update an order and ask questions about their purchase, as well as receive responses back from the business.
"We are reintroducing personal back to shopping online," David Marcus, head of Facebook Messenger and former CEO of eBay's (EBAY) - Get Free Report PayPal, said. "We wanted to have businesses be first-class citizens like people, because those are brands that you care about. You just shopped with them."
By turning Messenger into a platform and opening it up to businesses, Facebook hopes to repeat history and replicate the success of its primary social network, which was opened up to developers in 2007. Today there are hundreds of thousands of developers who have created more than 30 million apps powered by Facebook's tools, Zuckerberg said. These developers and apps ensure more users, more "likes," more shares, and more of everything that helps Facebook stay in command of the social networking hierarchy.
It's obvious, then, that after today Facebook Messenger will never be the same.