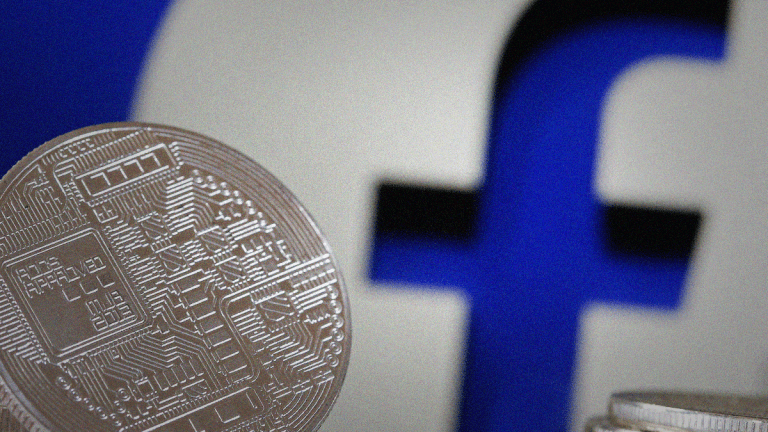 Facebook's Libra: Emerging Markets and 'Microtransactions' Might Hold the Key
Though the new cryptocurrency might only see limited success as a substitute for traditional credit card transactions, it could have a lot of potential in other financial domains.
In the near-term at least, the Libra cryptocurrency may be less about taking the payment card industry head-on than addressing financial and payments use cases that credit cards are ill-equipped to.
Here are a few key things to remember about Libra, which is set to launch in 2020 and is backed by Facebook (FB) - Get Meta Platforms Inc. Report and a host of other major companies:
Libra's value will be tied to that of a basket of currencies -- specifically, the dollar, euro, yen and pound. As a result, it will be subject to some currency volatility.
Companies that are among the governing Libra Association's "Founding Members" will commit to investing $10 million apiece to act as "validator nodes" for securing and confirming Libra transactions. In return, they'll receive interest payments on Libra funds that will be invested in "low-risk" assets, along with incentive payments for driving Libra sign-ups and usage.
While Founding Members can choose to pass on their incentive payments to Libra users, via order discounts and other perks, regular users won't receive any interest payments on their Libra funds.
It isn't clear when Libra-based credit/financing services will arrive, or on what scale. While Facebook has talked about providing such services via its new Calibra subsidiary, it hasn't shared a launch date.
In light of all this, it's not a given that many consumers will rush to set up Libra accounts to make the types of online purchases they've been relying on their credit cards for. Transferring money from a bank account into a Libra account will expose users to a degree of currency volatility, and prevent them from obtaining any interest on their assets. And while merchants could try to drive Libra usage via incentives as well as modest order discounts given due to Libra's lower transaction fees, that might not be enough to offset the loss of perks related to credit card rewards programs and (depending on the state of Libra's credit services) the inability to finance purchases.
Visa (V) - Get Visa Inc. Report , Mastercard  (MA) - Get Mastercard Incorporated Report and PayPal (PYPL) - Get PayPal Holdings Inc. Report , each of which are among the Libra Association's initial members, are likely well-aware of such hurdles as they give Libra a measure of early support.
On the other hand, with Facebook indicating that Libra will carry no fees for peer-to-peer (P2P) payments, including cross-border payments, Libra could disrupt a remittance payment market for which substantial transaction fees are often the norm. The World Bank estimates global remittances totaled $689 billion last year, with $529 billion of those funds going to low and middle-income countries. And while China, the second-biggest remittance recipient, is a place where Facebook's services are banned, the other top-five recipients (India, Mexico, the Philippines and Egypt) are all places where Facebook proper and WhatsApp are firmly entrenched.
Facebook and Mastercard are holdings in Jim Cramer's Action Alerts PLUS member club. Want to be alerted before Jim Cramer buys or sells FB or MA? Learn more now.
In addition to remittances, emerging markets consumers could use Libra as a way to protect themselves against currency devaluation, in much the same way that some of them have (in spite of its considerable volatility and investment risk) turned to bitcoin to hedge against currency devaluation. A look at some charts of the dollar's historical performance against prominent emerging markets currencies drives home why some consumers could deem Libra to be a useful currency hedge, in spite of its lack of interest payments.
Facebook and other Libra backers have also argued that the cryptocurrency will help provide financial services to some of the estimated 1.7 billion "unbanked" consumers around the world, a large portion of whom are in emerging markets. In its "Problem Statement," the Libra Association notes that issues such as insufficient funds, high and unpredictable fees and the remoteness of bank branches prevent consumers from starting bank accounts, and suggests Libra will be able to help. That said, as some observers have pointed out, a lot of work will be needed to make Libra accounts are functional enough to act as true bank account substitutes. And getting unbanked consumers to set up bank accounts often requires local, hands-on efforts.
Meanwhile, in both developed and developing markets, digital microtransactions involving tiny sums of money (say, anywhere from five to fifty cents) are an intriguing potential use case for Libra, given that it could be an economically viable option for handling these transactions in a way that credit cards (owing to their transaction fee structures) often aren't. Possibilities here include paying small sums to a content publisher to read an article or stream a video, paying to unlock a game feature or -- just as game developers often give users in-game currency in exchange for watching a video ad -- being paid to watch an ad.
Facebook and other Libra Association members still have a lot of work to do before Libra can launch, both in terms of having the technical infrastructure in place and in terms of checking all of the necessary legal and financial boxes. And certainly, there's still a lot of regulatory scrutiny that needs to be addressed, both in the U.S. and elsewhere.
But based on what has been shared about Libra thus far, it appears to have the potential to address some unmet or poorly-met financial needs, even if it's unlikely to be a big threat to traditional credit-card payments in the near-term (and perhaps longer).
Save 57% with our July 4th Sale. Join Jim Cramer's Action Alerts PLUS investment club to become a smarter investor! Click here to sign up!