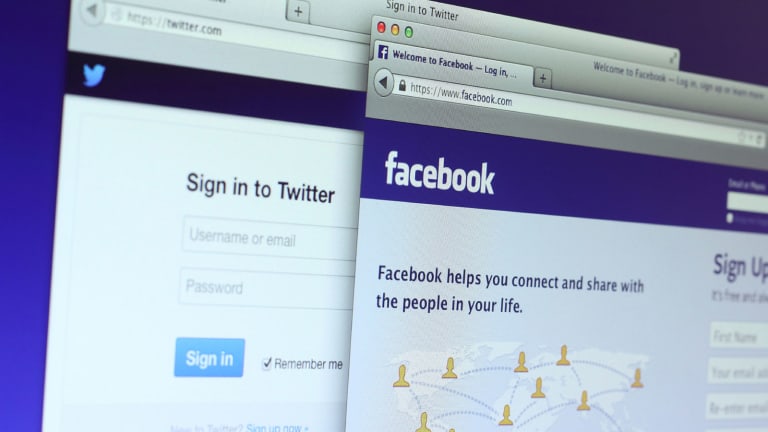 Facebook Is an Advertising Monster and It's Not Slowing Down Anytime Soon
Facebook is an absolute monster when it comes to advertising and it shows no signs of slowing down anytime soon.
Updated from 8:33 a.m. to include comments from Jim Cramer in the fifth paragraph.
Facebook (FB) - Get Facebook, Inc. Class A Report is an absolute monster when it comes to advertising and it shows no signs of slowing down anytime soon.
The Menlo Park, Calif.-based company earned an adjusted 57 cents a share on $4.5 billion in revenue in the third quarter, including $4.3 billion revenue from advertising. Mobile has become the primary driver for Facebook's advertising business, with the company generating 78% of its advertising revenue from mobile.
About 1.55 billion people used Facebook every month, including 1.39 billion using it on mobile devices. More than 1 billion used the service every day, including 894 million used it daily on mobile devices, a rise of 27% year over year.
On the company's third-quarter earnings call, CEO Mark Zuckerberg said there were more than 8 billion video views every year from 500 million users -- up from just 4 billion per day in April.
"Anyone on the call last night can't help but remember the initial calls out of the chute when Facebook came public, dismal calls about obscure advertisers, gaming companies, advertising on the site to get some meager customers," said TheStreet'sJim Cramer, Portfolio Manager of the Action Alerts PLUS Charitable Trust Portfolio. "It was all about Zynga back then. Now it is about Procter & Gamble, Clorox, and in one fabulous example on the call, Ikea, where a $35,000 investment in a Facebook campaign produced $2 million in online sales when the stores were physically closed. Direct response? Branding? How about return on investment through education and knowing the customer. Facebook is the way to get in touch with people."
Exclusive Look Inside:
You see Jim Cramer on TV. Now, see where he invests his money and why FB is a core holding of his multi-million dollar portfolio.
Want to be alerted before Jim Cramer buys or sells FB?Learn more now.
Initiatives like video ads and the company's prowess with advertising in general are likely to play an enormous role in the upcoming presidential elections because of the company's ability to reach an enormous audience. On Facebook's earnings call, Chief Operating Officer Sheryl Sandberg highlighted the potential there is for the candidates.
"Ben Carson ran 240 different ads targeted at different audiences, and so we're starting to see candidates use our platform to communicate, to advertise and to share," Sandberg said.
Shares of Facebook just hit an all-time high, as the company surpassed $300 billion in market cap.
Here's what analysts were saying about Facebook after the results:
Cantor Fitzgerald analyst Youssef Squali (Buy, $120 PT)
"Facebook reported very strong 3Q results, driven by better-than-expected user growth, higher engagement and an acceleration in monetization, including for Instagram. Of note, the strength was balanced across geographies and product segments. More impressive is the fact that these trends are sustainable going into the seasonally strong 4Q and FY:16, in our view. We're adjusting our estimates and PT to $120 from $105, reflecting 3Q:15 results, and are reiterating our BUY thesis based on 1) FB's position as the largest/most engaging Internet platform, offering personalized marketing at scale; 2) a massive video viewing shift from TV to online, 3) migration of ad$ to mobile/social, and 4) untapped monetization potential for WhatsApp (as it disrupts the Telecom industry), Messenger (as it builds payment solutions) and Oculus, a pioneer in virtual reality."
JMP Securities analyst Ronald Josey (Market Outperform, $130 PT)
"Revenue of $4.5 billion came in ~3% above consensus and our projections while EBITDA of $2.7 billion (+28.5% Y/Y, 60.3% margin) was in line with consensus (although 3% above our projections). Importantly, advertising revenue growth reaccelerated to +57% Y/Y ex-FX from +55% Y/Y ex-FX in 2Q as advertiser demand, user engagement, and ad load all contributed to quarterly outperformance. Across 3Q15 results, we were most impressed with the following items: 1) Facebook now has over one billion DAUs (as of September), which we believe suggests engagement trends remain robust; and 2) Instagram was a significant contributor to advertising growth, a trend we believe can continue for several quarters going forward, in addition to advertising strength at core Facebook. Given what we view as a clean beat and raise quarter, shares traded up ~4% in aftermarket trading to $107.85. We continue to be impressed with Facebook's advertising share gains and execution and we believe there are multiple catalysts on the horizon, including: 1) continued advertiser growth and adoption of newer ad formats; 2) Instagram monetization; and 3) longer-term catalysts around Oculus, Messenger, and WhatsApp. Concurrent with 3Q results, we roll our valuation methodology forward to 2017E and our new $130 price target is based on ~18x our 2017E EV/EBITDA, whereby our EV is $365 billion and EBITDA is $20.3 billion. Our prior $105 price target was based on ~20x our 2016E EV/EBITDA, whereby our EV was $290 billion and EBITDA was $14.2 billion. Given Facebook's three-year revenue and EBITDA CAGRs of 40% and 35%, respectively, we believe our target multiple is appropriate. For 2016, we now project revenue $25.0 billion (+41.4% Y/Y), EBITDA of ~$15.0 billion (+36.7% Y/Y, 59.8% margin), and PF EPS of $2.99."
Deutsche Bank analyst Ross Sandler (Buy, $125 PT)
"Facebook reported a clean beat in 3Q with revenue 3% above consensus and EBITDA in line. The re-acceleration in ad revenue growth ex-fx is truly staggering for a company of Facebook's size. We are modeling a comparable 56% y/y growth ex-fx in 4Q which could prove conservative. The only quasimuted item was opex growth of 50% y/y despite lapping the LiveRail and Oculus acquisitions, and heavy SBC. The next hurdle Facebook faces is 2016 opex growth which we have at 49% Y/Y after adding in Oculus hardware (44% y/y ex. Oculus). We've raised 2016 revenue 8% and EPS by 12%. Facebook remains a top pick. Buy."
Barclays Capital analyst Paul Vogel (Overweight, $140 PT)
"Leverage between FB and Instagram is starting to build: First, we continue to see strong growth at core FB and see the beginnings of incremental upside from Instagram. We believe they are both additive to the digital ecosystem and not cannibalistic to each other. Most impressively, FB is also seeing the benefit of cross targeting as the company mentioned an Amex campaign that was launched on Instagram (through carousel ads) and then expanded through re-targeting specific users on FB."
Jefferies analyst Brian Pitz (Buy, $135 PT)
"Another impressive beat driven by the soaring mobile business. We continue to see multiple meaningful go-forward growth levers in Instagram, video ads, the Facebook Audience Network, improved ad pricing, and WhatsApp. FB & Instagram account for an astonishing 5% of users' total media time (including TV, etc.), yet FB doesn't come close to capturing 5% of total ad budgets. We see a long runway for growth as time spent and ad spending converge. Reiterate Buy."
Oppenheimer analyst Jason Helfstein (Outperform, $130 PT)
"We are increasing our price target to $130 from $110, based on modestly higher 2016 earnings, and a higher value/user for Instagram. 3Q revenues exceeded Opco/Street by 2%/3%, while EBITDA was 1% above opco. Ex FX, revenues +51% y/y vs. +50% in 2Q. Management
narrowed FY15E non-GAAP expense guidance to +50% y/y from previous 50-55%. Global user metrics remain strong, as 3Q MAUs accelerated to +14% y/y vs. +13% in 2Q. We believe several factors bode well for Instagram monetization: 1) global expansion of Instagram ads; 2) new ad formats; and 3) opportunity to increase ad load. On average, there are now over 8B daily video views on FB, which we believe are significantly under-monetized. Maintain Outperform."