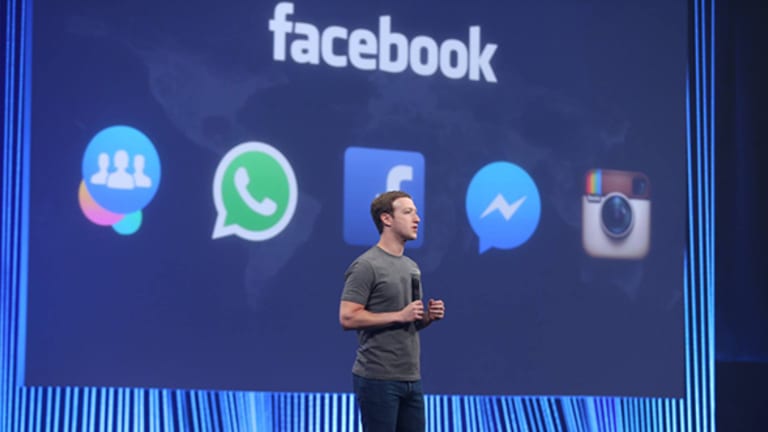 Facebook Is About to Show Off the Power of Its Future
Facebook shareholders are about to see not just the true earnings power of the big blue app, but the company's overall portfolio, something that bodes well for the long haul.

Facebook (FB) shareholders are about to see not just the true earnings power of the big blue app, but the company's portfolio as a whole, something that bodes well for the long haul.
"2015 was the year Instagram rev[enue] got off the ground & 2016 should be the year of Oculus & Messenger," Deutsche Bank analyst Ross Sandler wrote in a note to clients.
In the second half of 2015, Instagram introduced the Instagram Partner Program, which lets advertisers find the top technology experts to help their businesses use Instagram to grow. A recent article in Re/Code suggests that despite the ramp-up in ads on Instagram, the platform was able to hold higher CPMs (cost per thousand impressions), suggesting advertisers and users are benefiting from seeing these ads.
Other sell-side analysts agree that Instagram is likely to help Facebook in 2016. Sterne Agee analyst Arvind Bhatia, who rates Facebook a buy with a $125 price target, believes Instagram will be an "important catalyst to the story and a key source of upside, going forward." The analyst also noted Facebook-owned WhatsApp, which recently announced it was dropping its annual subscription price tag, is likely to surpass 1 billion global users "in the very near future."
Even though Facebook makes the majority of its revenue from advertising, it appears WhatsApp, run by Jan Koum (also a Facebook board member), is going a different route.
In a Jan. 18 blog post, Koum said that WhatsApp would not start introducing third-party ads now that the app is free, but said it would begin testing tools that allow users to communicate with various businesses and organizations. WhatsApp cited examples such as being contacted by a bank "about whether a recent transaction was fraudulent, or with an airline about a delayed flight," but final plans are still being worked out.

Meanwhile, Messenger, the No. 2 free app in Apple's App Store, having now surpassed 800 million users, is starting to experiment with making money.
At the company's F8 developer conference in March 2015, Facebook announced it would be opening up the popular app to developers to build on top of it, allowing Messenger to become its own platform. Facebook also unveiled new products known as Messenger Platform and Businesses on Messenger, which let app makers as well as online retailers work with the messaging application to boost their own audiences or communicate with customers.
In the third quarter, the Menlo Park, Calif.-based company earned an adjusted 57 cents a share on $4.5 billion in revenue in the third quarter, including $4.3 billion revenue from advertising. Mobile has become the primary driver for Facebook's advertising business, with the company generating 78% of its advertising revenue from mobile.
About 1.55 billion people used Facebook every month at the end of the third quarter, including 1.39 billion using it on mobile devices. More than 1 billion used the service every day, including 894 million who used it daily on a mobile device, an increase of 27% year over year.
On the company's third-quarter earnings call, CEO Mark Zuckerberg said there were more than 8 billion video views every day from 500 million users -- up from just 4 billion per day in April.

Time spent on social networks and apps such as Instagram and Messenger is increasing, up roughly 50% year over year, Wedbush Securities analyst Michael Pachter said in a note to clients, citing the Yahoo Developer Network as a source. These are positive trends for Facebook, which has 3 of the top 5 free apps on the App Store, including the aforementioned Messenger, as well as Instagram and Facebook. WhatsApp, which Facebook bought for $19 billion in cash and stock in 2014, is ranked twentieth.
Facebook's prowess in video may help the results this quarter, marketing platform AppLovin co-founder and CEO Adam Foroughi said by email. Foroughi noted his firm saw mobile video ad spend triple in 2015, with Facebook likely to benefit from that trend, thanks to the company's initiatives such as live streaming, 360-degree ads and more to help aid its video offerings.
Analysts surveyed by Thomson Reuters expect the company to earn an adjusted 68 cents a share on $5.37 billion in revenue for the fourth quarter.
Facebook is a holding of Jim Cramer's Action Alerts PLUS charitable portfolio. "Facebook trades erratically after it reports, often getting clobbered despite good news. If you don't own it yet, your best hope is to wait for that sell-off as this is a very long-term story," said Cramer.
Exclusive Look Inside:
You see Jim Cramer on TV. Now, see where he invests his money and why Facebook is a core holding of his multi-million dollar portfolio.
Want to be alerted before Jim Cramer buys or sells FB?Learn more now.
With so much optimism seemingly surrounding Facebook, a bit of caution may be warranted, according to search and digital marketing agency Merkle/RKG.
The firm, which a lot of sell-side analysts rely on for help, noted that spending on Facebook slowed a bit towards the end of the quarter. "Advertiser spending on Facebook ads rose 44% [year-over-year] in Q4 2015, in line with Q3 growth," the firm said in a report seen by TheStreet. "Average CPC [cost-per-click] fell 20% [year-over-year] though, following 1% growth in Q3."
In addition to the company's various efforts in messaging and social, Facebook-owned Oculus may provide near-term upside, especially as virtually reality comes to the forefront in 2016.
Earlier this month, Oculus, which Facebook bought for $2 billion in cash and stock in 2014, announced its Oculus Rift virtual reality headset would go on sale in March at a cost of $599 per headset, pricier than some had expected. Oculus CEO Palmer Luckey later apologized for the way the hardware launch was handled.
A look on the pre-order page now shows current orders for the Rift headset, which needs to be paired with a virtual reality-ready PC, won't ship until July, indicating strong demand for the unit. The company already has a partnership with Samsung to provide software for its $99 Gear VR headset, which was one of the top sellers on Amazon during the holidays.
At the Consumer Electronics Show earlier this month, Oculus' booth was swarmed by media, analysts, investors and others hoping to get a chance to try out the virtual reality headset.
Facebook shareholders reaped rewards in 2015, with the stock gaining nearly 30%, besting the 4% gain in the NASDAQ, but behind the 44% gain in Alphabet (GOOG) (GOOGL) , the company it is most often compared to because of their prowess in the advertising business.
(Alphabet is a holding of Jim Cramer's Action Alerts PLUS charitable portfolio).
Despite Alphabet being a larger company by market cap, revenue and age, Pivotal Research analyst Brian Wieser believes Facebook's "focus on their core business and its future evolution separates the company from its larger peer's parent. We think that capital requirements and operating margins will be superior for an extended time horizon as a result."