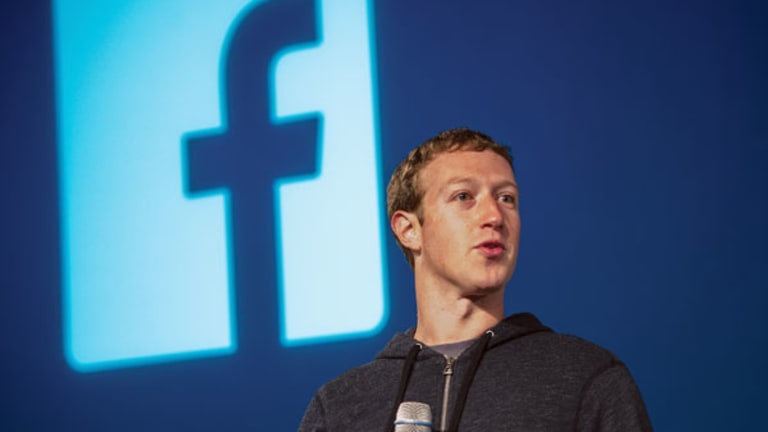 Facebook Hopes to Attract More Revenue With Targeted Ads
Facebook, hoping to attract even more digital ad dollars, is helping big retailers target their ads more effectively to the social network's 1.39 billion monthly users.
SAN DIEGO, CALIF. (TheStreet) -- Facebook (FB) - Get Meta Platforms Inc. Class A Report hoping to attract even more digital ad dollars, is helping big retailers target their ads more effectively to the social network's 1.39 billion monthly users.
Facebook announced earlier this week that it had created a new ad unit, called product ads, that will allow retailers to upload their entire catalog of merchandise onto the site and target different users with the specific products. The items will be selected based on such things as the user's profile and whether they have viewed a particular product on another website.
The advertising platform will be available on both mobile and desktop devices. 
The move reflects Facebook's desire to prove to advertisers that its 1.39 billion members are good for more than "likes" and shares. Last year, Facebook's share of U.S. digital advertising reached nearly 10%, up from 7.6% in 2013, according to eMarketer. This year, the U.S. retail industry is expected to spend $12.9 billion on digital advertising, according to eMarketer's estimates, up 15.4% from 2014.
The company has also been experimenting with "buy buttons" to encourage spur-of-the-moment, in-stream purchases with a single click. 
"[Product ads] are a clear indication that Facebook is getting serious about facilitating commerce," said Mark Vandegrift, director of business development for ChannelAdvisor (ECOM) - Get Channeladvisor Corporation Report , an e-commerce company that syndicates clients' inventory data to various programs and now supports Facebook's new product ads. "This is an official product offering that is all about retailer inventory."
A brand that hosts its product catalog with ChannelAdvisor, for instance, can build a template for a product ad on Facebook and set in motion an automatic process that pulls from their data pool to display a product or a collection of products to people who meet targeting criteria.
Facebook's advertising sales totaled $3.59 billion in the fourth quarter, growing 53% over the year-ago quarter. Revenue grew, in part, because Facebook was able to sell ads at higher pricers.
"[The new ad type] lets [Facebook] boost price even more because it makes the ad more efficient," Yory Wurmser, eMarketer retail and e-commerce analyst, said. "In that way, it lets Facebook continue a pretty impressive trend."
Advertisers, especially retailers with expansive product catalogs, may be willing to allocate more of their digital advertising budgets to Facebook given how precise it will be in targeting any of their products to a social networker, said ChannelAdvisor's Vandegrift.
"Before this, an advertiser could create an ad that was specific to a certain product, but in order to do that they would have to manually create a different ad for every product," he said. "This is basically allowing them to scale significantly the creation of these ads."
It's not the first do so. Google (GOOG) - Get Alphabet Inc. Class C Report (GOOGL) - Get Alphabet Inc. Class A Report , in particular, has its own variety of product listing advertisements that work in a similar fashion and also let retailers upload their entire product catalogs for automatic ads triggered by product searches. The ads appear as "Google Shopping" results on search result pages.
Google has the advantage of knowing that its product searchers are in a shopping frame of mind, whereas Facebook has a treasure trove of data on users so advertisers can theoretically put the right product in front of the right person, at the right time, on the right device.
Facebook's product ads are also a concession on the company's part to accept the status quo of digital advertising.
They represent a noticeable departure from the narrative Facebook has labored to construct: that making a sale amounts to more than a click on an ad; that there is a path to purchase that usually involves a pit-stop, but not always a click, on Facebook.
The sale Facebook is facilitating with product ads, however, is one that can be directly and entirely attributed to a click from a Facebook ad.
Last-click attribution, or the marketing practice of assigning all the credit for an outcome such as sale to the customer's last click, say on a Facebook ad, is still very much the standard in digital marketing. "Probably 80% of e-commerce advertisers are still using last-click attribution as their primary way of thinking about this," Vandegrift said. Advertisers are experimenting with other methods, he said, but they have sales goals to hit and they have to figure out how to credit sales toward goals.
"[Facebook is] not selling it strictly as a last-click tool, but my guess is that that is their primary target and primary use," Wurmser said. 
So in embracing standards advertisers appreciate, and catering to large retailers who want to sell direct to consumers, Facebook can sell more too.
--Written by Jennifer Van Grove in San Diego, Calif.
>Contact by Email.