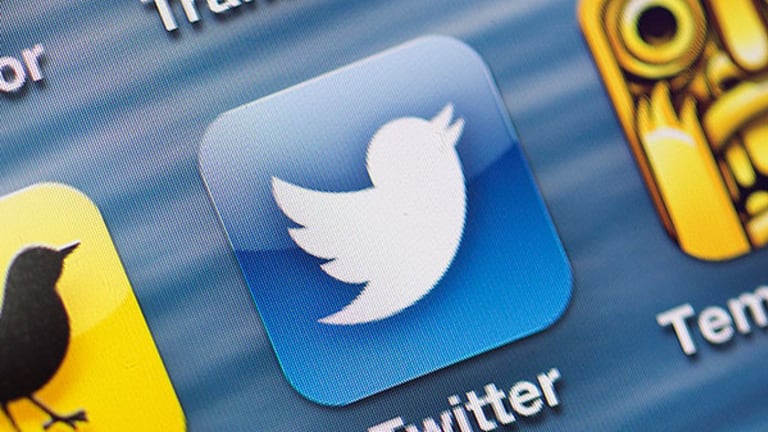 Facebook, Google, Twitter Poised to Benefit as Mobile App Ads Spending Projected to Grow 80%
The mobile app ad, an ad unit that promotes app downloads, has become the fastest-growing mobile ad format as developers compete for attention.
SAN DIEGO (TheStreet) -- The world's biggest social networks and search engines appear to have secured a new ally in their efforts to mint billions of dollars from people on smartphones: the application developer.
Spending on mobile app install ads totaled $1.67 billion in 2014 and will grow to $3 billion this year, according to newly released figures from digital analytics firm eMarketer. The sums represent how much developers are collectively spending to pitch their iOS and Android apps to captive audiences inside the feeds of social networks such as Facebook (FB) and Twitter (TWTR)  and atop Google's (GOOGL) mobile search results.
The mobile app install ad, or the mobile app ad as it's sometimes called, is an advertising unit tailored to the developer who wants to reach smartphone owners outside the overcrowded app store environment. The units can typically be targeted to people based on their interests or smartphone type, appear in-line with content and come with a click-to-install button, making them one of the most efficient ways for app-makers to secure downloads.
Facebook invented the ad type in 2012 to promote app installs through News Feed, but the unit has since been replicated by Twitter, Google and Yahoo! (YHOO) . Though none of the companies mentioned break out revenue from the unit, mobile app ads are thought to be a growing contributor to Facebook's burgeoning mobile business, which brought in $2.48 billion in revenue during the fourth quarter.
"Mobile app install ads are still a small portion of the overall mobile ad market, but they're growing more quickly than any other mobile ad format," eMarketer mobile analyst Cathy Boyle said.
Spending on mobile app ads in 2015 will increase 80% over last year and account for 10.4% of all mobile ad dollars this year, according to eMarketer's predictions. The developer-friendly units also accounted for 17.3% of U.S. mobile display ad spending in 2014 and are expected to grow to nearly 20% this year.
"Consumers continue to spend more and more time in mobile apps, and brands and developers are having more trouble reaching those consumers in an increasingly crowded market. Therefore, there's ripe opportunity for platforms like Facebook, Google, Twitter, Yahoo! et al. to provide these companies with the opportunity to advertise their apps to large audiences," Boyle said.
The stats come a day ahead of Facebook's annual F8 developer conference, a two-day event that caters to the crowd most likely to purchase mobile app ads. One of the themes of this year's conference is expected to be improved mobile advertising technology, which means we could see Facebook introduce additional targeting or distribution options for this increasingly important ad type.