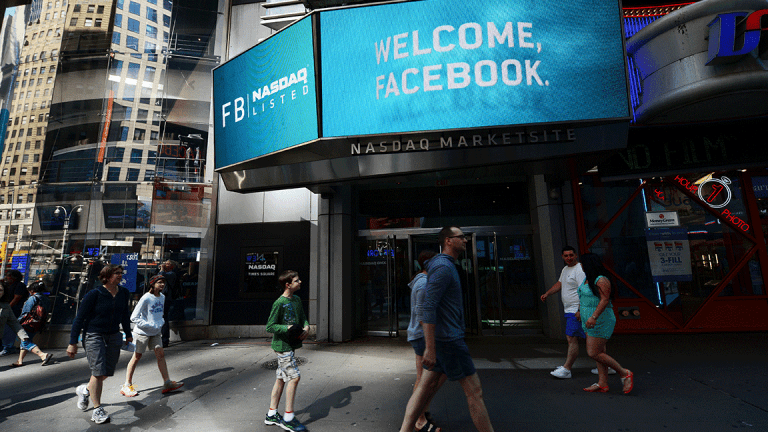 Facebook Extends Slide as UK Officials Prep Search of Cambridge Analytica Office
Facebook looks set to extend its biggest decline in four years Tuesday as U.K. data officials continue to probe its relationship with Cambridge Analytica, the controversial political consultancy at the heart of the biggest data scandal in social media history.
Facebook Inc. (FB) - Get Facebook, Inc. Class A Report looks set to extend its biggest decline in four years Tuesday, with investors marking shares sharply lower following reports that its chief security officer is set to leave the company and the airing of a damaging exposé of the firm linked to the biggest data scandal in the history of social media.
Action Alerts Plus holding Facebook lost more than $36 billion in market value Monday after the stock fell more than 6.7%, its biggest single-day decline since March 2014, following revelations that a Cambridge University professor used an app to gather information from 270,000 users and then lied to the company when he then shared that data, as well as information on the volunteers' friends, with a group called Cambridge Analytica, which then allegedly used it on behalf of the 2016 election campaign of President Donald Trump.
U.K. data officials are said to be preparing a search warrant of the Cambridge Analytica offices as early as today, and several U.K. media outlets have reported that the government was angered by the fact that Facebook executives sent their own forensic auditors to the consultancy's office prior to the arrival of British officials.
"Auditors from Stroz Friedberg were on site at Cambridge Analytica's London office (Monday) evening," the company said in a statement. "At the request of the UK Information Commissioner's Office, which has announced it is pursuing a warrant to conduct its own on-site investigation, the Stroz Friedberg auditors stood down."
Facebook shares were marked 1.31% lower in pre-market trading in New York Tuesday, indicating an opening bell price of $170.30 each, a move that would take its year-to-date decline to around 3.46%. 
What investors are saying about Facebook, watch below. 
Cambridge Analytica, for its part, has also strongly denied accusations revealed in a documentary broadcast on Britain's Channel 4 last night, which appeared to show senior executives at the controversial firm, including CEO Alexander Nix, admit to using unethical and potentially illegal tactics on behalf of their clients in order to sway the results of international elections.
Facebook was also pressured by reports that Alex Stamos, the group's chief security officer, was set to leave the company after clashes with senior executives over data security and Facebook's handling of alleged use of the platform by Russian agents during the 2016 election.
Stamos Tweeted late Monday that he's "still fully engaged" with the company but did not directly refute the original reporting from the New York Times. 
TheStreet's Eric Jhonsa, however, wrote Monday that the larger and more important question for investors may be how it affects the habits of users that choose to engage with the world's dominant social media platform.
"For all the new and old misgivings that many consumers have about them, Facebook's core services are free and remain widely seen as an valuable utility for staying in touch with family and friends," Jhonsa argued. "And much like other utility services, the fact that some consumers don't love Facebook doesn't necessarily mean that they'll stop relying on it. At least if it's able to show some remorse over how its services have been misused and take meaningful steps to prevent it from happening again (as noted below, one key step has already been taken)."