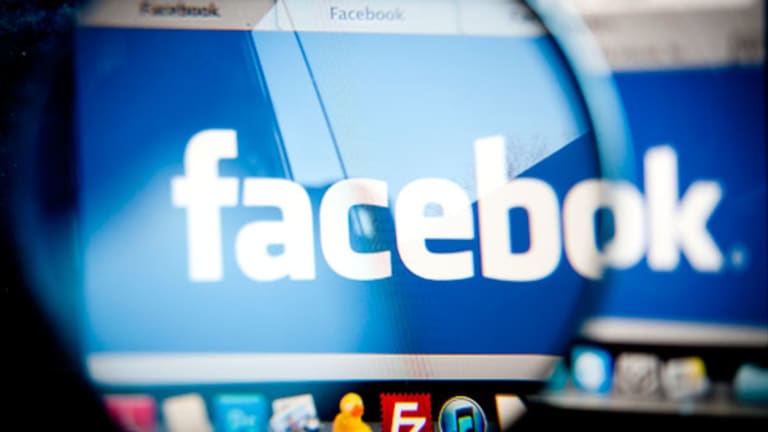 Facebook Enters Its First Post-IPO Test
Facebook enters its first post-IPO test as the company faces increasing user fatigue in the U.S. and a slowdown in ad revenue growth rates later this year.
NEW YORK (TheStreet) -- Facebook (FB) - Get Free Report reported during its first-quarter call this week that it has surpassed 1 billion mobile users.
While this rare feat stirred up much excitement, it also underscored that Facebook has in some ways maxed out its market penetration potential, sending it on its way to exhausting its mainstay ad-growth avenues.
Recognizing this, outgoing CFO David Ebersman cautioned to analysts during the call that as comps become more difficult, Facebook continues to expect its year-over-year ad revenue growth rates will decline from the first-quarter rate and be meaningfully lower by the end of 2014.
Gartner research director Brian Blau says that Facebook user fatigue has definitely already kicked, though it's happening in cycles. In the U.S., where many of the users were among the first adopters of Facebook, usage is really slowing down. The next wave of users are in many of the emerging markets, where fascination with the social media platform has just starting to kick in and usage still has a lot of room to grow. But in a few years' time, enthusiasm is also expected to wane there.
"Because Facebook is not really increasing the amount of ad inventory, while ad prices may be able to go up a little bit, there's going to be a certain ceiling that they're going to hit," said Blau. "And even if they have the ability to grow, it's going to be in a market where the users are not going to be as valuable, where the ARPUs (average revenue per user) aren't going to be as high as they are for example here in the United States."
Facebook mentioned during the call that its app install ads were doing well, but didn't talk that highly about its new video ads. "If maybe they think that there's going to be a longer spin-up cycle on some of these new ad products, that could also contribute to potential slower growth later on."
In an effort to combat stagnation, Facebook has been voraciously snapping up new growth opportunities and seeking ways to monetize new products such as Facebook Paper. This is also in keeping with one of founder and CEO Mark Zuckerberg's favorite mantras: "move fast and break things."
It wouldn't come as a surprise then if Facebook announced another spate of acquisitions and handful of product launches in a year from now. But realizing the revenue potential of all these new products and properties could take years and the question is whether investors will be patient enough to see Facebook through the slowdown in the meantime.
"I think this is going to be one of the first big IPO tests for them," said Blau.
Chances are, Facebook will be able to manage itself through the next three or four quarters while allowing these changes to happen and at the same time keeping investor sentiment positive; a testament that management has really matured.
With its warning of markedly different growth rates ahead in Wednesday's report, Facebook has given analysts ample room to reset some of their expectations and the chance to build their models on that type of scaling back. Thus investors are unlikely to punish Facebook if anything goes wrong. More likely, they're going to recognize that Facebook has a plan in place to deal with slower growth, which is horizontal movement or expanding into different apps and services.
Blau says he thinks Facebook will ultimately be successful in leveraging its new products to make up for the fatigue they're seeing in the main product. But it's not going to be any single new product on its own serving as an emerging growth engine. Thus, it's definitely not going to be Instagram alone because the product by itself does not have enough users; the user base is quite a bit smaller compared to the Facebook app.
What will serve as a new growth engine is, for instance, an Instagram, plus a WhatsApp, plus an Oculus VR app, plus Moves, along with the spate of other properties it is likely to have acquired and new products it is likely to have rolled out by next year. It will be a core collection of apps that Facebook can monetize.
"That would make up a new line of business for Facebook ... I think that it's very clear that that is what they're going to head towards," says Blau. "And if investors can see Facebook past the monetization of at least a portion of them, then they may be satisfied enough to give them the breathing room that Facebook needs."
-- Written by Andrea Tse in New York
Follow @atwtse
>Contact by Email