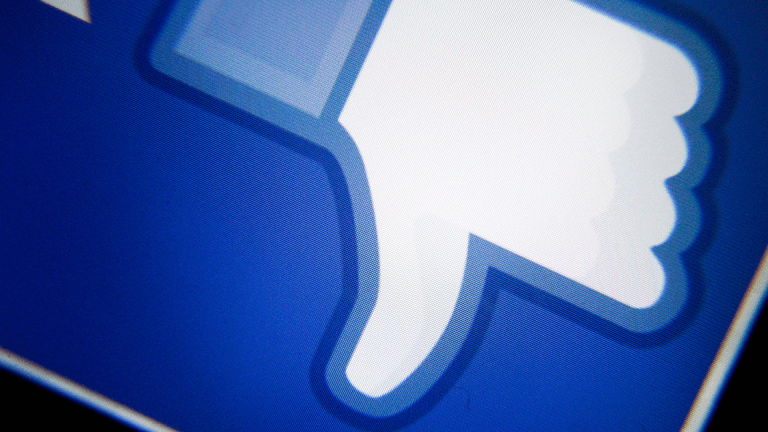 Facebook Employees' Morale Reportedly Falls
Internal survey finds workers are less optimistic about the company's future and don't plan to stay as long.
Morale at Facebook (FB) is getting a thumbs down from many employees as workers struggle with weak stock options and company scandals over consumer privacy and alleged "fake news" on the site.
The Wall Street Journal reported Wednesday that an internal company survey that Facebook conducts twice a year found lower scores in several measures of worker satisfaction.
Citing internal messages and interviews with unnamed sources, the paper said the 29,000 workers surveyed told the company that:
Just 52% were optimistic about Facebook's future, down from 84% a year ago and 67% this past April.
70% viewed to company favorably overall. Down from 74% in early 2017.
Employees plan to stay 3.9 years more at Facebook on average vs. a 4.3-year average in 2017.
About 12% of workers said they expected to remain at the firm for less than another year.
The numbers have fallen at a time when Facebook has faced multiple setbacks. For instance, FB disclosed in April that it might have exposed personal information from as many as 87 million users to Cambridge Analytica, a data firm that assisted President Donald Trump's 2016 election campaign.
The company has also come under criticism for allegedly allowing Russian hackers to post fake pro-Trump news on its site during the 2016 race, and has recently lost some top executives.
All of that has sent FB stock tumbling in recent months. Shares have fallen 34% since peaking intraday at $218.62 in July, closing Wednesday at just $144.22. The Journal said that means that some newer employees' stock options are worth less than they were a year ago.
Still, not everyone has soured on the stock. Jim Cramer and his team at TheStreet's Action Alerts PLUS club for investors recently reiterated a $200 price target on the name, writing that they "view the company's group of platforms as ones that are an integral part of society, businesses and advertisers, no matter how much people try to explain differently." Click here for a free 14-day trial Action Alerts PLUS membership to read their full analysis.
Employees of TheStreet are restricted from trading individual securities.