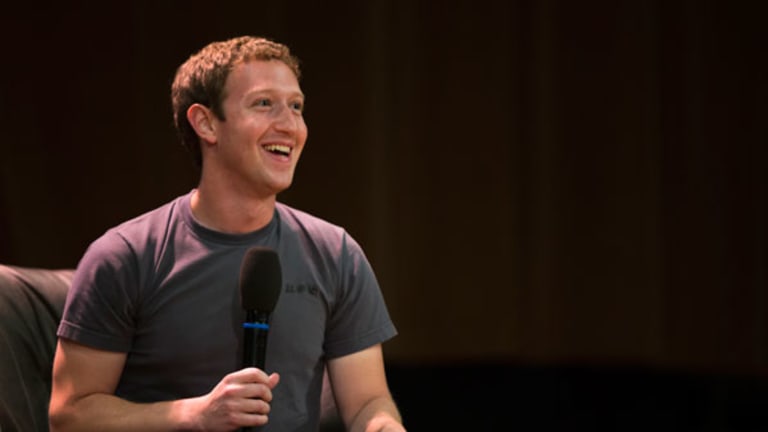 Facebook Earnings: What Wall Street Is Saying (Update 1)
Facebook's third-quarter earnings handily beat estimates. Here's what Wall Street is saying about the report.
Updated from 9:07 a.m. EDT to include updated information in the fifteenth paragraph.
NEW YORK (TheStreet) -- Facebook (FB) shares were up 4.1% in trading Thursday to $51.04 after the company reported third-quarter earnings that topped Wall Street forecasts.
Despite the impressive earnings beat, shares had given up most of their after-hours gains on concerns over ad engagement and questions over teens using the service. On the earnings conference call, Chief Financial Officer David Ebersman noted teens are using the service the same but daily users in the teen demographic slid from the second to the third quarter. The Facebook executive said there's no real accurate way to measure that, but the social networking giant is working on building something internally to figure out what's going on.
Even though the comments about engagement worried investors, Facebook still reported a massive beat to third-quarter estimates, earning 25 cents a share on a non-GAAP basis and generating $2.02 billion in revenue. Mobile revenue surged to 49% of total advertising revenue, which was about $881 million. Analysts surveyed by Thomson Reuters were expecting earnings of 19 cents a share on $1.91 billion in revenue.
As of the end of September, Facebook had 1.19 billion monthly active users (MAUs), up 18% year over year, with daily active users (DAUs) up 25% during the same time frame to 728 million users. Mobile MAUs grew 45% year over year to 874 million, with 507 million of them using the service daily at the end of the quarter.
Following the results, several people on Wall Street were positive on Facebook, the social networking giant. Here's what a few of them had to say.
TheStreet'sJim Cramer
"Facebook delivered a monster quarter, but it seemed that all anyone could focus on was a comment about how younger teens have decreased usage and how the company does not expect to significantly increase ads as a percentage of news feeds. The result? We got a real dead-horse beating about the peaking of Facebook and, even though ad revenue grew 60% and mobile ads are now 49% of the business and the company generated $1.8 billion in ad sales, you left the call with a sense that Facebook's best times are behind it."
Oppenheimer analyst Jason Helfstein (Outperform, $60 PT)
"Following better 3Q results from Facebook, we are increasing our estimates and target. Third-quarter upside was driven by higher advertiser demand for newsfeed, mostly driven by price. Higher Int'l usage drove ad volume, while US was driven by pricing. After-hours trading suggested investors negatively reacted to mgmt commentary on maintaining "ads as a % of newsfeed stories." However, assuming usage continues to grow in 4Q, this should support further ad volume growth. We continue to believe FB ads are undervalued versus competitors' measured on revenue/hour, a 77%/66% discount vs. YHOO (with/without Search). Increasing '13E and '14E revenue by 2% and 5%, and non-GAAP EPS by 10% and 12%, respectively. Raising target to $60 from $54. Maintain Outperform rating."
Cantor Fitzgerald analyst Youssef Squali (Buy, $63 PT)
"Facebook reported very strong 3Q:13 results, with revenue and NEPS comfortably exceeding expectations. Most importantly, ad revenue growth accelerated to +66% Y/Y, with mobile now accounting for ~50% of ad sales. As the largest/most-engaged mass reach Internet platform for advertisers, with successful mobile ad formats, and unmatched targeting potential, FB remains a favorite stock of ours at a relatively compelling valuation. We are adjusting our FY:14 PT to $63 (from FY:13 PT of $40) and are maintaining our BUY rating."
Credit Suisse analyst Stephen Ju (Neutral, $59 PT)
"Mobile revenue once again was the highlight as it grew 34% sequentially to $881mm vs CS $888mm. However, the most important takeaway for us was CEO Mark Zuckerberg's articulation around the knowledge economy; this in the context of Facebook's Graph Search has the potential to drive additional user engagement and increased consumer propensity to search for information on the site. This should in turn help spur increased biddable inventory, which could serve as another stream of advertising revenue longer term. More near term we moderate our desktop revenue growth and our price target adjusts lower to $59 vs prior $61 - we maintain our Neutral rating for now based on valuation."
JPMorgan analyst Doug Anmuth (Overweight, $62 PT)
"Facebook reported strong revenue growth along with significant improvement in margin suggesting advertiser momentum for social ads remains strong. However, strong 3Q results were overshadowed by the company's comments around decreasing usage among younger teens and more stable ad load going forward."

Topeka analyst Victor Anthony (Buy, $63 PT)
"FB delivered an impressive quarter with revenues and earnings meaningfully above TCM/consensus estimates. Investor enthusiasm waned after the CFO's comments that ad impressions are unlikely to increase and younger teens have decreased their daily usage of FB. We think the negative read on those comments ia excessive and recommend buying the stock on a pullback. Our price target increases to $63 from $60 on higher estimates."

--Written by Chris Ciaccia in New York
>Contact by Email.