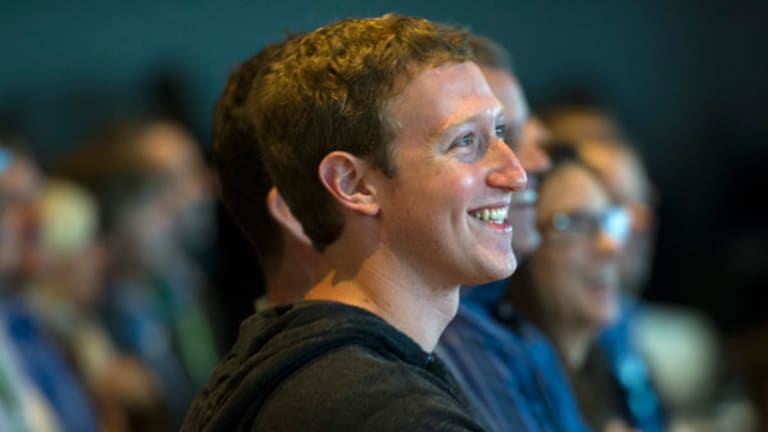 Facebook Taps Into E-Commerce, but Not For the Reasons You'd Expect
The social media giant has been testing the waters of the online shopping business, but its strategy does not involve trying to sell products itself.
NEW YORK (TheStreet) -- First Facebook (FB) - Get Meta Platforms Inc. Class A Report  added a buy button. Then it added payment capabilities and communications support. Then it added inventory listings. Is Facebook looking to become the next Amazon (AMZN) - Get Amazon.com, Inc. Report ?
The social network giant certainly isn't the only Internet company dipping its toes into the world of e-commerce -- Pinterest, Twitter (TWTR) - Get Twitter, Inc. Report  and Google (GOOG) - Get Alphabet Inc. Class C Report are just a few of the companies branching out with commerce features such as buy buttons. But Facebook's efforts seem to be a bit more widespread across the platform.
On its Newsfeed, advertisements can now carry buy buttons that lead directly to a purchase. On businesses' pages, owners can add inventory listings that let users browse their products. In Facebook Messenger, users can communicate with retailers to get updates on shipping time and ask any questions related to their orders.
While at first glance it may seem like Facebook is seriously about throwing its hat into the e-commerce ring, the company has been clear that these efforts are all focused on adding value for advertisers, and that it has no plans to sell anything itself.
"E-commerce is one of our top categories of advertisers, and we are already driving a lot of product sales through Facebook, but importantly, our e-commerce initiatives are really about connecting consumers with marketers so that they can buy from companies," Facebook COO Sheryl Sandberg said during the company's earnings call on Wednesday. "They're not buying through us. We are testing a buy button in the new shop section on pages, but again, that buy button is letting people buy directly from their advertisers, not from us."
Sandberg also noted that the current e-commerce features are only stage one for the company.
"It's pretty early days," Sandberg said. "We're excited by what we see in the e-commerce vertical and we're going to continue to invest in growing that vertical as part of our ads business."
So no, Facebook is not taking on Amazon -- it's simply trying to make its ads more attractive for advertisers.
"Their primary goal is to close the gap between an ad and a purchase," said Laura Martin, an analyst at Needham & Co. "They're trying to close the circuit. It's basically all about showing the advertiser the power of advertising on Facebook." Martin added that as she sees it, e-commerce translates directly to taking a cut of a sale, and until Facebook decides to do that, it has not yet truly entered the e-commerce business on its own. For now, Facebook will benefit from its commerce efforts mainly through increased ad revenue.
In a sense, it's similar to Google's strategy, where Google does not take a cut from any sales that come from its buy button. Instead, the search giant hopes to add value to its search ads and boost business that way. Closing the purchase gap also enables Facebook to gather more useful data on its users so it can place ads more strategically in the future and better serve both its advertisers and users.
Facebook could eventually decide to take its e-commerce efforts in a different direction, but for now, at least, it's sticking to what it does best -- advertising.
"[Facebook's] unlikely to become a destination shopping site the way we think of Amazon or BestBuy.com," said ITG analyst Steven Weinstein. But he admitted that whenever Facebook does something, even if it's not necessarily meaningful to the core business, "it's worth paying attention to, because if they do find the right combination to make it work they certainly impact the whole industry. Even though I don't think they need to do anything major [in e-commerce], the fact that they're dipping their toe is meaningful, because if they do figure it out, it'll be both an opportunity and a threat for everyone else in the space."