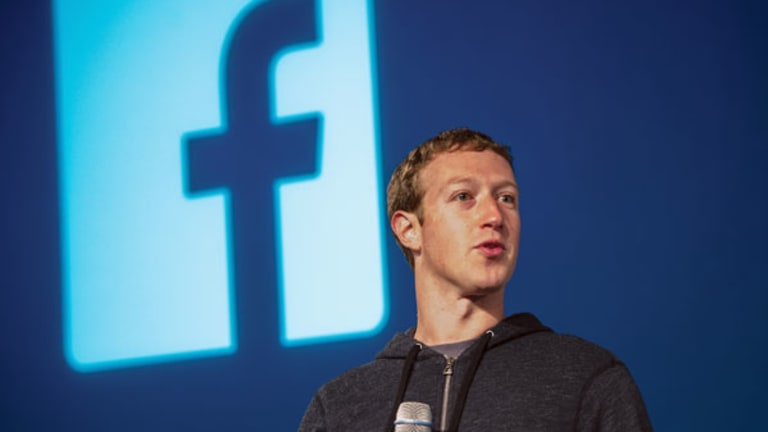 Facebook CEO Mark Zuckerberg on News Feed, Messenger and the Gray T-Shirt
During the company's first public question-and-answer session, the Facebook chief fielded questions from members that were both trivial and material.
SAN DIEGO, CALIF. (The Street) -- A week after being peppered by Wall Street analysts, Facebook (FB) - Get Facebook, Inc. Class A Report CEO Mark Zuckerberg answered to a more important audience -- the 1.35 billion people who use his social network each month -- and revealed something the world has always wanted to know.
Why does Zuckerberg wear the same gray t-shirt every day? For starters, it's not the exact same shirt, he insisted with back up from COO Sheryl Sandberg, as he owns more than one, but more to the point, the Facebook CEO said he'd rather focus all of his energy on Facebook.
"I want to clear my life, so I have to make as few decisions as possible," he said. 
The revelation was made during Facebook's first-ever public question-and-answer session, streamed live Thursday evening to viewers from a special Facebook event page. In the week preceding the event, Zuckerberg fielded questions through a new Facebook event page called "Q&A with Mark, " and also took audience questions from a small crowd gathered at the company's Menlo Park, Calif., headquarters.
Zuckerberg addressed some of Facebook members' biggest concerns, including questions as to when businesses can expect better distribution for their stories and why Facebook is forcing its users to install Messenger as a separate mobile application.
Arguably, the most material disclosure came in response to a question on information overload. Zuckerberg used the query as an opportunity to promise more controls for News Feed. Facebook, he said, is working on tools to help members "tune" their News Feed, though he didn't reveal specifics. 
"This is something we've heard very loud and clear from a lot of people in our community, that it's very important to you," he said. Ultimately, the company wants News Feed to be "the perfect personalized newspaper for every person in the world."
As for Facebook's controversial decision to separate Messenger from the main Facebook app, Zuckerberg wasn't exactly apologetic, but he was empathetic, saying he understood that it was "a big ask" to get people to install another application.
"The reason we wanted to do this is because we really believe this is a better experience," he said. "We know messaging is one of the few things that people actually do more than social networking .... Even though it was a short-term, painful thing ... we knew we could never deliver the quality of experience inside the tab of the main Facebook app."
The decision, despite being incredibly unpopular, has led to Messenger being the top downloaded app on Apple's App Store and Google Play for several weeks running.
Unfortunately, Zuckerberg did not offer encouraging news for businesses who operate Facebook Pages and rely on the organic reach of their status updates -- a.k.a. free distribution to fans through News Feed -- to make an impression on customers. The executive, who made certain to stress that his company provides a "free" way to communicate with customers, said that Facebook will always default to optimizing the feed for members over businesses. The average person could see up to 1,500 stories per day, but only actually gets to 100 or so, he said, which means that only the "highest quality content" will get through.
Zuckerberg's question-and-answer session comes a little more than a week after Facebook reported better-than-expected third quarter revenue of $3.2 billion and adjusted earnings per share of 42 cents. The social network company, however, spooked investors by talking up its plans to spend heavily in future quarters. CFO Dave Wehner guided Wall Street with the glum revelation that total costs in 2015 would increase between 55% and 75% over 2014.
Facebook shares closed up Thursday around half a percent at $75.26, but remain discounted by more than 6% from prices before the company reported third-quarter results last week.
--Written by Jennifer van Grove in San Diego, Calif.
>Contact by Email.