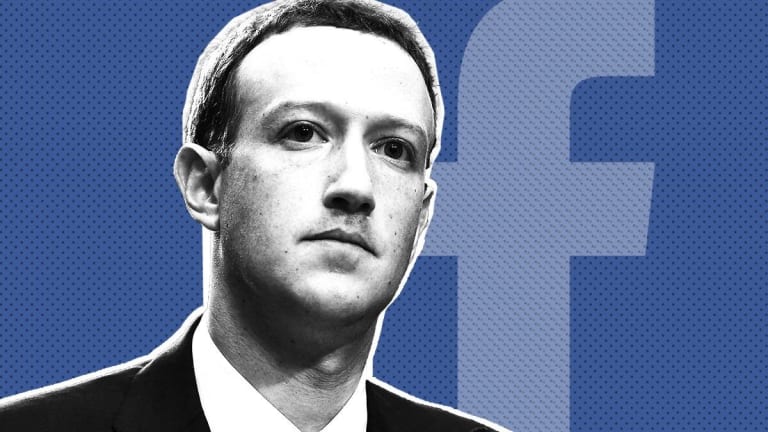 Zuckerberg Claims Facebook Has 'Fundamentally Altered' Its DNA
In his year-end note, Facebook's CEO recapped the progress the company has made in addressing election interference, stopping the spread of harmful content and making sure users have control of their information.
Facebook (FB) - Get Report CEO Mark Zuckerberg took to his own social media platform Friday to declare that the company had "fundamentally altered" its DNA in addressing a series of issues that have wracked the Internet giant over the last 12 months.
In a note posted to his Facebook page shortly after noon EST, Zuckerberg listed steps the company has taken in preventing election interference, stopping the spread of harmful content, making sure users have control of their information and "making sure our services improve people's well-being."
Every year, Zuckerberg posts a personal challenge he intends to focus on in the coming year; his challenge for 2018 was fixing Facebook's many issues and his Friday post was essentially a progress report. 
"We're a very different company today than we were in 2016, or even a year ago," Zuckerberg claimed in his post. "We've fundamentally altered our DNA to focus more on preventing harm in all our services, and we've systematically shifted a large portion of our company to work on preventing harm. We now have more than 30,000 people working on safety and invest billions of dollars in security yearly."
Zuckerberg acknowledged that fixing these problems would take more than a year, but argued that "in each of the areas I mentioned, we've now established multi-year plans to overhaul our systems and we're well into executing those roadmaps."
The last year has been extremely challenging for Facebook, with it stock falling almost 24% as a result. In April, Zuckerberg had to testify before Congress after it was disclosed that political data firm Cambridge Analytica had gained access to the private information of up to 87 million Facebook users. More recently, the company said it gave streaming services like Spotify and Netflix the ability to read and delete its users' private messages.
Moreover, Russia-based Internet trolls meddled in the 2016 presidential election and attempted to influence the 2018 midterm election.
"For preventing election interference," Zuckerberg wrote, "we've improved our systems for identifying the fake accounts and coordinated information campaigns that account for much of the interference -- now removing millions of fake accounts every day. We've partnered with fact-checkers in countries around the world to identify misinformation and reduce its distribution."
For stopping the spread of harmful content, Zuckerberg said "we've built AI systems to automatically identify and remove content related to terrorism, hate speech, and more before anyone even sees it."
"These systems take down 99% of the terrorist-related content we remove before anyone even reports it, for example," he wrote. "We've improved News Feed to promote news from trusted sources."
In addition, Zuckerberg said, Facebook tripled the size of its content review team to handle more complex cases that AI can't judge.
And as far as making sure people have control of their information, Zuckerberg said "we changed our developer platform to reduce the amount of information apps can access -- following the major changes we already made back in 2014 to dramatically reduce access that would prevent issues like what we saw with Cambridge Analytica from happening today."
Zuckerberg stressed, however, that Facebook still has plenty of work to do.
"I've learned a lot from focusing on these issues and we still have a lot of work ahead," Zuckerberg said. "I'm proud of the progress we've made in 2018 and grateful to everyone who has helped us get here...I'm committed to continuing to make progress on these important issues as we enter the new year."
Shares of Facebook were off slightly Friday afternoon to $133.48.
Facebook is a holding in Jim Cramer'sAction Alerts PLUS Charitable Trust Portfolio. Want to be alerted before Cramer buys or sells FB? Learn more now.