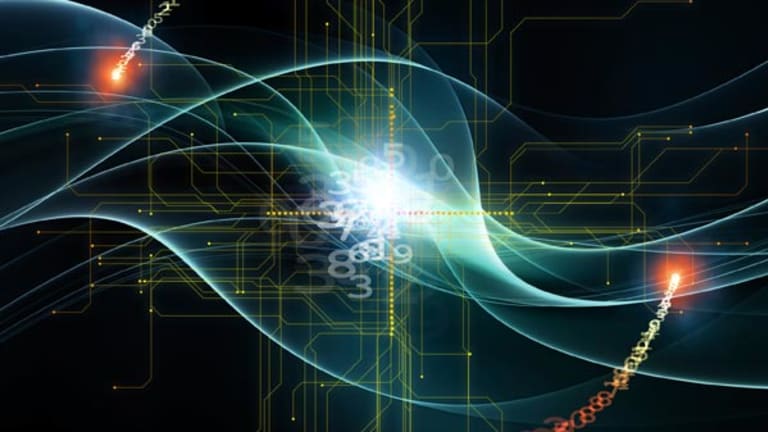 Facebook Beats, Shows Mobile Promise (Update 1)
Facebook beats Wall Street earnings estimates and impresses with its mobile execution.
Updated to reflect Mark Zuckerberg, company comments on earnings call
.
NEW YORK (
) - In its second earnings report as a public company,
Facebook
(FB) - Get Meta Platforms Inc. Report
posted third-quarter earnings that slightly beat Wall Street estimates and indicate the social network is making solid progress on a strategy to profitably transition users to mobile devices.
Notably, Facebook was able to generate 14% of overall ad revenue from mobile devices after previously relying on desktop users for its ad revenue, in a strong sign CEO Mark Zuckerberg is making progress on a commitment to grow the social network's usage on mobile devices like
Apple
(AAPL) - Get Apple Inc. Report
iPhones and
Google
(GOOG) - Get Alphabet Inc. Report
-powered smartphones.
The social network posted adjusted earnings of 12 cents a share on revenue of $1.26 billion, slightly beating Wall Street estimates on the top and bottom line
Analysts polled by
Thomson Reuters
expected Facebook to earn 11 cents a share on sales of $1.2 billion in the third quarter, and few made big changes to the company's earnings outlook headed into the quarter. On a GAAP basis, Facebook lost 2 cents a share.
""As proud as I am that a billion people use Facebook each month, I'm also really happy that over 600 million people now share and connect on Facebook every month using mobile devices," said Zuckerberg, in a statement released with earnings. "At the same time, we are deeply integrating monetization into our product teams in order to build a stronger, more valuable company," he added.
Heading into earnings, investors were looking for signs the social network is making progress on efforts to monetize a billion-member-plus user base and that it has a strategy to transition users and advertisers to mobile devices as desktop visits to the site slow.
In fact, as with
Yahoo!'s
(YHOO)
Monday
, Facebook's quarter was seen by some as less about the numbers and more about a firmer
.
Specifically, the question was whether Facebook's usage and revenue generation trends can bolster its earnings outlook headed into 2013, regardless of whether top and bottom line numbers hit Wall Street estimates.
For instance, in the second quarter, Facebook beat analyst estimates but
investors on expectations that the social network can continue to grow revenue at a rapid rate. Following earnings, Zuckerberg admitted the company's been a slow mover in mobile and vowed to commit to the area, helping to jolt shares.
Facebook's quarterly results also come just days after
Google's
(GOOG) - Get Alphabet Inc. Report
weaker-than-forecast earnings indicate the company's struggling to shift its
.
Prior to earnings, Evan Wilson of Pacific Crest Securities forecast that decelerating usage trends on Facebook could outweigh an earnings beat on revenue and earnings per share estimates.
"We continue to see risk to Facebook in the near term, but are not as concerned about headline revenue and EPS relative to Street estimates. We believe Facebook's increasingly aggressive monetization tactics should reaccelerate revenue the way the market is expecting," wrote Wilson in a research report outlining earnings estimates.
A strong investor reaction to earnings released after the market close on Tuesday indicate Facebook's been able to both impress Wall Street on earnings numbers and the company's overall direction headed into year end. After an initial stock surge after earnings were released, Facebook added to gains as executives broke out the earnings beat on an earnings call with analysts, pushing shares over 10% higher to $21.50.
Facebook highlighted highly anticipated new platforms like Facebook Exchange and its rebuilt iOS mobile app as drivers of strong mobile growth on the earnings call. Facebook Exchange lets advertisers tailor ads on the social network based on user interests and is seen as a key piece of monetization efforts.
Zuckerberg attributed mobile ad revenue gains to Facebook's commitment to the platform and also said a faster iOS mobile app helped drive surging usage. "I want to dispel this myth that Facebook can't make money on mobile," said Zuckerberg on the earnings call.
COO Sheryl Sandberg detailed how companies like
Samsung
and
McDonalds
(MCD) - Get McDonald's Corporation Report
have seen success in the company's Exchange platform since a September launch, in comments that helped to push Facebook's stock higher through the analyst call.
Justin Post of Bank of America Merrill Lynch forecast Facebook beating earnings estimates but said the report will hinge on whether ad revenue is accelerating or decelerating.
"We estimate that mobile revenues could reach $90mn in Q3, up from roughly $25mn in 2Q, although PC revenues could be down q/q (some revenue cannibalization)," writes the analyst, in an earnings primer.
At 14% of overall ad revenue, mobile earnings came in at nearly double of Post's forecast and helped to drive strong year-over-year and sequential revenue growth. In the third quarter Facebook's revenue rose 32% from year-ago levels.
As with
Apple's
(AAPL) - Get Apple Inc. Report
iPhone 5 launch, some analysts worried Facebook may face the challenge of meeting user demand for its products as it rolls out new ways to advertise on the social network.
The bull case on Facebook has long centered on the network's still unquantifiable earnings prospects and its growing popularity, but investors should also take stock of obvious risks to the company's share prices through year-end.
In particular, Facebook faces a lockup expiration, where $1.2 billion of shares -- 700 million shares in total - could hit the stock market in the next three months, noted William Bird of Lazard Capital Markets, in a note prior to earnings.
Meanwhile, economic weakness in Europe and a muddled picture on fees paid by social gaming giant
Zynga
(ZNGA) - Get Zynga Inc. Report
were obvious risks headed into the quarter. In October, Zynga badly missed earnings and
for the second consecutive quarter.
Facebook's fee revenue for the third quarter came in $176 million, a 13% a 9% decline sequentially from the second quarter of 2012, indicating an impact from Zynga's woes.
While Zynga's struggles forced fee-based revenue, however, Facebook made strong progress in generating new mobile ad revenue.
For more on Facebook, see why the company's valuation shouldn't be a
. Also see why a venture capital investor says
on Facebook after its weak post-IPO performance.
Follow @agara2004
-- Written by Antoine Gara in New York