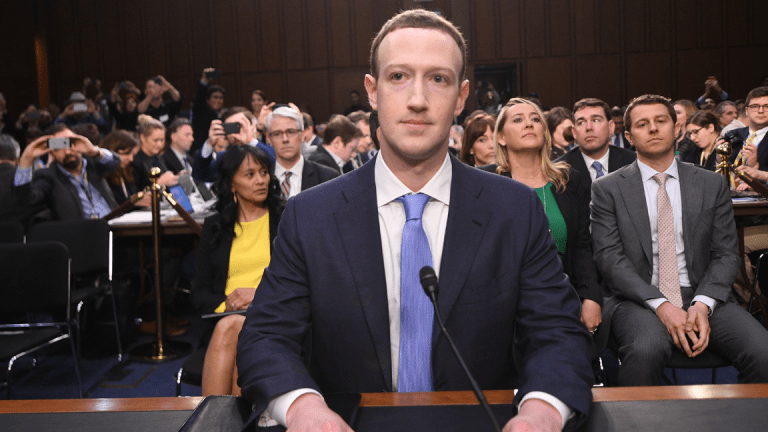 Facebook Beats Estimates and Guides Cautiously: 6 Key Takeaways
The social media giant comfortably beat Q2 expectations on the back of strong ad impression growth. At the same time, it forecast revenue growth will slow in the second half of the year and in 2020.
As Facebook's (FB) tangles with regulators and politicians keep grabbing the spotlight, the company's massive ad business is for now still growing at a very strong clip.
On Wednesday afternoon, Mark Zuckerberg's firm reported Q2 revenue of $16.89 billion, topping a consensus analyst estimate of $16.49 billion. Revenue rose 28% annually in dollars and 32% in constant currency, with both growth rates improved by 2 percentage points relative to Q1 levels.
Officially, EPS came in at $0.91. But after excluding $1.08 per share in expenses related to Facebook's $5 billion FTC settlement (officially announced earlier in the day) and a legal ruling that affects its tax payments on stock compensation, EPS was $1.99, above a $1.88 consensus.
Facebook's shares finished after-hours trading up roughly 1% and were rising 1.6% to $207.95 in pre-market trading on Thursday. Here are some notable takeaways from Facebook's earnings report and call.
1. Ad Sales Momentum Remained Strong
Facebook's ad revenue, which accounts for over 98% of its total revenue, grew 28% to $16.62 billion. Ad impressions rose 33% annually (slightly better than Q1's 32% growth), with CFO Dave Wehner noting growth was "primarily" driven by Instagram Stories, the Instagram feed and Facebook's news feed. He added that "a number of optimizations and product wins" for the core Facebook app provided a revenue boost.
The ad impression growth easily offset a 4% drop in Facebook's average ad price (on par with Q1's decline), as a mix shift towards Instagram Stories and emerging markets ad sales weighs on prices some.
With Instagram helping out, Facebook's North American ad sales (still close to half of all ad revenue) rose 30%. Ad sales grew 25% in Europe, 30% in the Asia-Pac region and (with the company noting currency swings weighed) 21% in the "rest of world" region.

Facebook's ad revenue by region. Source: Facebook.
2. Revenue Growth Is Expected to Slow Into 2020
In April, Wehner said Facebook expects its revenue growth rates to "decelerate sequentially throughout 2019 on a constant currency basis." On Wednesday, he said Facebook still expects constant currency revenue growth to slow going forward (though it didn't in Q2), while adding that his company expects "more pronounced deceleration in the fourth quarter and into 2020, partially driven by ad-targeting related headwinds and uncertainties." Tougher annual comparisons are also expected to weigh in Q4.
As was the case in April, Wehner said the ad targeting pressures that Facebook is seeing (and which could hurt its ad prices) stem from a mixture of new regulations (such as the EU's GDPR rules), policy changes by mobile platforms that impact ad targeting and measurement -- Apple (AAPL) has been especially eager to roll out new privacy features -- and Facebook's own rollout of new privacy tools.
Worth noting: Facebook has a history of guiding conservatively, and pre-earnings analyst estimates already called for revenue growth to moderately slow in the coming quarters. The consensus was for revenue to grow 24% during the whole of 2019, and 21% in 2020
Facebook and Apple are holdings in Jim Cramer's Action Alerts PLUS member club. Want to be alerted before Jim Cramer buys or sells FB or AAPL? Learn more now.
3. User Growth Was Largely as Expected
Monthly active users (MAUs) and daily active users (DAUs) for Facebook's core service and Messenger rose 8% annually to 2.41 billion and 1.59 billion, respectively. Both numbers were in line with analyst expectations.
Wehner stated once again that India, Indonesia and the Philippines are leading the way in terms of DAU growth. In North America, DAUs rose by 1 million sequentially and 2 million annually to 187 million. In Europe, where DAUs were pressured a year ago by GDPR's arrival, they were flat sequentially and up by 7 million annually to 286 million.
Facebook says that more than 2.7 billion people use one of its four main services (Facebook, Messenger, Instagram and WhatsApp) each month, and that more than 2.1 billion do so on a daily basis. Similar comments were made in April, although then Facebook said "around" 2.7 billion people use one of its services monthly.

Daily active users by region. Source: Facebook.
4. Spending Growth Remains High, But the Capex Budget Has Been Cut
Excluding an additional $2 billion that Facebook had to budget for its FTC fine, the company's costs and expenses rose 39% annually in Q2 to $10.26 billion. Large depreciation expenses related to recent capital spending weighed, as did the big investments Facebook continues making in engineering talent and privacy and content safety initiatives.
Officially, Facebook is now guiding for its costs and expenses to rise 53% to 61% this year. However, excluding the FTC fine, costs and expenses are expected to grow 37% to 45%.
While costs and expenses grew rapidly in Q2, Facebook's capital spending rose just 9% annually to $3.78 billion. And -- at a time when many data center hardware and chip suppliers have reported seeing a cloud capital spending pause -- Facebook is cutting its full-year capex guidance by $1 billion to a range of $16 billion to $18 billion. That's still above reported 2018 capex of $13.9 billion.
5. Facebook Was Eager to Talk About E-Commerce and Payments
"[Commerce] and payments I think are one of the most exciting areas of product development for the next several years," Zuckerberg said on the call. In addition to defending the Facebook-led Libra cryptocurrency initiative -- Zuck declared its goal is to "empower billions of people around the world who use services like WhatsApp but might be excluded from banking services." -- he highlighted Facebook's efforts to drive commerce on platforms such as Instagram and Facebook Marketplace, as well as to connect consumers with businesses via Messenger and WhatsApp.
"In the future, we'll enable people to use same payments account to send money to friends and businesses on WhatsApp, shop on Instagram or make transactions on Facebook," Zuckerberg added. Meanwhile, COO Sheryl Sandberg said Facebook is "pretty excited" about the early feedback it's getting for Checkout on Instagram, a service currently in beta mode that lets users pay for items without leaving the Instagram app.
At the same time, both Zuckerberg and Sandberg signaled that Facebook isn't as interested in profiting from transactions carried out on its platforms as it is in boosting ad spending and prices by increasing the likelihood an ad impression will result in a purchase, as well as getting better visibility into when this happens.
6. Stock Buybacks Picked Up a Little
Facebook spent $1.14 billion on stock repurchases in Q2. That's up from $613 million spent in Q1, but still much less than the $3.5 billion spent in Q4.
For comparison, Facebook's stock compensation expenses totaled $1.3 billion in Q2 and $1.01 billion in Q1.
TheStreet's Eric Jhonsa previously covered Facebook's earnings report and call through a live blog.