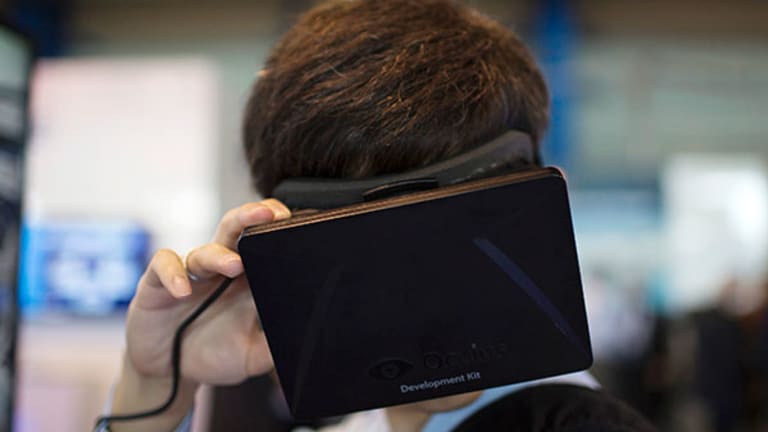 Publish date:
Facebook and Oculus Aren't Just About Games
Facebook announces its purchase of Oculus VR, maker of Oculus Rift, for $2 billion in cash and stock. While the $2 billion price is based on the gaming market, the potential for virtual reality is seemingly limitless. Whether it gets there though, is anyone's guess.
Facebook announces its purchase of Oculus VR, maker of Oculus Rift, for $2 billion in cash and stock. While the $2 billion price is based on the gaming market, the potential for virtual reality is seemingly limitless. Whether it gets there though, is anyone's guess.
NEW YORK (TheStreet) -- Facebook (FB) - Get Reportannounced its purchase of Oculus VR, maker of the Oculus Rift headset, for $2 billion in cash and stock. While the $2 billion price is based on the gaming market, the potential for virtual reality is seemingly limitless. Whether that gets here though is anyone's guess.
When discussing the transaction, which Facebook expects will close next quarter, Facebook CEO Mark Zuckerberg talked about a few of the other opportunities outside of video games. "After games, we're going to make Oculus a platform for many other experiences," Zuckerberg said in a Facebook post. "Imagine enjoying a court side seat at a game, studying in a classroom of students and teachers all over the world or consulting with a doctor face-to-face -- just by putting on goggles in your home."

WATCH:Facebook's Spending Spree on Oculus VR, WhatsApp Finds Reality Bites
Virtual reality has long been thought of as something from science fiction, sensationalized in movies such as The Matrix trilogy, Virtuosity, Virtuality (a television movie), and several other mediums. However, it appears that with Facebook's purchase of Oculus VR, virtual reality is coming to fruition, noted Jon Brouchoud, founder of Arch Virtual, which creates 3D environments for education, medical, architecture, city planning and the enterprise.
"I think it's exciting," Brouchoud said in a telephone interview, referring to the acquisition. "Virtual reality needs to be more widespread. Anyone who tries it [Oculus Rift] on, immediately gets it. The awareness of the deal brings more people to it, and it can only be a good thing for the future of virtual reality."
Brouchoud noted some of the projects Arch Virtual has worked on which could speak to Zuckerberg's vision of having Oculus be more than just for games. Arch Virtual has done a virtual driving experience for automaker Suzuki, in which consumers grab on to a steering wheel and imagineg they're driving through the Himalayan mountains. "It really leads them feeling as if they've driven that vehicle, and there's no other medium that can do that," he said.
That said, virtual reality is still in the very early stages, and it's not quite clear which applications will work the best for virtual reality or whether this is a moon shoot. JMP Securities analyst Ronald Josey noted the acquisition, which only came together in the past few days, "will take multiple years for this strategy to come into focus," and that significant monetization of the company is still a long way away. According to the acquisition announcement, Oculus has taken orders for just 75,000 Oculus Rift headsets, ranging anywhere from $300 for the Rift DK1 to $350 for the Rift DK2.
Zuckerberg said he thought virtual reality and the Oculus Rift could be the next computing platform, but not everyone sees it that way. Pacific Crest Securities analyst Evan Wilson believes that the platforms of today (PC, smartphone, tablet, laptop) will remain the platforms, with virtual reality integrated. "It is more likely that the computing platform (PC, smartphone, tablet, laptop) and its software will continue to be the platform, which will allow multiple VR display manufacturers to interoperate and compete," Wilson wrote in a note. Wilson added that virtual reality headsets could replace other displays, including TV, PC monitors and projectors, for high-end uses, including movies and games.
On the conference call, Zuckerberg noted that virtual reality coming to the forefront is being driven by the smartphone, as components are now mass-produced at prices small enough and powerful enough "that you can repurpose to do the really intense graphics work that's necessary to render a full world quick enough to not make someone motion sick." That said, Zuckerberg doesn't expect virtual reality to take off anytime soon, noting "this is a five-plus year thing."
That doesn't mean there hasn't been a lot of interest surrounding Oculus, noted Sterne Agee analyst Arvind Bhatia. "Oculus VR has been getting traction in the gaming industry and at the recent Game Developers Conference (GDC) this year, virtual reality in general and Oculus VR in particular, received a lot of attention," Bhatia wrote in a note to clients. "While gaming will be the near-term opportunity for Oculus VR's technology, Facebook envisions applications in other forms of entertainment and communications with the ultimate goal of helping it become 'the most social platform ever.'"
By doing this deal, Facebook moves slightly away from its core functionality, social networking and keeping everyone connected. Both the Instagram and WhatsApp deals were about connecting people and sharing, and it's hard to argue with the success. On the call, Zuckerberg noted Instagram had surpassed 200 million users, and WhatsApp is well on its way toward 1 billion users.
This deal is more focused on the next computing platform, similar to what Google (GOOG) - Get Report has done with Android. Piper Jaffray analyst Gene Munster, who rates Facebook "overweight" with a $67 price target, said this might be Facebook's "Android moment."
"We view the most interesting aspect of the acquisition is that it is in our opinion the first major acquisition that Facebook has made that is offensive," Munster wrote in a report, noting Facebook was acting forward-thinking like Google. "While one could argue, Instagram and WhatsApp as offensive in hindsight, we believe those platforms both threaten Facebook's core grasp on social time spent. We believe that Oculus is a big bet on the future of visual computing and we may see Oculus as Facebook's 'Android' moment 10 years from now and understand the point of the acquisition."
Virtual reality is still a long ways away from becoming a mainstream platform, and it's no guarantee it will get here. Personal digital assistants (PDAs) never really took off, and tablets were around for quite a while until Apple (AAPL) - Get Report introduced the iPad in 2010, to name two examples. Still, people believe that virtual reality is coming, whether we like it or not.
"We're in the silent movie stage, and we're just starting to flesh out what opportunities are," Brouchoud said. "This tech enables shared experiences, travel to outer space, it's more about taking friends on a new voyage. I don't think we've even scratched the surface with what's possible."
-- Written by Chris Ciaccia in New York
>Contact by Email.