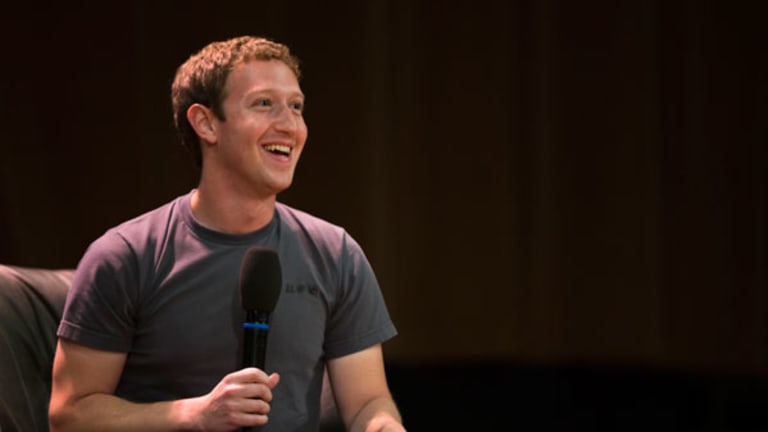 Facebook and IBM Team Up to Tackle Targeted Marketing
Marketers will now be able to tap into data from Facebook and IBM when engaging consumers.
NEW YORK (TheStreet) -- Facebook (FB) - Get Meta Platforms Inc. Class A Report and IBM (IBM) - Get International Business Machines Corporation Report are announcing Wednesday a new partnership that will help brands achieve more personalization in their marketing efforts.
IBM's more than 35,000 marketing cloud clients will be able to tap into Facebook's data, using tools like Custom Audiences to cater to individual consumers and segments. So they can target Facebook users based on their likes, while also taking advantage of information from IBM's marketing cloud, such as weather, location and previous purchase history.
The partnership follows on the heels of a recent IBM study that detected a gap between advertisers' intentions and consumers' perceptions. The study found that while 90% of marketers agreed that personalized experiences are critical, 4 out of 5 customers felt the companies didn't know them as individuals.
"A lot of clients we talk to said, 'Hey a lot of the marketing we do is with Facebook, so can you also bring them into our ecosystem?'" said Deepak Advani, general manager for IBM commerce unit.
On top of this integration, Facebook and IBM will also be teaming up for a new Commerce ThinkLab, designed to work with companies to develop new marketing technologies. The lab will house IBM researchers, Facebook experts, domain experts and designers, who will work on specific cases for IBM clients.
The ThinkLab will tackle price optimization or inventory analytics and be able to tie together e-commerce and brick and mortar sales in one virtual inventory.
"At the end of the day we're still at early innings of how one-to-one personal engagements are going to happen," Advani said. "When companies like IBM and Facebook team up on real use cases, that's the best way to accelerate innovation because it's grounded in reality."
Facebook too hopes the partnership will allow the company to help clients better understand and engage with consumers.
"Given their size and the ability to scale rapidly, IBM is bringing value to our mutual clients around the world," said Blake Chandlee, vice president of partnerships for Facebook. "We want to partner with companies that enable personalized marketing at scale, bringing value to clients and making them successful."
This is the second time in recent weeks that IBM has partnered with a social network. In mid-March, IBM announced it was going to put tweets through its new Watson Analytics service so that businesses can tap Twitter's (TWTR) - Get Twitter, Inc. Report archives for business purposes such as forecasting demand, identifying ideal customers, boosting sales and striving to keep customers loyal.