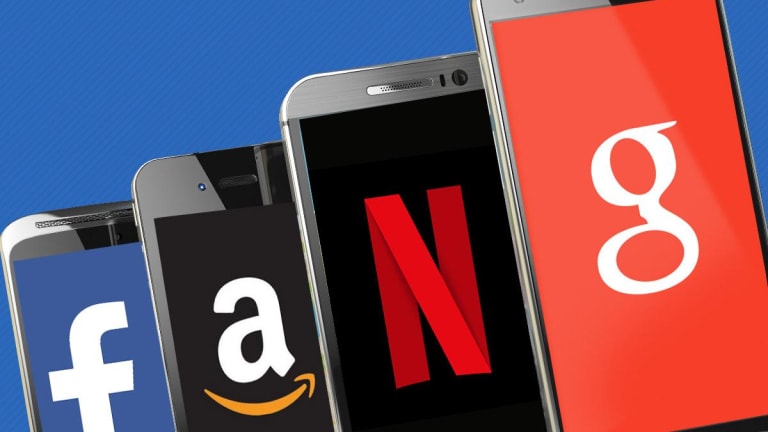 How FAANG Stocks Are Contributing to Chip Sector's Woes
The recent malaise in the chip industry is at least in part attributable to the enormous concentration of chip buying among the mega-cap tech names such as Amazon and Alphabet. Don't worry, though -- long term, it's good for chip stocks.
The recent malaise in the chip industry is at least in part attributable to the enormous concentration of chip buying among the mega-cap tech names such as Amazon and Alphabet. Don't worry, though -- long term, it's good for chip stocks.
The FAANG companies have a such an outsized effect on society and the economy, they're even warping the supply and demand balance of the chip industry. 
We don't know exactly how large Amazon (AMZN) - Get Report , Alphabet (GOOGL) - Get Report , Facebook (FB) - Get Report and others are as a proportion of total chip demand, but they are certainly a meaningful cluster of large buyers, and their chip orders, or lack thereof, are warping the fabric of the semi business.
As the then-CEO of chip equipment maker Lam Research (LRCX) - Get Report , Martin Anstice, remarked last spring, the data centers of these large tech firms are "fundamental, they are the platform of innovation in memory storage and and also compute." What Anstice was referring to is the fact that Google, Amazon and others are handling today's most challenging types of computing tasks, such as AI, and that makes them a more and more powerful collection of buyers of chips.  
That growing concentration of buying power could be a big factor behind the current malaise in semis: when the FAANGs buy big, it's a boon; when they curtail buying, it's a bane for the industry. 
The pain has been bad for weeks now, starting with memory maker Micron Technology's (MU) - Get Report weak outlook for this quarter on Dec. 18. Then came Apple's (AAPL) - Get Report Jan. 2 warning about a slowdown in its iPhone business, which immediately hit stocks of chip suppliers. That was followed by Samsung Electronics's (SSNLF) warning on Jan. 8 that its own fourth-quarter results will miss, in part because of the same weak memory trends that hit Micron. Chip foundry Taiwan Semiconductor Manufacturing (TSM) - Get Report followed on Jan. 17 with its own warning. 
Last week, it was chip equipment maker ASML Holding disappointing, followed by Lam, whose CFO, Doug Bettinger, said there will be no recovery in sales of equipment for memory-chip manufacturing this year. (Lam nevertheless beat with its profit outlook, a silver lining that sent its shares surging.) And on Monday, Nvidia announced its own shortfall for its December fiscal quarter, citing weaker-than-expected gaming and data center sales. 
In all of this, the mark of the FAANGs is clear, and not just from Apple's smartphone troubles. 
Tuesday Facebook was down 2.22%, Apple was off 1.04%, Amazon fell 2.69%, Netflix was down 2.01% and Google lost 0.91%.
Over-buying by the large techs such as Google and Amazon at some point last year led those companies to have too many chips on hand, which subsequently led them to slow their buying dramatically, according to chip analyst Shebly Seyrafi with FBN Securities.
"Our channel checks from December indicated that hyperscaler companies started to meaningfully lower their orders for memory in late September," Seyrafi said in an email. Seyrafi believes the FAANGs ordered too many chips because they were concerned that the tariff battle between the U.S. and China could impact supply this year.
"We've heard that in early December there were 13 weeks of DRAM memory and six weeks of NAND memory at the cloud guys," says Seyrafi. By "cloud guys," he means the cloud computing operations of a handful of large techs, including Amazon, Microsoft (MSFT) - Get Report and Google.
If indeed mega-cap tech caused a hiccup in sales patterns in September, it represents an unusual confluence of factors: Fears about international trade amplified by the enormous buying power of Big Tech.  
To be sure, over-building of chips was a factor, says Robert Maire, head of chip analysis firm Semiconductor Advisors. About "80% of the problem" in 2018 was excess supply, just 20% was demand, he reckons. 
"We would have had excess supply and therefore lower costs whether or not cloud providers spent more or less," said Maire in an email. The industry "obviously over-built" last year, he says.
It's possible, says Sayrafi, that things could "normalize" in this quarter or next, though Lam's remarks last week cast some doubt on that, he admits.
It's not surprising Intel's (INTC) - Get Report quarterly report on Thursday also saw a big shortfall in its data-center business as a consequence, though it's not entirely clear how much of that may have to do with incursions by Advanced Micro Devices (AMD) - Get Report into its server processor market. 
As rough as the FAANG impact is, the disruption should be encouraging to chip stock fans for the longer term. While it means greater volatility, the FAANGs' buying also points to just how crucial chips are in an age when AI and other heavy-duty compute is gobbling up more and more of the world's work.
The malaise can be unsettling, but it's a blip in a very vibrant market for chips for years to come.
Score a Touchdown with Jim Cramer's Big Game Special
Get access to the best stock picks in Jim Cramer's investment portfolio by executing a two-minute drill on our Big Game Special on Action Alerts PLUS, Jim's VIP club for investors. Sign up now through Feb. 4 and receive 58% off of the normal subscription price. Now that's a real touchdown!
The author does not own nor trade shares of any of the companies mentioned in this article.