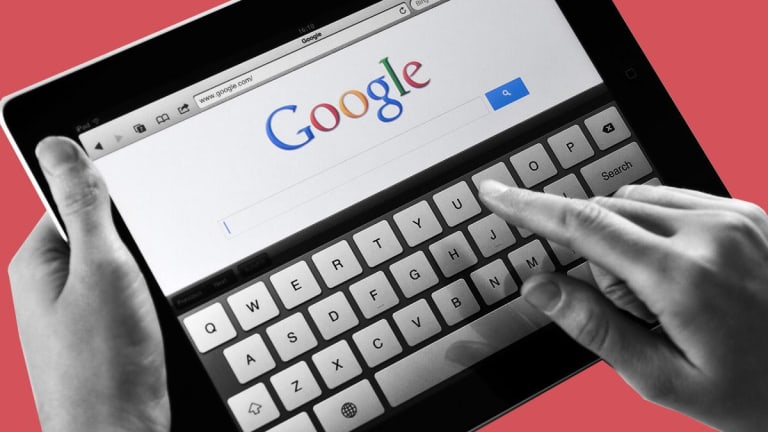 Facebook, Apple, Netflix, Amazon and Alphabet Shares Power Up
Facebook, Apple, Amazon, Netflix and Alphabet all saw shares gain in Friday's big rally.
Facebook, Apple, Amazon, Netflix and Alphabet all saw shares gain in Friday's big rally.
Tech shares got a little of their mojo back Friday as FAANG stocks helped power a big market rally, jumping 4%-9% each after taking a beating in recent days.
Netflix (NFLX) - Get Report led the way, closing Friday up 9.7% to $297.57. Alphabet Inc. (GOOGL) - Get Report  followed, adding nearly 5.3% to $1,078.07. Among the other FAANGs, Amazon (AMZN) - Get Report  rose 5% at $1.575.39, Facebook (FB) - Get Report  gained 4.7% to $137.95 and Apple (AAPL) - Get Report  -- which suffered its worst market day in six year on Thursday -- rose 4.3% to $148.26.
The FAANGs' comeback followed Federal Reserve Chairman Jerome Powell's comments earlier Friday suggesting the central bank might ease off the pedal when it comes to future rate increases. That sent stocks rising in general, as did news that the U.S. economy added a hefty 312,000 jobs in December.
Netflix was also buoyed in particular by an analyst upgrade from Goldman Sachs, which added the stock to its "Conviction Buy" list. "We continue to believe Netflix's investment in content, technology and distribution will continue to drive subscriber growth well above consensus expectations both in the U.S. and internationally," Goldman wrote.
Conversely, Amazon closed the day higher despite Goldman's decision in the same analyst report to cut its price target for the stock to $2,000 from a previous $2,200.
Meanwhile, Apple rebounded just one day after getting hammered over an unexpected earnings warning. IHS analyst Samuel Pierson said Apple had seen an increase in short positions over the past few months even as short positions were on the decline in the market as a whole. He said that factor, combined with Apple's earnings warning and lower trading volume around the holidays, likely fueled the stock's recent slide.
However, Pierson added that those same factors could have partly accounted for Apple's rebound on Friday. "When the market started to rally back [Friday], people [were] cashing out from their short positions," he said. "My personal take is that there has been some panic-selling and some panic-buying."
But Zev Fima, research analyst for Jim Cramer's Action Alerts PLUS charitable trust and club for investors, said that while the FAANGs tend to move together as a group, each stock has its own dynamics that investors must eye closely. 
He said the FAANGs are different "in almost every way imaginable -- business model, growth profile, revenue stream, total addressable market opportunity and especially valuation and regulatory headwinds.
"I cannot stress enough that not all FAANGs are equal," Fima said. "We like AMZN and GOOGL the most and own those as well as FB and AAPL -- which we maintain is an 'own, don't trade' name even after the recent negative pre-announcement. But investors must do their research. While they may all look like winners on a day like [Friday], these are names in which it pays to be an active investor rather than blindly buying a FAANG ETF."
Facebook, Alphabet, Amazon.com and Apple are holdings in Jim Cramer's Action Alerts PLUS member club. Want to be alerted before Jim Cramer buys or sells FB, GOOGL, AMZN or AAPL? Learn more now.
(This article has been updated.)