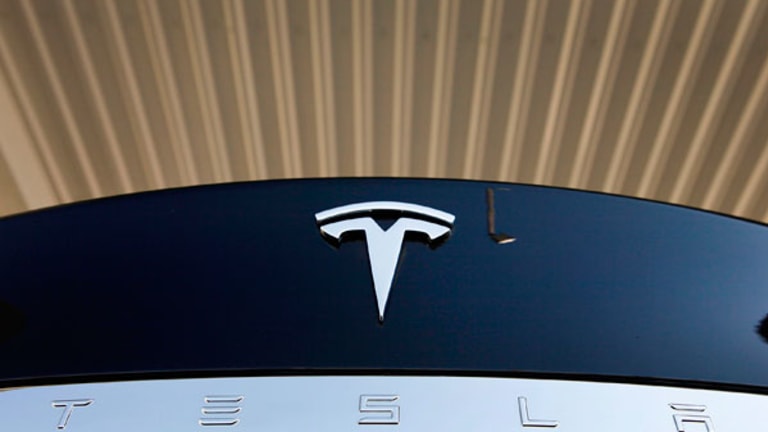 Publish date:
Explaining Tesla's Model X Delay
The author estimates another delay for the Model X.
The author estimates another delay for the Model X.
NEW YORK (TheStreet) -- The Tesla (TSLA) - Get Report Model X was originally scheduled to enter production in December 2013. The purpose of this article is to discuss why it was delayed by one year, and whether it will be delayed even more.
First of all, what is the Tesla Model X? It is Tesla's minivan version of the current Model S, which entered production around the middle of 2012. It makes for a much more spacious interior, and it adds four wheel drive for optimal Winter performance.
It has been my opinion since inception that the Model X is a guaranteed success. Almost everyone I know want some sort of plug-in minivan, as opposed these smaller or otherwise low-slung cars that's been the norm for plug-in electrics to date.
So why has it been delayed?
Let's first establish the history: The Model X prototype was unveiled in February 2012, and you were able to place a deposit immediately. At the introduction, Tesla said deliveries would begin in December 2013 and significant volume production would happen in early 2014.
Thousands of people put down refundable deposits of $40,000 (the first 1,000 units) or $5,000 (subsequent units), expecting to get the Model X in late 2013 or early 2014. Some estimates now have that list approaching 10,000 deposits. That would imply $85 million in total deposits for the Model X (1,000 multiplied by $40,000, plus 9,000 multiplied by $5,000).
At some point around the first half of 2013, Tesla said that the Model X had been delayed by one year: initial deliveries in late 2014; volumes in early 2015.
That's roughly where the official Tesla line continues to be today. Tesla maintains it will ship the Model X in late 2014, with the car ramping production in the second quarter of 2015 (sounds like a one-quarter slippage from early 2015).

Let's first discuss why the first one-year delay happened. There are basically two reasons:
1. The Model S Needed More Work:
Basically, Tesla hadn't anticipated how much resources it would take to keep iterating the Model S, so as to deal with "1.0" issues. One famous example is the so-called "vampire draw" -- the car consuming insane amounts of energy when it's just sitting still, such as overnight when you're asleep.
The list of all sorts of little things Tesla learned from tens of thousands of real people putting the Model S to task in the real world is very long. Ask people in very cold climates about their issues, and you quickly see what needs to be done before launching a new model. When the charge port freezes so you can't open it, that's a fundamental problem. The list goes on and on. It has taken Tesla more time than initially expected, to start fixing these problems.
Practically speaking, Tesla needed to come up with a "2.0" version of the current Model S before it can bring a Model X to market. It needs to fix all of these little issues that may be manageable now with early, friendly, enthusiast customers -- but which will not scale to much larger numbers, especially into the more cranky, and less enthusiast, customer ranks.
Therefore, the Model X is in many ways just a different body built on top of a Model S 2.0. What are all the changes they will implement? I don't know. All I know is that the list of improvements is long. Perhaps even something about protecting the battery better from various forms of impact.
While they're at it, Tesla also knows that while the Model S is the standout superb car in the market today, it lags the competition in some areas. Two that immediately come to mind are general interior luxury and the rear seat comfort.
When you compare the Model S to a Mercedes, BMW or Audi, you might conclude that the Tesla, while excellent in general, is lacking in warmth and luxury in some aspects. Tesla is likely to try to narrow or close this gap with an iteration to hit the market in 2015.
In terms of the back seat, there is only so much you can do -- i.e., so little -- if the basic body remains the same. So don't expect much there, except perhaps a softer cushion for better comfort for those short people who fit their heads back there.
2. Model S Success Bought Time:
The second reason Tesla could afford to push out the Model X by at least one year is that the Model S and Tesla's stock both became runaway successes. The market was filled with people who had never driven an electric car, and thought that the whole concept was doomed.

These hedge fund shorts also mostly lived in New York, which is why they never saw electrics on the streets. They also didn't have California's electric car-friendly climate, so they unwisely bet against Tesla.
In the meantime, Tesla stock went from under $30 to over $180 -- and if you're Tesla, why hurry the Model X when the market didn't care? For Tesla to delay the Model X was a wise decision, given the circumstances I describe above.
But now we face the second leg of the story: Will the Model X be delayed even further? I don't know the answer, and I haven't spoken to anyone at Tesla about it obviously, but I have a sense that we may see a further delay beyond the most recently reported mantra of first deliveries taking place in December 2014.
Let's stipulate that I don't count delivering 10 or 300 cars to "close friends of Tesla" as part of a glorified beta program. I'm talking about real deliveries to people who are not close friends or neighbors of the company, and who don't expect to be guinea pigs for a car with bugs to be ironed out.
So why do I think this will happen a lot closer to September 2015 than any of the official current Tesla targets? It's a hunch with a lot of uncertainty around it, but consider this: There is only one confirmed report of a Model X being driven on a public road. The picture was taken a few weeks ago in Los Angeles.
If you watched the development of the BMW i3 and the Chevrolet Volt -- as well as for that matter any car in the market -- it takes a lot of time to prove the car on public roads in harsh climates. Tesla said that it froze the design only around November 2013, so how long time until this testing process could commence?
Compare this with the Chevrolet Volt: After the January 2007 prototype, General Motors (GM) - Get Report showed the final production car in September 2008, from which only a few changes were made before production started in November 2010. In other words, two years and two months from September 2008 to November 2010, with GM's proven durability-testing resources.
If we were to apply this "Volt development standard" to Tesla -- two years and two months -- starting from November 2013 when the design was allegedly frozen, we would see initial production of the Model X start in January 2016. That would imply a delay of another 13 months.

Where could I be wrong? Some say that the testing of the Model X could be done quicker because it builds on the Model S. First, I think there have been more changes to the Model X than was originally conceived at the introduction in February 2012, as I described above.
Second, even if there hadn't been so many more changes made, durability testing can only be done so fast. For example, if you get nine women together, you can't make a baby in one month. It doesn't matter if you throw $100 billion at the problem. That's the nature of durability testing.
Another reason I could be wrong is if Tesla has managed to conceal its real-world testing program to a far greater extent than other auto makers. Perhaps Tesla lied about freezing the design in November 2013, and that the final version has actually been running on our roads in stealth since already in late 2012 or early 2013? No, I don't think so.
What is the bottom line here? It is all speculation of course, but my guess is this: Volume production of the Tesla Model X will not start before September 2015. By "volume production" I mean producing 1,000 cars in one month, for sale to people who are not "friends of the company" or glorified beta-testers.
This means that, technically speaking, Tesla might be able to "commence production" of the Model X perhaps a lot closer to December 2014 as currently promised, but it will be irrelevant for most people who actually put a deposit on the car. It will likely be the best car in history, but you're going to have to wait a little longer. Perhaps a year longer than the revised one-year delay.
I hope I'm wrong, because I want the Model X as soon as possible.
At the time of publication the author had no position in any of the stocks mentioned.
This article represents the opinion of a contributor and not necessarily that of TheStreet or its editorial staff.