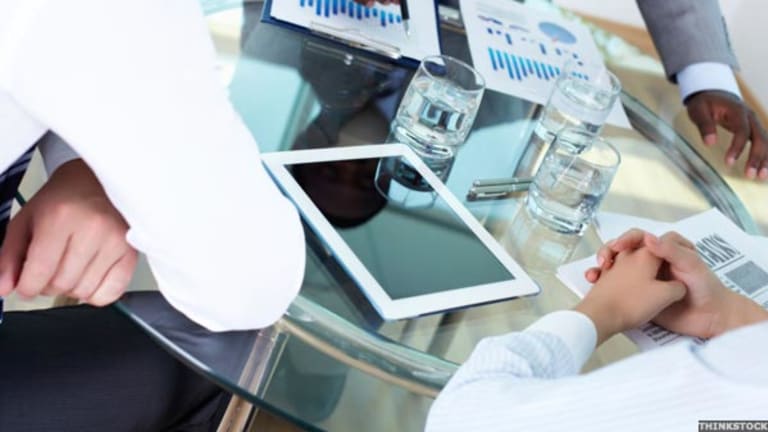 EXCLUSIVE: Shutterfly Could Be Up For Sale
Several private equity firms have recently considered bids for Shutterfly and the company could be acquired in the second half of the year, according to people familiar with the situation.
NEW YORK (TheStreet) –– Several private equity firms, including the ones that competed to acquire Getty Images, have recently considered bids for online digital photo storage and conversion service Shutterfly (SFLY) and the company could be acquired in the second half of the year, according to people familiar with the situation.
One individual suggested the company could fetch in excess of $2 billion in a buyout.
These people did not rule out strategic bidders, but noted the company's stock performance is something that might make it more attractive to private equity bidders, which have been hard-pressed to put capital to work in the current deal cycle.
Getty Images was sold in a heated auction in 2012, after Hellman & Friedman dealt it to Carlyle Group, which had competition from several firms. That transaction valued Getty at more than $3 billion.
One source said private equity firm TPG Capital, which competed in the Getty bidding, had expressed preliminary interest in acquiring Shutterfly, and that it is likely that some of the other bidders for Getty would vie for the Redwood City, Calif.-based digital image company.
Other potential bidders suggested by another banker include Warburg Pincus and Silver Lake Partners.
Strategics are also likely to bid, another source said, pointing — surprisingly — to online property auction house Zillow (Z) as a possible buyer; Zillow hasn't been shy about deploying capital on deals this summer — it took out its biggest online competitor, Trulia Inc., in a $3.5 billion merger earlier this summer.
While Zillow may not seem like the most natural partner for Shutterfly, the company's various home decor, community, social and scrapbooking elements have potential synergies with the online property listing service, which relies heavily on algorithm-based advertising formulas to generate sales.
Shutterfly's main business is allowing customers to store their digital photos and turn them into printed albums, posters, coffee mugs and other products. The company is particularly attractive to PE firms because of the enormous warehouse of Kodak Gallery images it bought in a bankruptcy auction from Eastman Kodak Co. in 2012, for the then-low price of $23.8 million. According to media reports, that deal moved up to nine billion images into the Shutterfly's photo library. The deal also eliminated a longtime competitor to Shutterfly: Kodak Gallery was established as Ofoto in 1999, the same year Shutterfly was founded.
The company also bought Tiny Prints in 2011, in a $141 million transaction, adding to its roster a maker of cards and other stationery. The company went on an M&A binge over an 18-month period, but hasn't made a deal in almost 12 months.
Other pickups for Shutterfly include Photoccino, an Israel-based developer of analysis and ranking technologies, also in 2012, reportedly for about $20 million. It also spent, according to TechCrunch, $25 million to buy ThisLife, a sharing and storage product in 2013. Other 2013 deals included acquisitions of online photo and video equipment rental company BorrowLenses, and R and R Images, another stationery company. 2013 also was the year Shutterfly bought MyPublisher, an online photo book software company.
While Shutterfly's stock price trajectory hasn't been matching the bull market's pace, it hasn't been as poor as other would-be tech targets. Shares have lost about 6% so far this year, and more than 12% over the last 12 months. On July 30, the company reported a net loss of $27.1 million, up from $11.8 million in the prior year period. Revenues were $159.1 million, a 19% increase from the second quarter last year.
The company's shares spiked early in July when Bloomberg reported that Shutterfly hired Qatalyst Partners to assist in a possible sale.
Carlyle did not comment when reached for this story. Shutterfly declined to comment. TPG did not respond to a request for comment. Silver Lake declined to comment and Warburg Pincus did not respond by press time.
--Written by Jon Marino in New York