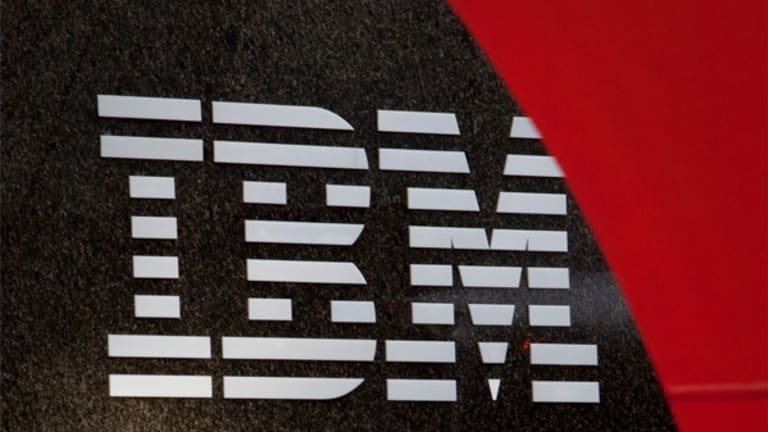 Exclusive: IBM Discusses Cloud Marketplace Launch
IBM unveils its new Cloud marketplace to help fuel the company's aggressive, cloud portfolio expansion.
NEW YORK (TheStreet) -- IBM (IBM) - Get Free Report on Monday launched its new Cloud marketplace to help fuel the company's aggressive, cloud portfolio expansion.
The announcement comes as Gartner estimates that 80% of organizations plan to use cloud computing in 2014. IBM posted 50% cloud revenue growth the first quarter of 2014, following a year where its cloud revenue hit an all-time high of $4.4 billion.
The IBM Cloud marketplace was launched with its global ecosystem of partners. It's designed as an easy-to-use destination for business professionals, developers and IT departments to visit via their PCs, laptops, tablets and smartphones, and to find solutions to their business and technology needs.
Any IBM enterprise customer will now be able to access all of IBM and its partners' software and services portfolios through the cloud, similar to the way that smartphone users can download new applications from consumer app stores.
The marketplace is expected to ease for enterprises the transition to the cloud and speed up the adoption of hybrid clouds.
The launch initially will involve hundreds of services ranging from big data analytics, to security and mobile, including those from cloud app and solution providers such as Zend, SendGrid, MongoDB, NewRelic, Redis Labs, Sonian, Flow Search Corp, Twilio and Ustream.
As part of the new Cloud marketplace, IBM announced that it's accelerating the company's expansion of the Bluemix open-cloud platform with 30 new services from IBM and its partners in growth areas such as big data and analytics, cloud integration, DevOpos and the Internet of Things. IBM is in a collaboration with Galvanize that is expected to lead to IBM's first "BlueMix Garage Lab," facilitating the joint effort of Bluemix members and IBM consultants and partners to iterate quickly on new innovations.
Erich Clementi, IBM's senior vice president of global technology services highlightedthe key features behind the Cloud marketplace launch:
Andrea Tse: IBM's new Cloud marketplace is uniquely positioned to the benefit of the enterprise. Can you talk about the new opportunities that the enterprise will be presented with?
Erich Clementi: You have to see this in the context of our strategy. If you go back nine months, you saw us acquire SoftLayer. And in January, we doubled down investment to expand SoftLayer out to 40 datacenters worldwide. Then you saw us come out with a platform as a service moving all of our middleware that we had in traditional environments over to be consumed in the cloud. And this is now the next logical step.
You need a place, a marketplace, in which everything that we have available as a service, be it infrastructure, platform, or application-as-a-service, can be discovered, learned about, and bought and consumed in the cloud. So this is the next shoe to drop. And what the distinguishing card of this marketplace is, is it's focus on the enterprise. So if you enter as a developer, you will find a part that's interesting for the developer. If you enter as an operator, it will help you in your role as an IT operations executive. And if you look at software applications as a business person, you will find them.
It's a marketplace squarely aimed at the enterprise. And it's aimed at the enterprise for developers, for for IT operators, and for business executives. I think that's the distinguishing card.
Tse: Can you tell us more about the third-party services that will also become available in this marketplace?
Clementi: Yes -- this marketplace contains IBM services, but also third party services. So when you go to a department store, you might find products that are labeled from the department store but you will find also third-party labels. This is the same idea. We really want this to be an opportunity for our ecosystem to participate in the cloud and make their services available in the cloud.
Tse: Where and how will this marketplace be accessible?
Clementi: They can access the new marketplace online at www.IBM/Cloud. It will be accessible on Monday, April 28, and it will go into general availability in the second quarter. Initially it will be available in the U.S. And then we will roll out local versions worldwide. Remember, we have a global footprint on top of SoftLayer, and it will roll out in many languages, not just English.
The access level is determined by the service that you buy. So when you go into the marketplace, you will see all the works on display in that marketplace. Then you can discover, try and buy. If you sign up to Bluemix, then it will be in your Bluemix environment, and you can compose your own applications. The access to the marketplace is open to everybody.
Tse: You also announced today the expansion of the Bluemix open cloud platform. All those services are now going to be conveniently accessible through the marketplace as well.
Clementi: That's right.We announced the Bluemix platform in February. Now we're making available 30 additional services in Bluemix. Those services can be bought in the marketplace and then ramped on the Bluemix platform. Bluemix is one offering that sits in the marketplace. It is the offering for the developers.
The biggest advantage of the Bluemix platform is the ease and the speed of the development that developers get. An integrative development environment which is highly differentiated from any other platform service, they can bring their own tools, it supports open source, it supports third-party languages, it offers all the flexibility that they want with enormous levels of productivity because all the development, the tests, the operations happen in the cloud.
The provisioning is automated on top of SoftLayer, so this is the fastest and the most productive development environment for enterprise customers. Bluemix is an environment where we would be enriched with services nearly every week. It's a growing environment in which you will find all kinds of services. IBM services, non-IBM services that can be composed into applications and ramped directly in the cloud very, very quickly.
We're staying squarely focused on the enterprise. Enterprise has very, very specific requirements. We put enterprise-grade security, enterprise-grade connectivity back to the existing enterprise system, into Bluemix. So we give the enterprise the ease of development that you would find in a consumer environment, and we link that to the security, the reliability, and the availability that you would require from an enterprise provider. That is our differentiating point.
I think the competition is aiming for different market segments from what we are aiming. We are squarely focused on the enterprise.
We are forming an ecosystem around Bluemix where we are putting a group of developers and experts in touch so that startups can develop directly in Bluemix. This falls into the strategy of getting the whole enterprise ecosystem onto the cloud and familiar with this new technology. We think this going to be a constant source of innovation.
-- Written by Andrea Tse in New York
Follow @atwtse>Contact by Email