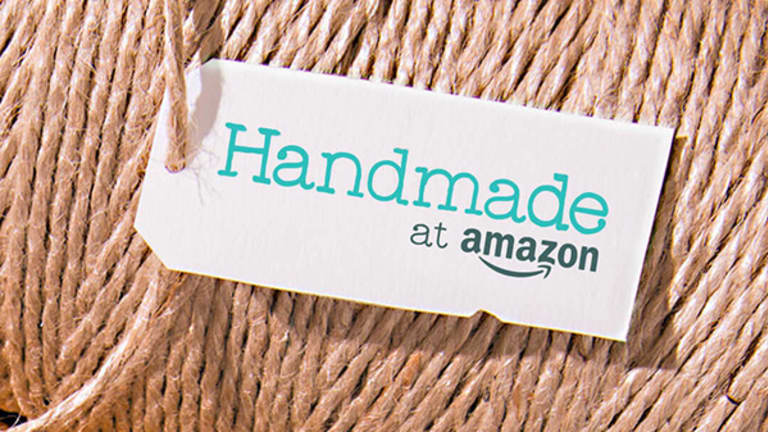 Publish date:
Exclusive: Amazon Shares New Numbers on Handmade's Growth
Since launching four months ago, Handmade's traffic and sales have grown steadily, but that may not be as bad for Etsy as suspected.
Since launching four months ago, Handmade's traffic and sales have grown steadily, but that may not be as bad for Etsy as suspected.
Amazon's (AMZN) - Get Amazon.com, Inc. Report platform for handmade products is off to a pretty good start, according to new numbers the company shared with TheStreet.
The platform, Handmade at Amazon, went live in October with more than 80,000 products from 5,000 sellers across six categories, and in the four months since launch the platform has grown steadily. Customer traffic to Handmade has increased more than 30% month-over-month, and sales on the platform have grown more than 150% month-over-month, according to Mike Miller, the head of Handmade at Amazon.
As is standard for Amazon, they did not share more specific numbers on total sales and traffic, but Miller said that Handmade "has been performing beyond our expectations."
Miller also shared that more than 95% of artisans on Handmade who use Fulfillment by Amazon -- meaning that Amazon handles delivery and ensures two-day shipping -- have had a sale. (Amazon did not share how many artisans use FBA.) Plus "tens of thousands of customers" have made a repeat purchase on Handmade already. "They like what they got and they're coming back for more," Miller said.
For Amazon, Handmade is all about increasing the selection for its customers. Prior to Handmade they were searching for handmade items, Miller said, so it made sense to offer it. In the fourth quarter, Amazon's sales of general merchandise and electronics in North America increased 28% year-over-year. Constantly opening up new categories and widening product selection could help Amazon continue that growth.
As Amazon witnesses growth on Handmade, one of the recurring questions has been how this will impact the pioneer of handmade marketplaces, Etsy (ETSY) - Get Etsy, Inc. Report . The original launch of Handmade was accompanied by many stories (including on TheStreet) that warned of Handmade being an "Etsy killer," but what's becoming clearer is that growth on Handmade doesn't necessarily entail setbacks for Etsy.
As Etsy CEO Chad Dickerson said during the company's third-quarter earnings call, "half of our sellers sell in multiple venues, and Etsy is the primary source of income for those sellers who sell in multiple venues."
Of the many Handmade sellers TheStreet has spoken with over the past few months, most of them also sell on Etsy and plan to continue selling on both platforms for the foreseeable future. They simply see Handmade as another way to attract business.
"I want to sell to as many customers as I possibly can," said Bryan Holmes, who sells personalized cutting boards on both Handmade and Etsy through his store Bloxstyle. "There's probably some overlap, but I get exposure to different folks on both those sites."
So now that Handmade is settling in with steady growth, what's next? More categories, said Miller.
Currently Handmade features six categories: home, jewelry, artwork, stationery and party supplies, kitchen and dining, and baby. But Miller said the team is actively looking to expand to more categories.
"The number one overwhelming piece of feedback that we get from both our customers and artisans is that they want more categories of handmade goods," he said. "We are looking for the opportunity to add thousands of artists in new categories and existing categories."