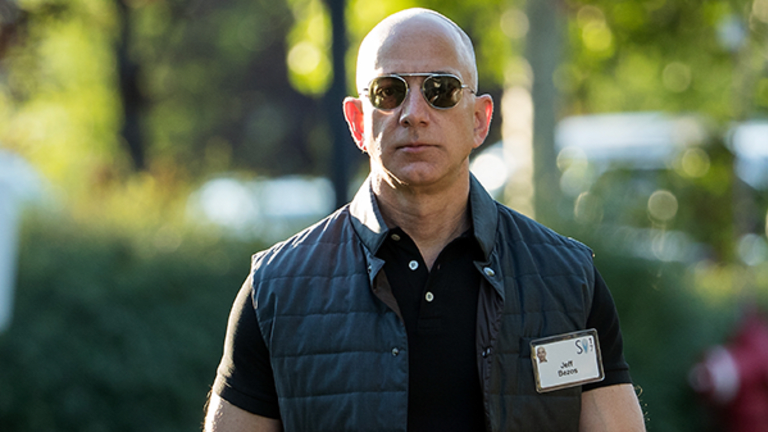 Amazon Can't Be Dethroned by Any Company on the Planet: Ex-Amazon Exec
This former Amazon executive says people should embrace Amazon, not fear it.
Amazon.com Inc.  (AMZN)  has already brought the retail industry down to its knees and now it's expected to do the same thing to the grocery sector, including the meal kit space.  
This begs the obvious question, is there a company or a combination of companies that could defeat or at least compete with the tech and retail giant? Last year, Amazon raked in $136 billion in revenue. In addition, the company is estimated to have about 80 million Prime members worldwide. The company's stock is up about 35% year-to-date. 
"A player like Wal-Mart Stores Inc.'s   (WMT) Jet.com has the potential to affect Amazon, but no one has the potential to dethrone Amazon," said Brittain Ladd, who left Amazon in May for family reasons after working there for two years, first as the senior manager of strategy and expansion for AmazonFresh and then as the senior manager of Amazon Global Logistics for the Special Projects unit.
If Walmart had been bolder and scooped up Whole Foods Market Inc.  (WFM) before Amazon, then it would be a scarier competitor for Amazon, Ladd said. But as things stand now, Walmart's best option is to acquire Costco Wholesale Corporation  (COST) because right now Costco isn't connecting with the wealthier shoppers that populate Target Corp.  (TGT) , Amazon's website, and Costco. Furthermore, Walmart needs to shock the market with an acquisition like Costco in order to make its company more exciting to shop from than Amazon. Right now when people think of online shopping, they automatically think Amazon, not Walmart. 
This Is How Burger King's 36 Year Old CEO Uses Amazon Billionaire Jeff Bezos for Inspiration
Amazon's Second Quarter Stunk -- but Don't Get Suckered Into Selling Shares
"The main difference between Walmart and Amazon is that Walmart sells groceries, while Amazon changes consumer behavior," Ladd explained. When Apple Inc.  (AAPL) released the iPhone there were a number of other phones on the market, but Apple made their product exciting enough that it was able to change consumer behavior and become the dominant phone seller. Walmart has to carry out the same task in the retail industry, and the best way to do that is through buying Costco. 
If these other traditional retailers can't pluck up the courage to make bolder M&A moves to become more competitive, then in 10 years Amazon will absolutely be the largest company on earth and dominate retail and many other areas, including banking and pharmaceuticals, Ladd said. "Amazon is just a toddler at this point," he said. "That's how much room it has to grow."
China e-commerce giant Alibaba Group Holding Ltd  (BABA) is a "wild card" when it comes to potential Amazon competitors, Ladd said. It's a name that executives at Amazon weren't too concerned about, although Ladd always thought they should be since there's nothing stopping the company from making some surprise, heavy acquisitions in the U.S. of Costco, Target, Kroger Co.  (KR) or a tech company. "Alibaba has all the potential in the world to be a bigger threat," he said. "It's certainly a company that should be watched closely." But for now, Ladd said he doesn't think Alibaba will be that bold because it's concentrating on investing in areas outside of the U.S. 
Right now, the only possible way for Amazon's bulldozer to be stopped in its tracks is if the federal government decides it's having an unreasonable impact on the retail industry and classifies it as a monopoly or a monopsony, he explained. If that were the case, the company's stock would plummet and it would have to restructure itself. The United Food and Commercial Workers International Union is already pushing back against the deal, claiming that it's a threat to jobs in the U.S. However when the deal was announced, Amazon said it didn't have plans to cut jobs. 
But rather than trying to stop Amazon from expanding, the government and society as a whole should be embracing Amazon because it's making industries better by increasing efficiency and decreasing prices, he argued. The company's model has proved successful in retail and cloud computing with Amazon Web Services (AWS) so now society should be taking the lessons learned from Amazon and applying it to healthcare, education and the Pentagon to make them more tech savvy and efficient, he argued. "It's a bad idea to be afraid of Amazon," he said. "It's wise to say, how can we apply this model to other failing areas?" 
More of What's Trending on TheStreet: