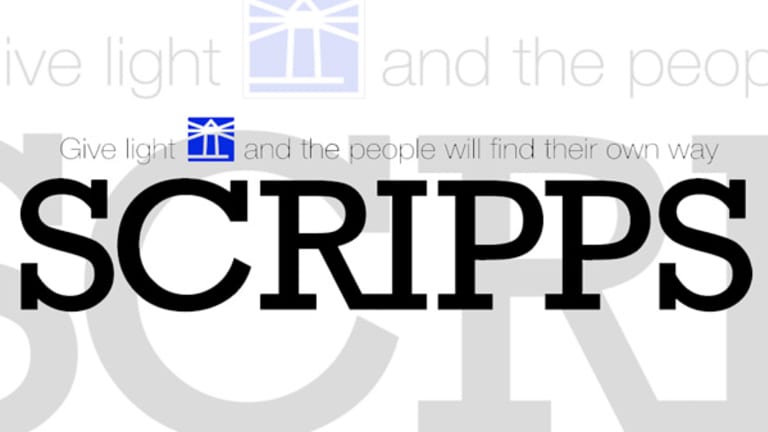 E.W. Scripps Stock Leaves Print Media Rivals in Dust - Here's Why
E.W. Scripps' newest acquisition, a podcast company called Midroll media is a bid to further reinvent the legacy television-station company.
Corrects throughout to distinguish between E.W. Scripps, a legacy television-station company, and Journal Media Group, a legacy newspaper operator.
NEW YORK (TheStreet) -- The E.W. Scripps Company (SSP) - Get E. W. Scripps Company Class A Report, like its lighthouse logo, has become a beacon of light for traditional television and radio station owners seeking a remake in the digital age.
The Cincinnati, Ohio-based company has won favor with investors by seeking to bolster its digital operations, and did so again on Thursday, acquiring the podcast company Midroll Media. The strategy has largely worked as E.W. Scripps shares -- unlike its rivals -- have climbed 20% over the past 12 months.
"They have a reputation as being innovative, trying new things," Rick Edmonds, a media analyst at the Poynter Institute, said in a phone interview. "Their [television] business is so profitable, it is always good to have more."
Midroll media is a podcast network and advertising company that features shows such as The Blacklist, Table Reads and Comedy Bang Bang. In addition to creating and producing shows, Midroll has launched an in-house podcast-advertising agency.
Midroll Media, which is named for the way the host of a podcast reads advertising scripts in the middle of their shows, currently sells advertising for over 200 podcasts including better-known names such as WTF with Marc Maron and The Nerdist. The acquisition will be included in Scripps' digital unit along with the site Newsy and the app WeatherSphere.
"We see the Midroll acquisition here as very consistent with the company's history," Adam Simpson, senior vice president of digital strategy at E.W. Scripps said in a podcast produced by Midroll. "We walked out of [the first meeting] thinking 'Wow, these guys have a nice business.'"
The move is not out of character for E.W. Scripps, which retained the media company's television, radio and newspaper holdings in 2008 after creating Scripps Network Interactive (SNI)  as a spin-off to house its faster-growing cable-TV channels led by the Food Network, HGTV and the DIY Network. E.W. Scripps subsequently spun-off its newspaper holdings in April, merging those assets with Milwaukee-based Journal Communications to form a new company called Journal Media (JMG) .
E.W. Scripps has performed better than its television-station peers such as Sinclair Broadcasting (SBGI) - Get Sinclair Broadcast Group, Inc. Class A Report, which has lost 17% over the past year, Tribune Media (TRCO) - Get Tribune Media Co. Class A Report, which has plummeted 39% and Media General (MEG) , which has dropped 25%.
While digital-only comprises just 4% of Scripps revenue, the new podcast acquisition is viewed by the company as an investment in a faster-growing business.
"Podcasting has emerged from the relentless evolution of the media marketplace as one of the best new platforms to build organically growing audiences and revenue streams," Rich Boehne, CEO of Scripps, said. "In the Midroll team and shows, we found creative content and business strategies that already have helped define the importance of podcasting, and with strong growth still to come."