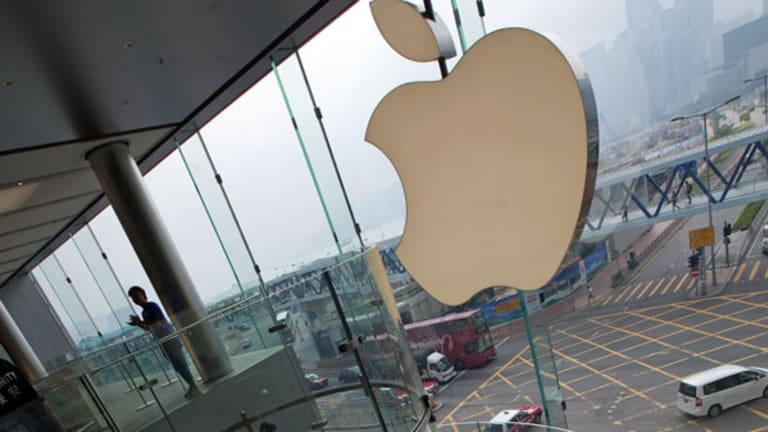 Even After Apple's Rally, There's No Reason to Sell the Shares
The stock is a core growth holding that can you tuck away in your portfolio.
NEW YORK (Real Money) -- The stock of Apple (AAPL) has had a remarkable run over the last year and a half. Since this tech juggernaut supposedly lost its "mojo" 18 months ago, the shares have more than doubled and show no signs of slowing down.
Triggers for the stock's rise have been a combination of the company's strongest product lineup in a half-decade. There also has been a huge campaign to return a significant portion of Apple's massive cash hoard to shareholders in the form of stock repurchases and dividend payouts.
Jim Cramer's charitable trust Actions Alert Plus Action Alerts PLUS owns Apple. Read his thoughts in the company's recent earnings here.
Apple just became the first in history to sport a market capitalization north of $700 billion in the stock market and appears ready to challenge the $1 trillion level at some point.
What I find amazing and somewhat troubling is the number of "should I sell Apple now?" emails in my inbox. They are at the highest levels since the stock's latest nadir in the summer of 2013 before the rollout of the iPhone 5C/5S. I can understand the innate need to take some profits after such a quick and wondrous rally in the stock and some pessimism that the good times can last.
However, as I and others -- notably Jim Cramer -- have said many times: Apple is a core growth holding that you tuck away in your portfolio. It is not a trading stock. Yes, the company just posted a quarter for the ages that is unlikely to repeated for quite a while; or at least until the next holiday season.
The tech giant delivered $18 billion in profit in the last reported quarter, a quarterly record that stands above any reported quarter by any company in history. Apple sold an amazing 34,000 iPhones per hour for the entire quarter.
What does the company do for the encore? Yes, we are in the seasonally slow first quarter, but investors still have several positive catalysts on the horizon. Apple Pay continues to gain impressive traction and will continue to bolster Apple's market-leading ecosystem.
More details will come out about the Apple Watch, which will be launched in April and is Apple's first foray into wearable technology and has the potential to be yet another profit center for this tech juggernaut
Finally, I would expect the company to announce its annual dividend hike when it delivers first-quarter earnings. It likely will add some color on how much of its still formidable more than $130 billion in net cash and marketable securities holdings it will spend on stock buybacks in 2015.
The most compelling reason to continue to hold Apple shares is that they are still cheap despite the massive rally they have had over the past year. The stock goes for less than 15 times this fiscal year's earnings estimate. Apple's FY2015 ends in September. If one accounts for the company's net cash on the books, the stock sells at approximately 12 times this year's expected profits. That is within a market that goes for 16 times forward earnings and the vast majority of the S&P 500 does not have Apple's growth prospects, ecosystem, fortress balance sheet or massive customer base.
I would not be chasing the stock here in the middle of its melt-up, but I am not selling either. This is a stock I will add a few shares anytime a pullback in the overall market brings the shares down five to 10% . Other than that, the stock will remain a long-term holding in my growth portfolio. Next question.
At the time of publication, Jensen was long AAPL, although positions may change at any time.