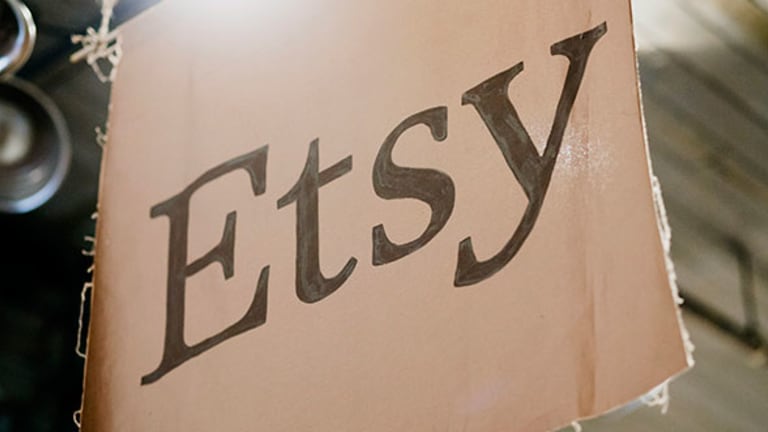 Etsy's Gearing Up to Make History -- But Is Wall Street Ready for It?
Etsy is attempting to convince investors that profit isn't the be-all-end-all.
NEW YORK (TheStreet) -- This Thursday, Etsy will become the second company to go public after receiving a "B Corp" certification, a label that means it values social and environmental responsibility. If Etsy can convince shareholders to jump on board, it may be on the verge of making history by taking the B Corp certification to the next level.
To clarify the lingo, an organization known as B Labs provides companies with a B Corp certification if they rise to a certain level of social and environmental accountability. B Labs has also worked out a legally binding classification called a benefit corporation that is recognized in 28 states, including Delaware, where Etsy is incorporated.
While there is already a publicly traded B Corp -- Boulder, Colo.-based Rally Software Development Corp (RALY)  -- Etsy could become the first public company to become a benefit corporation and turn its social responsibility into a legally binding priority.
Why does this matter?
Down the line, should an activist investor become fed up with Etsy's results and call for the company to lower employee wages and stop giving 40 hours of paid volunteer time -- two of the company's B Corp-qualifying actions -- Etsy may be legally bound to shift its policies in order to provide maximum profit for investors. This has happened before, with Dodge brothers' successful lawsuit against Ford. They were able to force Ford (F) - Get Report to keep wages lower in order to pay higher dividends to investors.
Etsy currently pays its employees 40% more than the local living wage. According to SalaryList, the average Etsy salary is $114,097 per year. By comparison, the average salary for eBay (EBAY) - Get Report employees is slightly more than $105,000 per year.
As a benefit corporation, Etsy would be able to legally justify its socially responsible practices even if they were curbing its bottom line. In 2014, Etsy lost $15.2 million, which would translate to a 91 cent loss per share.

"Primary responsibility of a corporation is towards the shareholders," IBISWorld analyst Zeeshan Haider said. Becoming a benefit corporation "would authorize Etsy to take in social factors that might not align with shareholders," he said.
The biggest challenge, though, is to convince investors to stay on board despite the possibility of lower profits. In order to attain benefit corporation classification, Etsy will need 90% of shareholders to vote in favor. If Etsy doesn't become a benefit corporation by 2017, B Labs will revoke its B Corp certification as well.
B Labs communications director Katie Kerr said both Rally and Etsy, as well as all of the private B Corps, are in touch with the organization on how to become a benefit corporation, though the companies are able to file for the status on their own.
"We recognize that it's a struggle, but it doesn't have to change the way they do business," Kerr said. "It's an extra accountability, but it's also extra protection for their board of directors, and the company will maintain their brand integrity."
Etsy declined to comment on this story since it's in a quiet period ahead of the initial public offering.
In its initial filing for IPO, Etsy lists an inability to maintain B Corp certification as one of its potential risk factors. Etsy may struggle to maintain its social responsibility values if investors demand a higher focus on the bottom line, but the on the other hand, Etsy might lose some of its loyal sellers and buyers if it gives in to investors.
"Our reputation could be harmed if we lose our status as a Certified B Corporation, whether by our choice or by our failure to meet B Lab's certification requirements, if that change in status were to create a perception that we are more focused on financial performance and are no longer as committed to the values shared by Certified B Corporations," the filing reads.
Concerns have already been voiced since Etsy decided to allow manufactured goods on its site in addition to handmade goods. Some worry that going public will take Etsy further away from its roots.
Still, Etsy has a slight upper hand: It doesn't have as many inherent costs as a manufacturer would in terms of B Corp requirements. Its main focus of social responsibility revolves around its 550 employees, as opposed to environmentally friendly production methods, since that's handled separately by sellers.
"Etsy doesn't have an enormous amount of personnel, plants, major waste problems, so many of the factors in a B Corp will have relatively little impact on the profitability of Etsy," said Jerome A. Katz, a professor at the John Cook School of Business of Saint Louis University and an entrepreneur expert.
And on the plus side, by paying its employees more and giving them paid volunteer leave, Etsy may actually achieve long-term benefits, with unforeseen problems being less likely down the road. "You're less likely to have labor unrest, EPA violations, [etc.]," Katz noted.
Potential investors in Etsy know from the get-go what they're getting into.
"I don't think fund managers are going to invest in a B Corp because they expect it to outperform conventional corporations in terms of profits," Katz said. "There might be some funds that want to support altruistic outcomes, a benefit for the planet or people and a B Corp would fit their portfolio."
In other words, Etsy is already known for its social responsibility and for its community-oriented philosophy -- there are no surprises there. Those who decide to invest in Etsy will enter under the understanding that profit is not the company's sole priority. "The people who are going to buy Etsy are unlikely trying to make the optimum profit," Katz said.
Investing in a company for reasons beyond returns may sound silly to some, but there is a growing population, especially among millennials and younger investors, interested in putting money into socially responsible companies, noted Santosh Rao, Etsy expert and head of research at Manhattan Venture Partners.
"On the face of it, B Corp flies against the Wall Street mantra of short term profitability, but times are changing," Rao said. "At some point the investors who gave you money, they want their return, but the type of investors who come into these companies are more socially conscious; they know what they're getting into and they are more focused on the larger good for society than for immediate profits."