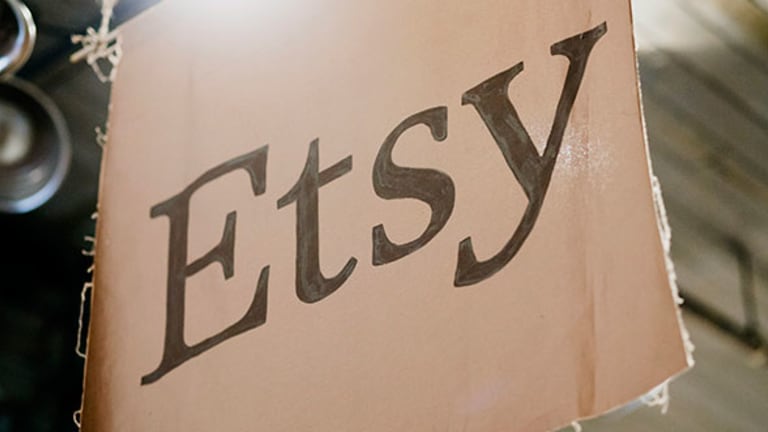 Etsy Meets Expectations but Warns on Margins: What Wall Street's Saying
Buyer and seller growth on Etsy is slowing, and the company gave weak guidance for the next quarter.
Updated with Etsy stock price Wednesday.
Online handmade goods marketplace Etsy (ETSY) - Get Etsy, Inc. Report reported its third-quarter earnings on Tuesday, and concerns about the future of the company are growing.
The Brooklyn-based company reported quarterly revenue of $65.7 million, up 37.9% over 2014, but with a net loss of $6.9 million, or 6 cents a share, compared to a loss of $6.3 million in the third quarter of 2014.
Analysts were expecting Etsy to report a loss of 6 cents per share on revenue of $66.2 million for the quarter, according to Thomson One estimates.
Active buyer growth decelerated to 24.9%, and active seller growth decelerated to 19.4%. Plus the company said next quarter's margins would be lower because of declining Promoted Listing growth (which is high margin), increased Direct Checkout (which is low margin), and increased marketing spending.
Etsy is also facing heightened competition from Amazon's (AMZN) - Get Amazon.com, Inc. Reportnew marketplace for handmade goods, which launched in October. 
"We are looking forward to a great holiday season and are continuing to innovate and build new products and services on our platform that empower Etsy's creative entrepreneurs to succeed on their own terms," said Etsy CEO Chad Dickerson in a statement. "Our commitment to reimagining commerce, our understanding of the needs of artisans and our dedication to our vibrant community will continue to differentiate the Etsy marketplace from all others."
Shares were trading down more than 9% to $9.98 in midday trading on Wednesday.
Here's what analysts are saying about Etsy's third-quarter earnings report.
Gil Luria, Wedbush (Neutral, $9 price target)
We continue to believe growth will decelerate as marketing spend delivers declining yields and sellers are frustrated by mass manufactured and potentially counterfeit competition, leading them to switch to Handmade at Amazon as large VC owners sell their shares.
Seller net additions declined to their lowest level reported which we believe is of great concern considering sellers generate practically all of Etsy's revenue.
Tom Forte, Brean Capital (Buy, $20 price target)
Vs. our forecast, the strong U.S. dollar put more pressure on international sales than we anticipated. This should alleviate in March 2016 as the company laps the initial detrimental impact of the strong U.S. dollar on its business.
Further, we were encouraged by management's comments on the potential for competitive pressure from Amazon.com (more than half its sellers also list items on other platforms, but Etsy remains their strongest in terms of sales) and its efforts to expand third-party manufacturing on its platform in a manner that is aligned with its core brand values.
We are strong believers in the Etsy story and see multiple levers for management to pull to drive sustained long-term top- and bottom-line growth.

Brian Nowak, Morgan Stanley (Equal Weight, $14.50 price target)
3Q results highlight concerns around decelerating gross merchandise sales (GMS) growth, rising customer acquisition costs, and the platform's long-term ability to profitably scale.
Slowing GMS Growth: Etsy's 3Q:15 results highlight question marks and concerns on the size of Etsy's addressable market and the company's ability to scale.
We believe Etsy's ability to improve the trajectory of its GMS growth will be important to answering the investor debate about how large the company can be and whether it will be able to scale profitably.
Amazon's recent entry into the unique and handmade goods market with "Handmade at Amazon" (launched in October 2015) only raises this debate further as Amazon's size and current business momentum (accelerating globally) creates a formidable Etsy challenger -- for both sellers and buyers. For perspective, in 3Q:15 Amazon added 9mn active buyers sequentially (10X more than Etsy did) off of a base of 285mn (13X larger than Etsy).
Etsy talked down any material impact from Amazon so far, but did say that more than 50% of their sellers sell on multiple channels. This, in our view, speaks to how sellers will move to where the buyers and volume are...and if Amazon has success with this marketplace it is likely to have an impact on Etsy's forward growth.