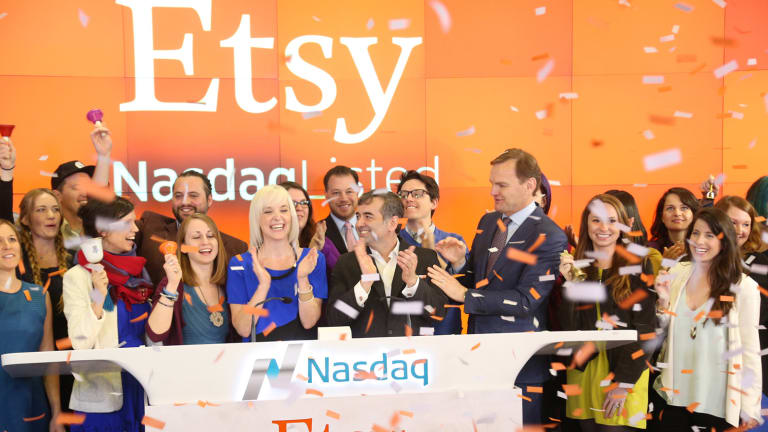 Etsy Finally Has a Good Quarter but Will It Be Enough?
Etsy shares jump as high as 13% following a nice revenue beat.
When Etsy (ETSY) - Get Etsy Inc. Report reported its fourth-quarter earnings on Tuesday investors were pleasantly surprised, sending the stock up as high as 13% in after-hours trading. The question now is whether or not this is a lasting turning point.
Down about 75% since its initial public offering, Etsy has had a rough start trying to explain its case to Wall Street. It didn't help that Amazon (AMZN) - Get Amazon.com Inc. Report launched Etsy competitor Handmade.
But now the company is finally sharing some good news and investors seem to be thrilled.
Etsy beat revenue expectations bringing in $88 million for the fourth quarter, and even though the company lost 4 cents a share the revenue beat was enough for the stock to jump another 8% in trading Wednesday.
Much of the good news stemmed from a good holiday season and solid mobile numbers.
"The results and outlook are not spectacular," said ITG analyst Steve Weinstein. "However, the business was slowing significantly, and now it is looking more stable, which is incrementally more positive."
Will that increased stability last?
Over the next three years, Etsy expects revenue growth to be around 20% to 25%, and it plans to reach EBITDA margin in the high-teens by 2018.
"Etsy's guidance was lower than expected, but I believe investors will appreciate the fact that for the first time since the company went public it is setting reasonable expectations," Wedbush analyst Gil Luria said. "They are guiding to a reversion to e-commerce industry growth within a couple of years which is reasonable."
Moving forward, though, some of this growth might be hampered if Etsy decides to slow down its marketing spend. During the fourth quarter, marketing spend grew 54% and digital marketing spend grew 86%, which is a lot higher than the 21% growth in general merchandise sales. If Etsy can no longer spend that much on marketing, that would likely impact GMS growth.
On top of that, Etsy only added 30,000 new sellers in the quarter, a decline of 55% year over year in net seller additions. This decline worried Luria, who pointed out that as much as 20% of revenue comes from listing fees.
After voicing his concerns though, Luria said, "The stock is no longer at $30, $23 or even $13 -- at $7 or $8 those risks are properly reflected."
Etsy CEO Chad Dickerson is confident that the stability is here to stay. "While I am proud of what we've accomplished to-date the Etsy team and I are really focused on execution and excited about the opportunities and milestones yet to come," he said during the earnings call. "We believe we have the right strategy in place and passionate leaders to execute on it."